How to Redeem Pokemon go Promo Codes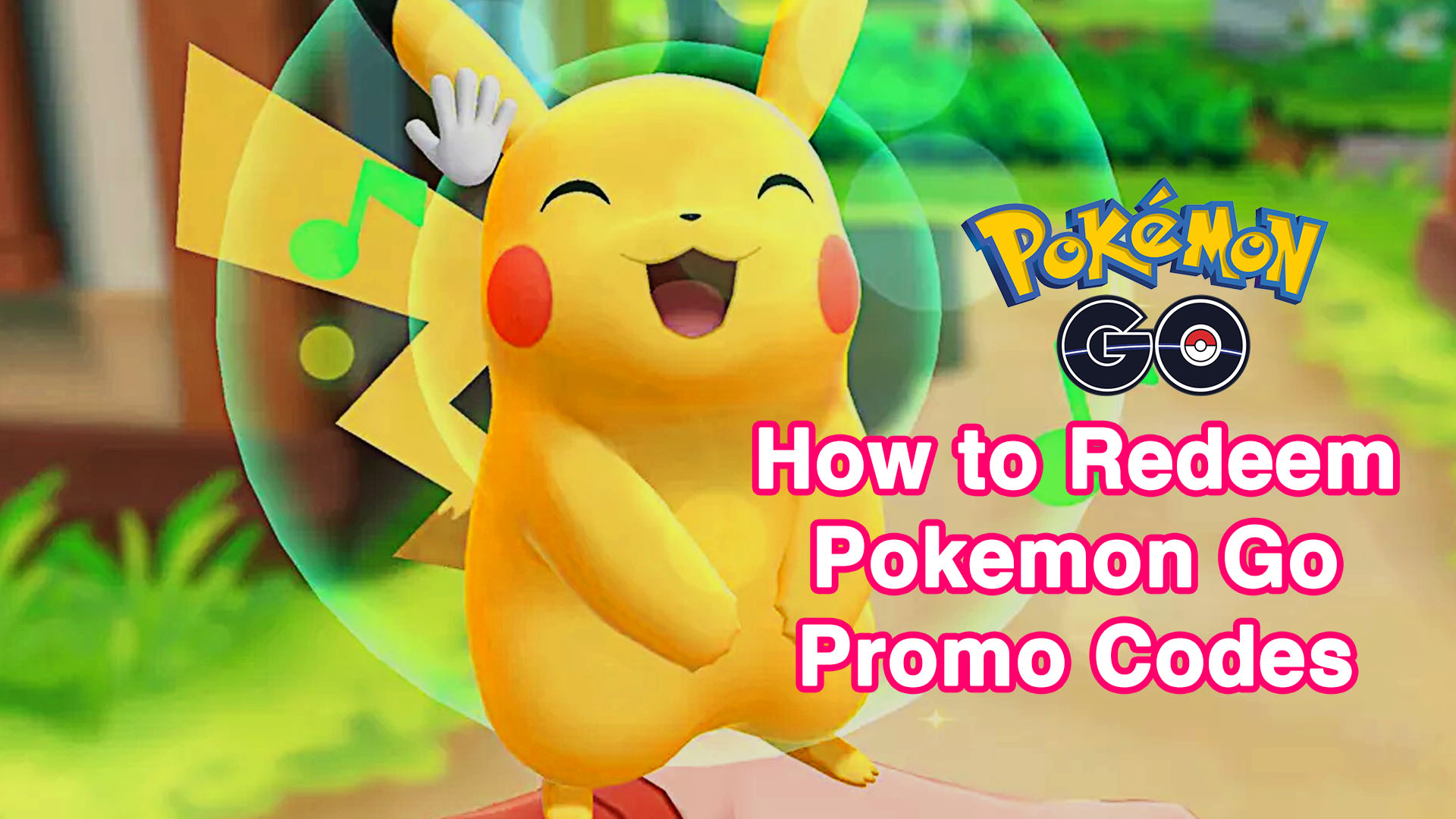 Pokemon Go is constantly releasing new 'mon to catch, and you'll want some to get your hands on free items and bonuses while you're out in the wild catching them all. In August 2021, here's everything you need to know about all of the free Pokemon Go promo codes.
Pokémon GO Promo Code questions
What are Pokémon GO promo codes?
As you might anticipate, Niantic, the game's creators, or its partners occasionally provide Pokémon GO promo codes, which allow players to enter an alphanumeric code to receive various bonuses and Pokégoodies.
Where can I find Pokémon GO promo codes?
Niantic has been known to entice trainees back into the game by sending them special vouchers via email. It's also possible to locate lists of codes on the internet – some of which are single-use, while others are locked after an indefinite amount of uses – but hunting promo codes this way is a time-consuming and random method of obtaining products (many of which are accessible for free at PokéStops).
There are plenty of codes floating on the internet to test if you're dedicated and don't mind some detective work. Just be wary about clicking on any shady links.
We'll keep a watch out for any major Niantic promos and update this page as soon as we learn more.
What do Pokémon GO promo codes offer?
Poké Balls, Lure Modules, Eggs, and other consumable products are available with Pokémon GO promo codes.
How do I redeem a Pokémon GO promo code?
You can visit Niantic's Offer Redemption webpage and redeem promo codes there. Simply follow the instructions below (from Niantic's FAQ):
To redeem an offer code on the web:
1. Visit this website.
2. Log in using the same credentials you use to access your Pokémon GO account.
3. Enter your offer code.
4. After successfully redeeming an offer code, a message will display the items added to your inventory.
How to redeem Promo Codes on iOS and Android in Pokémon Go
Redeem Promo Codes on Android
The process for redeeming Promo Codes varies depending on the platform. So yet, promotions are only accessible on Android.
On Android, redeeming promo codes is simple: tap the Pokeball menu on the main map screen, then the Shop, and scroll all the way down to the bottom to find an entry area where you can enter the code.
Android players can also use the same way as iOS users, which is detailed below.
Redeem Promo Codes on iOS
Apple is known to prohibit the entering of codes inside apps on its store, therefore iPhone owners will be unable to enter codes via the app.
On iOS, you must use an official Niantic rewards website to redeem promo codes.
Log in using the same account you used to play Pokemon Go in the app, then type the code into the form.
It's worth noting that Pokémon Trainer Club accounts won't work on this site; instead, you'll need to link them to another form of account (like Google or Facebook) to log in.
---
Working Pokemon Go codes (August 2021)
Currently, a partnership with Samsung rewards Trainers with free clothing to freshen up your look before venturing out into the world. You'll need to enter the following code:
KUAXZBJUTP3B7: Gives players a free cap and a Samsung shirt that says "Awesome."
Full list of expired codes in 2021
If you didn't get a chance to get some of the free Pokemon Go items, but still want to know what was available, check out the list below:
| | |
| --- | --- |
| Expired Code | Rewards |
| 5PTHMZ3AZM5QC | 1x Sinnoh Stone / 10x Max Potions / 10x Ultra Balls |
| 6W2QRHMM9W2R9 | 5x Razz Berries / 10x Poke Balls |
| 9FC4SN7K5DAJ6 | 1x Star Piece / 5x Stickers/ 5x Razz Berries |
| DJTLEKBK2G5EK | 1x Star Piece / 10x Pinap Berries / 10x Stickers / 20x Ultra Balls |
| DYEZ7HBXCRUZ6EP | 30x Great Balls / 30x Pinap Berries |
| GXSD5CJ556NHG | The North Face x Gucci Collection |
| H7APT5ZTLM45GZV | 30x Poke Balls |
| LRQEV2VZ59UDA | Verizon Jacket / Verizon Mask |
| MDWC4SNGUFXS2SW9 | 20x Great Balls / 20x Razz Berries |
| MQE4PFNYVRM6M | 1x Lure Module / 5x Great Balls / 5x Stickers |
| P2XEAW56TSLUXH3 | 30x Max Revives / 30x Pinap Berries / 30x Ultra Balls |
| TRFJVYZVVV8R4 | 1x Lucky Egg / 10x Max Revives / 30x Ultra Balls |
| UWJ4PFY623R5X | 1x Lucky Egg / 5x Stickers / 5x Ultra Balls |
Where to reveal the command signal in Fortnite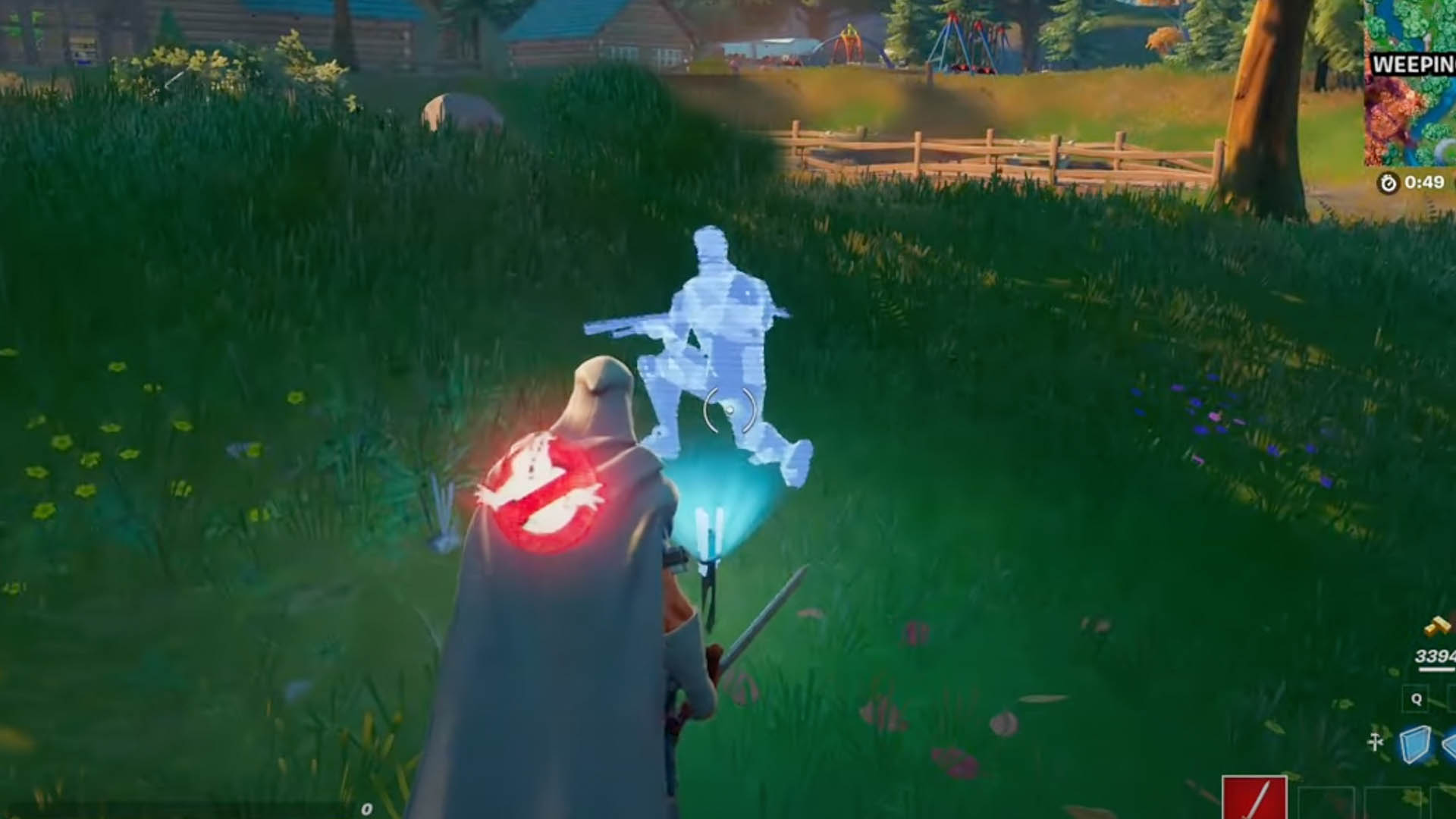 You'll be emoting, jumping, and swinging a pickaxe for Ariana Grande to fight back against the Cube Queen in the Fortnite quest to disclose the command signal. Complete the activities requested at a certain place to disclose the Queen's order signal and complete this stage of the Fortnite quest. We've got everything you need to know about where to go and what to do in Fortnite to expose the command signal and finish this challenge.
Where to reveal the command signal in Fortnite
In Fortnite, there are five separate sites distributed over the island where you can reveal the command signal. We've put them on the map above, so go to the one that the storm favours when you get a chance. The following are the particular details on where to go in each local:
Believer Beach is located on the grass patch in front of Tacos, to the left of the pier sign as you face the beach.
Weeping Woods – In the open space in front of the two main lodges, by the water.
Between the main barn and the hole in the earth is Corny Crops.
Take the stairs from the bridge to the lake and look for the sticks on the brink of the cliff.
On the southern outskirts of town, near the basketball court and swings, is Retail Row.
Look for three blue-topped sticks arranged in a triangle surrounding a floating purple tablet in each location, as shown:
A hologram will appear as you approach each stick, executing one of three actions: hopping, emoting, or wielding a pickaxe. If you mirror the requested action on each stick, the hologram will flash and disappear.
If you can't figure out what the action is for any reason, just go through them all; the prompt will notify you when you're correct with a hard-to-miss burst of light, so there's little chance you won't figure it out.
When you've completed all three, the command signal will be revealed, and the transparent purple tablet shape will solidify, revealing the Queen's message. You can go on to the next stage of Ariana Grande's quest now that you've completed this one.
Fortnite: How to Get Dune Skins – Price & Bundle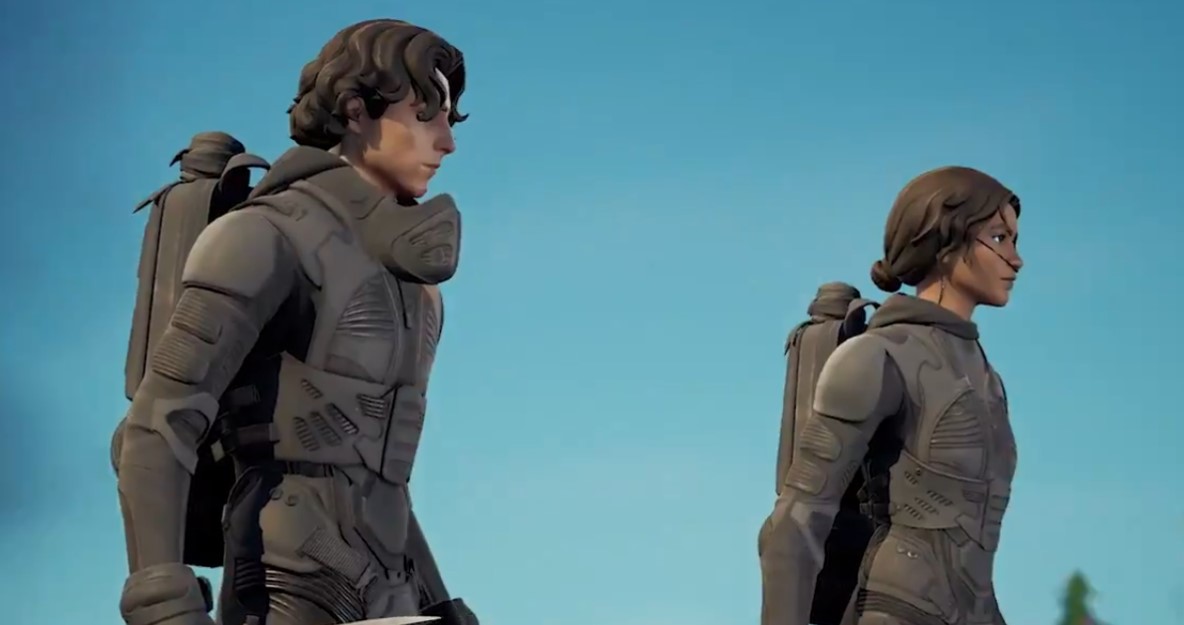 Fortnite: How to Get Dune Skins – Price & Bundle
Epic Games has released Dune skins to Fortnite Season 8, and here's everything you need to know about the Bundle and price.
Epic Games has added more crossover material to Fortnite Season 8, this time in the shape of cosmetic skins from the upcoming Dune movie. Here's how to get your hands on some.
Epic Games frequently releases new Fortnite skins to coincide with the release of major blockbuster movies, such as the Venom and Carnage skins released accompanying the release of Venom: Let There Be Carnage.
The creators have now introduced a few skins and cosmetic items from the film Dune to Fortnite Season 8, and gamers may now play as Timothée Chalamet and Zendaya in the Battle Royale.
Fortnite Dune Bundle
On Tuesday, the Epic Games Twitter account revealed that the movie's characters Paul Atreides (Timothée Chalamet) and Chani (Zendaya) would be available for purchase in the Item Shop.
Here's are all the Dune Fortnite cosmetics:
Paul Atreides Outfit
Chani Outfit
Twinblades pickaxe
Maker Hooks pickaxe
Sand Walk emote
Fremkits for both characters
Ornithopter attack ship
Sandworm loading screen
There are two distinct bundles available. The Dune Bundle includes both clothes, the loading screen, and Fremkits. The remaining components are included in the Dune Gear Bundle.
Price of Fortnite Dune Bundle
The Paul Atreides and Chani costumes cost 1,500 V-Bucks each. If you desire the remaining goods, you can get the Dune Bundle for 2,000 V-Bucks. The Dune Gear Bundle will set you back 1,500 V-Bucks.
All of these are now available in the Fortnite Item Shop, although we don't know how long they will be available. It makes perfect sense for Epic Games to add Dune skins to coincide with the film's October 2021 premiere.
Ariana Grande location in Fortnite: Caretaker's Footprints and More Quests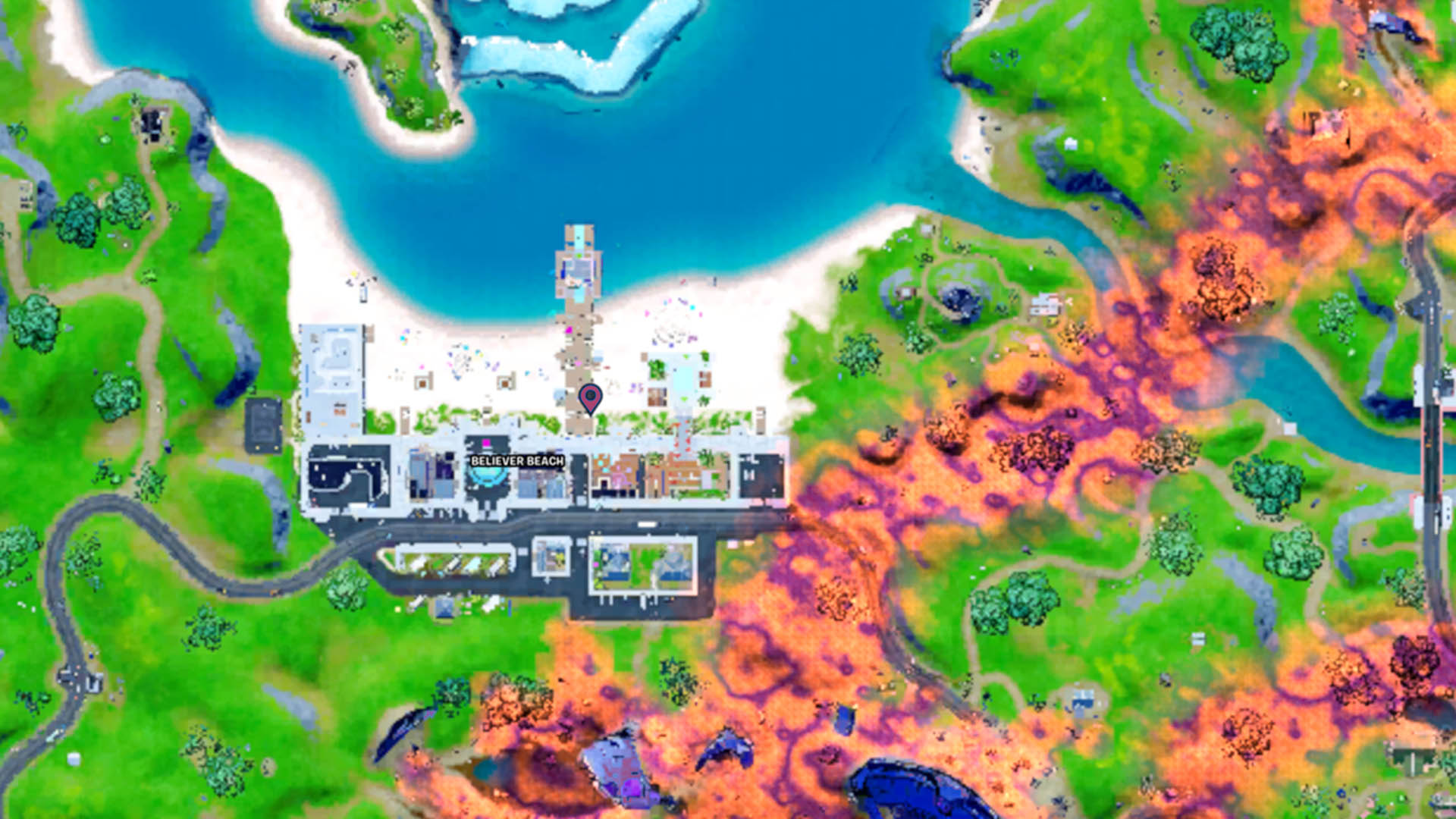 Ariana Grande location in Fortnite: Caretaker's Footprints and More Quests
Ariana Grande has returned to the Fortnite island, this time with new tasks and special rewards.
Fortnitemares 2021 is now in full swing, and Ariana Grande is on the island as part of the event. With the singer come five objectives as part of her Monster Hunter questline—yes, she's now a monster hunter—and finishing them will give you a lot of XP and some exclusive cosmetics. Here's where you can locate Ariana and a list of her Fortnite tasks.
Ariana Grande's Fortnite Location
Ariana Grande is a new NPC in Fortnite that can be found in Believer Beach. She hangs out by the dock, dressed in her new monster hunter outfit. Speaking with the singer will start her monster hunter questline, which consists of five objectives and will finally win you the All-Weather Extractor pickaxe in its gloomy design.
If you're a Fortnite Crew member, you'll also get the rare "brite" variant of the same pickaxe. Ariana's quests differ from the majority of other NPC quests in Fortnite Season 8 in that they require you to do some specific, story-driven chores that aren't generally available in the game. Here is her complete list of tasks:
Collect a record and place it in a turntable
Study the Caretaker's footprints
Collect Symbols from eliminated Cube Monsters
Reveal the Command Symbol
Launch signal flares
Ariana's first task will be available once you've chatted with her.To observe the Caretaker's footprints, go to the new Convergence point in the island's middle. When you're there, you'll be able to interact with the giant stone monsters' footprints, but be careful since these creatures will capture you in their tendrils and start a fight in The Sideways if they catch you.
To acquire Symbols from defeated Cube Monsters, go to any Sideways encounter—even if the Caretakers start it for you—and collect the new Symbols that will drop from some defeated monsters. These will appear only when the quest is active.
More information on Ariana's special quests will be available soon. Meanwhile, keep up with everything new in Fortnite's greatest Halloween event yet, Wrath of the Cube Queen.