Where to watch Saints vs. Jaguars today?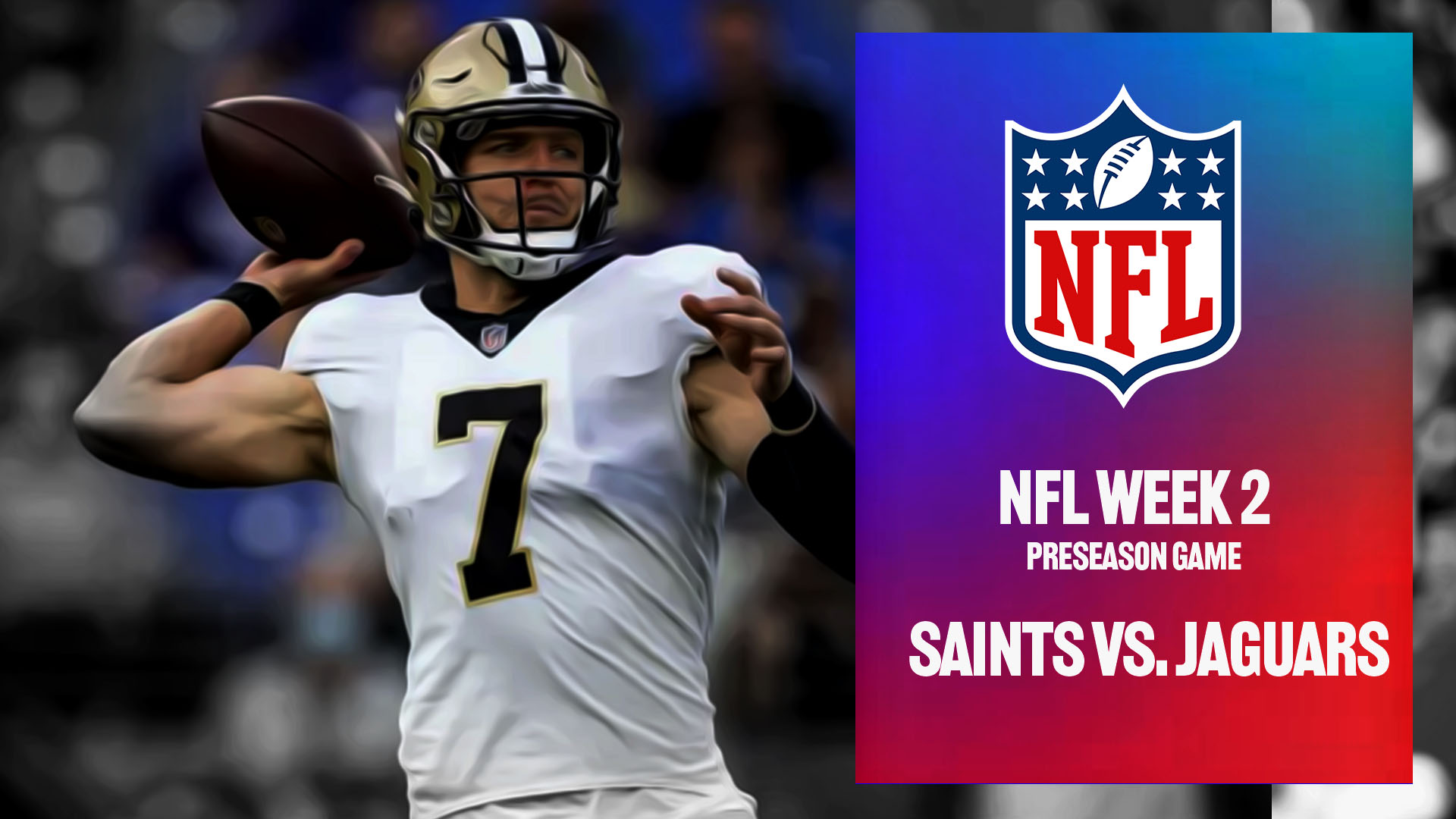 It seems impossible to expect Taysom Hill or Jameis Winston to properly and adequately replace Drew Brees at quarterback in New Orleans.
Nonetheless, when the two suit out for the Saints in their Week 2 preseason clash against the Jaguars in primetime, that game might go a long way toward determining who will succeed Brees.
Both teams are 0-1 in the three-game preseason, with Jacksonville grabbing the headlines last week by cutting former quarterback-turned-tight end Tim Tebow, while New Orleans is coming off a 17-14 setback to Baltimore.
Hill, Winston, and former Notre Dame quarterback Ian Book were the Saints' three quarterbacks, all of whom had varied degrees of success. Winston tossed the game's only score and went 7-of-12 for 96 yards for the Saints, while all three threw interceptions. Winston will start on Monday instead of Hill, who started Week 1.
What channel is Saints vs. Jaguars on today?
TV channel: ESPN
Live stream: WatchESPN | WatchESPN app | fuboTV
The game between the Saints and the Jaguars will be broadcast live on ESPN to conclude Week 2 of the NFL preseason.
This preseason Monday night game, like the other two that will feature New Orleans, will be broadcast by ESPN's main "Monday Night Football" crew of Steve Levy, Brian Griese, and Louis Riddick, with Lisa Salters serving as the sideline reporter.
Fans may listen to the game on Westwood One or Sirius XM radio, as well as watch it on ESPN or stream it on the WatchESPN app or espn.com/watch. The game is also available to watch on fuboTV, which offers a seven-day free trial.
Viewers in Canada can watch the game exclusively on DAZN with a subscription.
Saints vs. Jaguars start time
Date: Monday, Aug. 23
Time: 8 p.m.
The Saints will play three Monday night games this season, the first against Seattle in Week 7 and the second against Miami in Week 16. The game will be held at the Caesar's Superdome in New Orleans, and it will be the first time the two teams have met since New Orleans' 13-6 loss to Jacksonville on Oct. 13, 2019.
NFL preseason schedule 2021
Friday, Aug. 20
| | | |
| --- | --- | --- |
| Game | Time (ET) | Channel |
| Cardinals vs. Chiefs | 8 p.m. | ESPN, KPNX, KCTV, fuboTV |
| Washington vs. Bengals | 8 p.m. | NFL Network, WRC, WKRC |
Saturday, Aug. 21
| | | |
| --- | --- | --- |
| Game | Time (ET) | Channel |
| Bears vs. Bills | 1 p.m. | NFL Network, WFLD, WKBW |
| Packers vs. Jets | 4:25 p.m. | NFL Network, WTMJ, WNBC |
| Panthers vs. Ravens | 7 p.m. | WSOC, WBAL |
| Dolphins vs. Falcons | 7 p.m. | WFOR, WUPA |
| Steelers vs. Lions | 7:30 p.m. | NFL Network, KDKA, WJBK |
| Buccaneers vs. Titans | 7:30 p.m. | WTSP, WFTV, WKRN |
| Cowboys vs. Texans | 8 p.m. | KTVT, KTRK |
| Vikings vs. Colts | 8 p.m. | KMSP, WXIN |
| Rams vs. Raiders | 10 p.m. | NFL Network, KCBS, KTVU |
| Seahawks vs. Broncos | 10 p.m. | KING, KTVD |
Sunday, Aug. 22
| | | |
| --- | --- | --- |
| Game | Time (ET) | Channel |
| Browns vs. Giants | 1 p.m. | NFL Network, KTVD, WNBC |
| Chargers vs. 49ers | 7:30 p.m. | NFL Network, KABC, KPIX |
Monday, Aug. 23
| | | |
| --- | --- | --- |
| Game | Time (ET) | Channel |
| Saints vs. Jaguars | 8 p.m. | ESPN, WVUE, WJAX, fuboTV |
NFL preseason schedule: Week 3
Friday, Aug. 27
| | | |
| --- | --- | --- |
| Game | Time (ET) | Channel |
| Lions vs. Colts | 7 p.m. | WJBK, WXIN |
| Panthers vs. Steelers | 7:30 p.m. | WSOC, KDKA |
| Jets vs. Eagles | 7:30 p.m. | WCAU, WNBC |
| Chiefs vs. Vikings | 8 p.m. | NFL Network, KCTV, KMSP |
Saturday, Aug. 28
| | | |
| --- | --- | --- |
| Game | Time (ET) | Channel |
| Bills vs. Packers | 1 p.m. | NFL Network, WKBW, WTMJ |
| Washington vs. Ravens | 6 p.m. | WRC, WBAL |
| Titans vs. Bears | 7 p.m. | NFL Network, WKRN, WFLD |
| Texans vs. Buccaneers | 8 p.m. | KTRK, WRSP, WFTV |
| Saints vs. Cardinals | 8 p.m. | WVUE, KPNX |
| Broncos vs. Rams | 9:05 p.m. | KTVD, KCBS |
| Seahawks vs. Chargers | 10 p.m. | NFL Network, KING, KABC |
Sunday, Aug. 29
| | | |
| --- | --- | --- |
| Game | Time (ET) | Channel |
| Cowboys vs. Jaguars | 1 p.m. | NFL Network, KTVT, WJAX |
| Bengals vs. Dolphins | 4 p.m. | CBS, WKRC, WFOR, fuboTV |
| 49ers vs. Raiders | 4 p.m. | NFL Network, KPIX, KTVU |
| Giants vs. Patriots | 6 p.m. | NFL Network, WNBC, WBZ |
| Falcons vs. Browns | 8 p.m. | NBC, WUPA, WEWS, fuboTV |