Where To Find Every Mythical Animal in Far Cry 6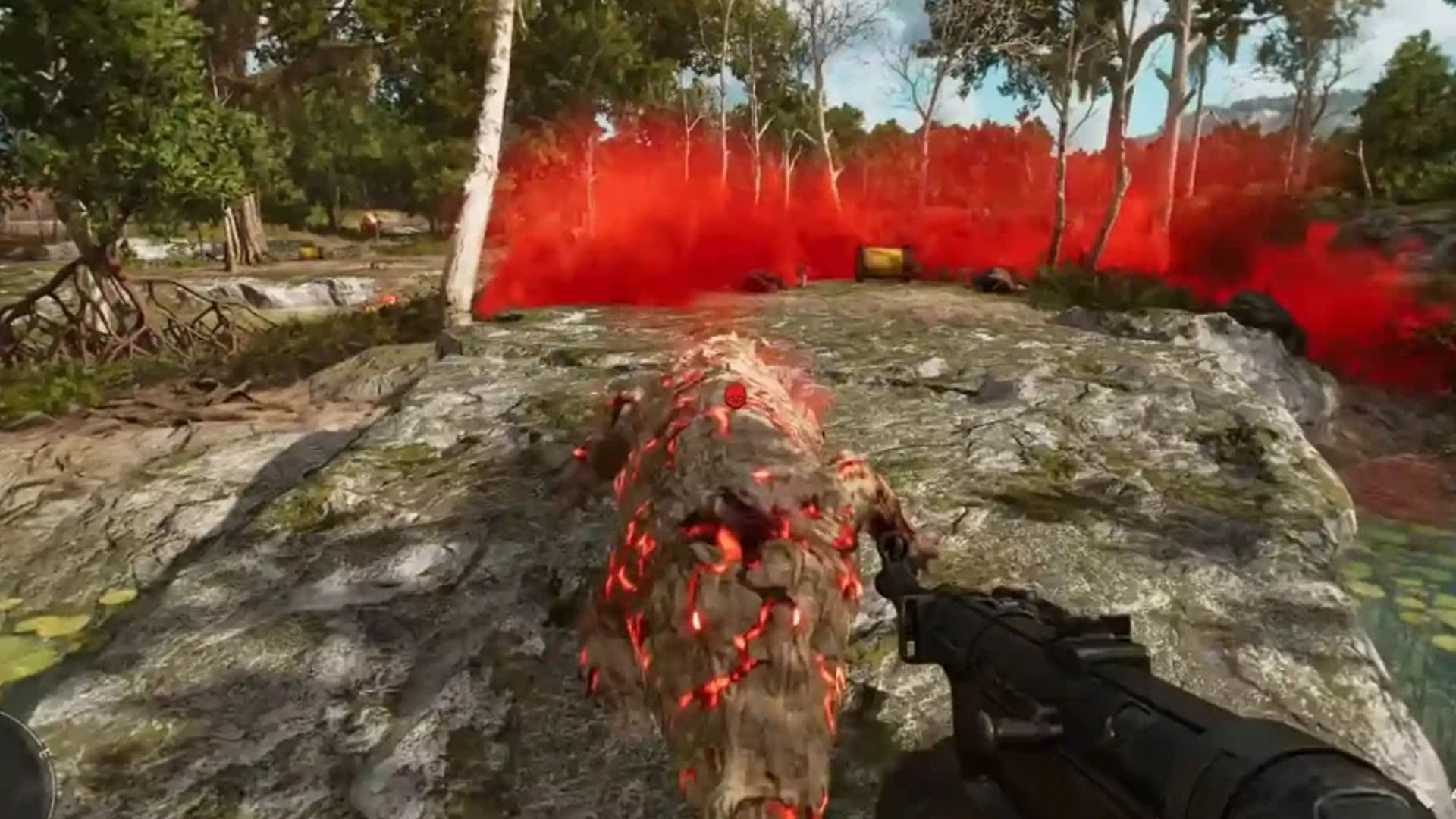 We show you how to find the Mythical Animals in Far Cry 6 so you can get Primal gear and get the Ultimate Predator achievement.
To get the Primal gear set and the Ultimate Predator achievement/trophy in Far Cry 6, you must hunt down all five mythical beasts. These fabled creatures are healthier and more ferocious than their normal counterparts. As a result, when your character level is around 15, it is recommended that you try hunting these animals.
Because their pelts are unbreakable, you can kill the mythical beasts with any weapon you wish. Be aware that some of these mythical creatures possess specific skills that can make hunting difficult. You'll have no issue hunting the mythological animals if you approach them with caution, powerful ammunition, and a rudimentary plan.
Mamutito The Hog (Wild Boar)
Mamutito is situated in the Vencejo district of Isla Santurio, off the northern coast. Mamutito is surrounded by other boars who are ready to attack you. To dodge their attacks, take advantage of the naturally rough terrain surrounding Mamutito. Use your weapons to cause as much damage as possible while on the rocks.
Black and White Demoniaco (Wolves)
The Black and White Demoniaco are a couple of wolves who use their howls to resurrect each other. They've taken refuge in a valley southwest of Da's Refuge in Madrugada's Aguas Lindas. .
You can knock off much of their health before they get close if you get a jump on these two from afar. Once you've taken out one wolf, keep shooting it to keep it from reviving. You can collect the pelts of both wolves, and each hide represents one mythical animal. As a result, this site counts for two of the five fabled creatures.
Venodiente (Crocodile)
Venodiente is concealed in a deadly swamp in the Valle de Oro's Balaceras district, just north of Libertad Island.
Venodiente is a deadly gas-spreading crocodile. Venodiente will poison you if you come too close to it. It's preferable to approach Venodiente from afar. You won't get poisoned this way. Venodiente is also surrounded by crocodiles and poison tanks that are leaking. It will be much easier to hunt Venodiente if you stick to a good plan.
Sanguinario (Jaguar)
Sanguinario emerges at night in a fishing community on El Este's Sierra Perdida's southern shore. The fabled animal hunting spot can only be unlocked if you visit this location at night. The hunting spot can be tough to find, so if you arrive late at night and nothing happens, swiftly move to a nearby location and return to the settlement. Continue doing this all night until Sanguinario emerges.
Sanguinario is a simple creature to dispatch. To do a lot of damage quickly, stay on high ground and utilise an automatic weapon. Keep in mind that Sanguinario will try to approach you from behind, so try to identify them from afar first.
The Ultimate Predator achievement/trophy will be unlocked once you have collected all five mythological animal pelts. Also, you'll need to visit a hunter's lodge to exchange these animal pelts for the Primal clothing set.
Far Cry 6: How Long Does It Take To Complete?
Welcome to our 'Far Cry 6: How Long Does It Take To Complete?' article. In this we will help you to find out how long it takes to beat Far Cry 6. We break down the game's primary plot and how long it takes to complete extra content and hunt for mysteries and treasures.
Far Cry 6: An overview
The major plot should be completed around 15-20 hours. There are many primary stories in this version of the game, each with a large number of required tasks. Also, certain key plot missions take place in high-ranking locations, thus levelling up your character prior is advised.
Side missions may add hours to your or any game for that matter. There are optional missions ranging from intricate to simple.
There's a lot to learn in Far Cry 6. You'll likely spend a dozen hours looking for them. In addition to finding them, the most hardest treasure hunts entail solving a wider environmental issue. You may spend a long time attempting to solve a riddle.
To 100% complete this version, you will need to play the game for 60 hours or more. This involves traversing the whole global map, finding all secrets, and defeating all enemies. Interestingly, the game's platinum trophy is significantly less challenging, since it doesn't need you to go through 100% of the available material.
We hope you liked our 'Far Cry 6: How Long Does It Take To Complete?' article. Stay tuned for more such guides and articles related to all your favorite and exciting games. We keep posting fresh content daily. If there is something specific that you would like us to cover then please let us know.
Welcome to our guide 'Far Cry 6: The End!'. This article includes spoilers for the game's last two missions, although we've attempted to keep the important events and circumstances of their deaths hidden. Far Cry 6 also has a secret ending that you may discover before the game ends. That ending is discussed separately in a different article that you can find by clicking right here https://thewestnews.com/far-cry-6-the-secret-ending/74802 .
The campaign's end
To get the main ending, you must complete all major missions. The latter two take place in Esperanza, the island's capital. These are as follows:
Den of Lions
The Esperanza Battle
Notably, you will be warned of the so-called point of no return before completing The Lion's Den assignment. This implies you must do both procedures sequentially. You will be unable to move freely in the game environment until the main plot is finished. Thankfully, after finishing the main plot, exploring and side tasks will be accessible again.
In the climax, you will journey to Esperanza, where several fights will take place. The main character will be compelled to join some of them to find Anton.
The final boss?
It happens during the last stages of Operation Battle for Esperanza, after reaching the top of the Torra del Leon building in Esperanza. Far Cry 6 lacks a final boss. After locating Anton, you'll see a few sequences when the rebels destroy the ruler. The main character will step down as head of the guerilla force to grieve his fallen friends.
After the credits, a little scene is available. It features extra speech and should not be skipped if you want to complete the game.
In conclusion, we hope you liked our 'Far Cry 6: The End!' guide. Please leave a comment below. Stay tuned for more such guides related to all your favorite and exciting games. We post fresh content daily.
Far Cry 6: The Secret Ending!
Welcome to our 'Far Cry 6: The Secret Ending!' guide. The secret ending of Far Cry 6 is not revealed right away. This means spending many hours on the "beginning" area of Isla Santuario executing the first several big missions (operations).
In Libertad Rises, you sabotage two enemy ships and flee Isla Santuatio with Clara. They'll cruise to Libertad Island, a rebel base. The following operation Guerrilla, is a prelude to the major campaign.
When you first meet Clara, you'll find that the Guerilla has prepared a boat for the protagonist to depart Yara if they really don't want to assist. After the cut-scene, enter the boat instead of the Guerrilla mission.
You need not sail in a straight line. Leave Libertad Island and wait for the mysterious conclusion.
The protagonist has successfully fled Yara and is currently resting on a beautiful beach. The radio programme will recount the island's sad events, followed by the closing credits.
Finding the secret ending does not reset your progress or force you to restart the game. Returning to the main menu allows you to resume the game. Revert to the Guerrilla quest's beginning, before you pick the secret conclusion. You may disregard it and continue your Guerrilla mission.
In conclusion, we hope you liked our 'Far Cry 6: The Secret Ending!' guide. Please do leave a comment below and let us know which ending did you come across. Stay tuned for more such guides related to all your favorite games.