What is Far Cry 6 third-person mode?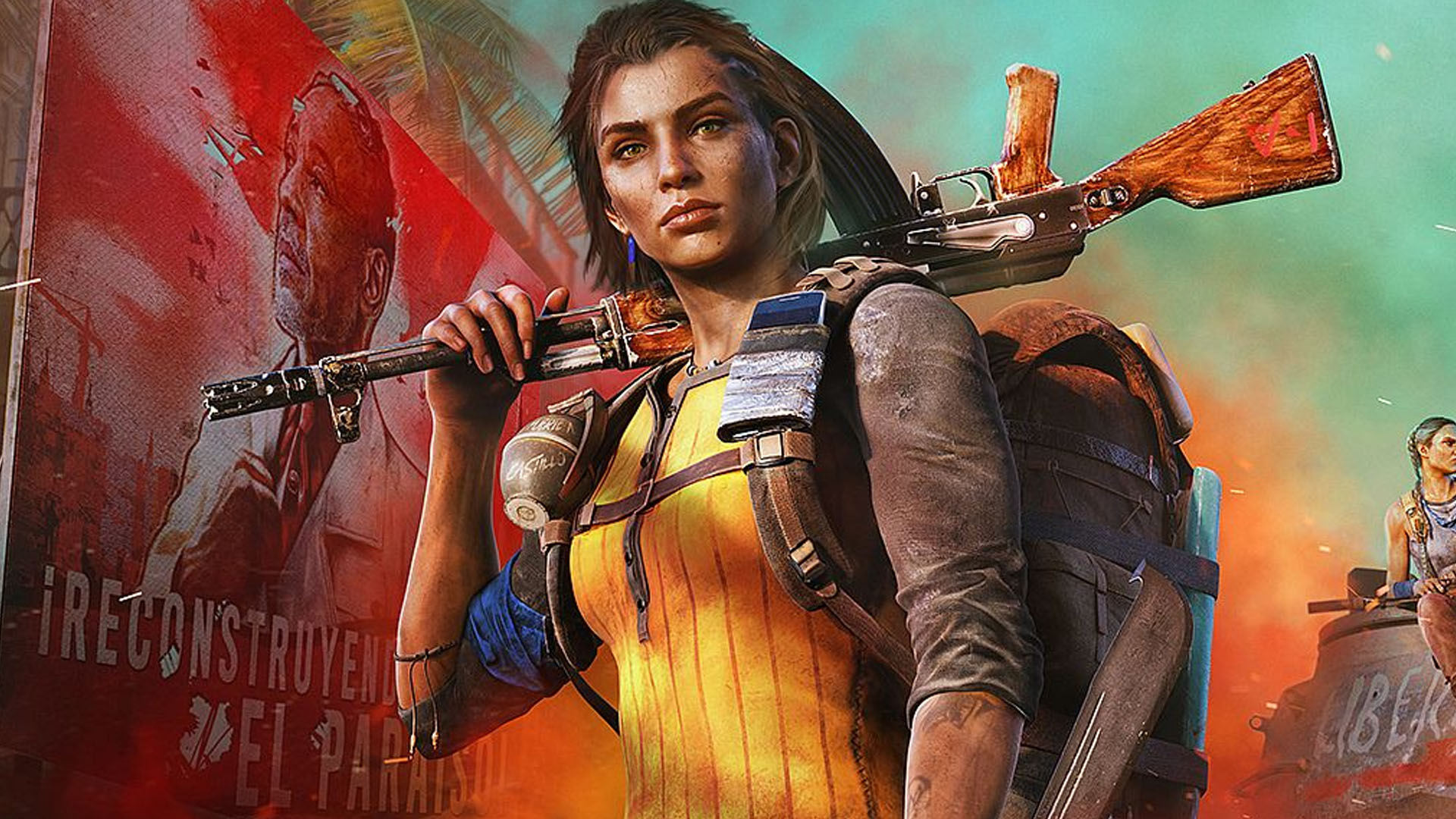 The concept of a Far Cry 6 third-person mode (or 3rd person for the numerically challenged) has been floating about since footage of Dani experimenting with an over shoulder third-person camera mode surfaced online. Far Cry has historically used first-person camera perspectives, but does Far Cry 6 offers a third-person option that players can switch to, whether on foot or in vehicles?
Below, we'll go through camera options, visibility, and out-of-body experiences.
What is Far Cry 6 third-person mode?
Despite the fact that the camera will switch to third-person at several moments throughout the game, there is no Far Cry 6 third-person option.
However, the player has little influence over when this occurs; it is linked to specific events and locales. In some instances, gamers will specifically encounter a third-person perspective:
During cutscenes
When exploring larger Guerrilla Camps
While triggering the main ability of Supremos
This has caused some confusion because some available footage has displayed these third-person moments without the larger context of how infrequent they are. Aside from that, gamers will be forced to play Far Cry 6 in the first person for the overwhelming bulk of the game.
Third person mode in wingsuit flight, vehicles and more
The third-person mode would be especially better during times in the game when players are managing heavier vehicles, riding horses, or flying over the sky in wingsuits. Despite the difficulty that many players experience navigating highways in Far Cry 6, there is no third person mode available here as well.
Future upgrades may address this, and we'll update this page accordingly, but for the time being, players are limited to staring out the filthy windscreen and hope they don't run over anything too dangerous. Or, in the case of the wingsuit, colliding with it from above.
Far Cry 6: All Rooster Locations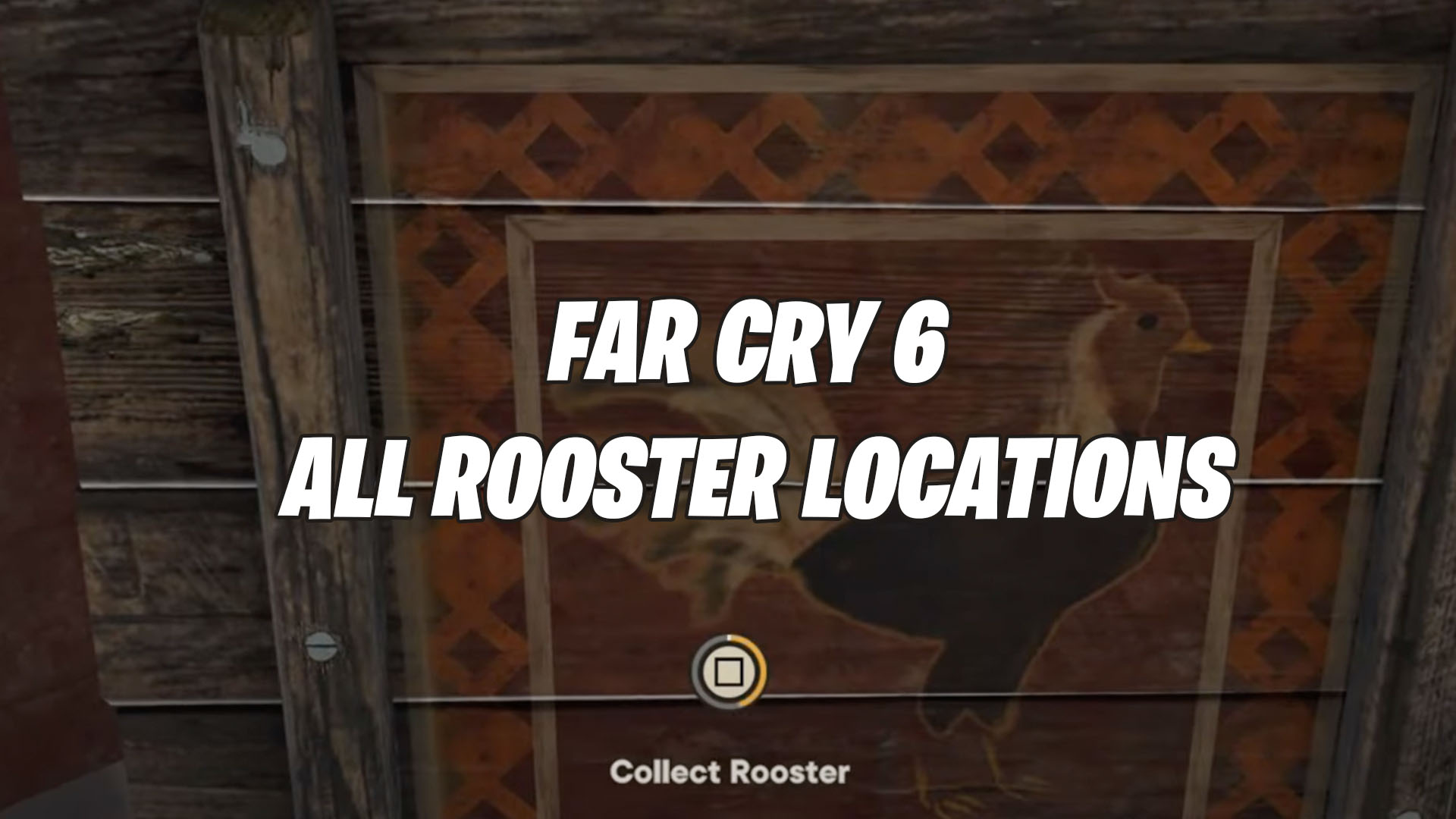 Where can you find roosters in Far Cry 6? Roosters are one of several forms of collectibles in Far Cry 6, however, they have a purpose other than merely being found. Once you've gone far enough in the storey, you can employ them to compete in cockfighting matches at Montero Farm. All rooster places will be revealed in this Far Cry 6 guide. The Recrooster Trophy can be unlocked by collecting all of them.
All Rooster Locations in Far Cry 6
The locations of all 13 roosters are listed here. We've arranged the guide into four main sections to make finding the roosters as simple as possible, including photographs to aid in your search and accurate explanations of their positions. To get the Recrooster Trophy, you don't have to buy the six roosters from Ubisoft Connect.
All Rooster Locations in Madrugada
Elguila, El Rato, El Dorado, and Acero are the four roosters found in Madrugada.
El Águila
El guila is located on the top of a minor mountain range in the Madrugada region, with a path leading to the summit easily accessible from the north. Climb to the top, past the two zip lines on your right, and up to the open area, where there are more roosters. Interacting with the enormous brown box at the cliff edge will yield Elguila.
El Rato
Because it's located in Montero Farm, right near to the cockfighting ring, El Rato is likely to be one of the first Roosters you see if you don't follow my guide. If not, the hamlet you seek is located immediately south of Baera Pond, and the arena is encircled by multicoloured flags. El Rato is encased in a wooden box, surrounded by cages.
El Dorado
El Dorado can only be obtained during or after the Yaran Story on the Spur of the Moment. When you get at the quest's destination, the rooster will be in the underground bunker. The Yaran Story begins with a conversation with the NPC at Montero Farm's cockfighting ring.
Acero
In the Madrugada region, in the village of Verdera. The wooden box in front of a shed can be found on the eastern edge of town.
All Rooster Locations in Esperanza
In Esperanza, there is only one rooster: La Bestia Blanca.
La Blanca Bestia
Go to the western point of Roja Bay in Esperanza's West Lado neighbourhood. Because this property is part of The Last One to Leave Treasure Hunt, you'll most certainly find La Bestia Blanca there.
All Rooster Locations in El Este
Hermoso, La Bala De Plata, El Huevo, and El Gallo Magnifico are the four roosters found in El Este.
Hermoso
The Savannah Fields are located in the Sierra Perdida area, about in the middle, with the Bonilla Farm on its western border. Hermoso is in the wooden box inside the cottage labelled "1."
La Bala De Plata
The Vaca Coast is located to the south of the Sierra Perdida area. The lvarez Farm is just to the northwest, with La Bala De Plata on the back of a cart.
El Huevo
Go to the town just northwest of the Madona River marker on the map in the La Joya district of El Este. You can access the wooden box directly below you by entering through the building's top.
El Magnifico Gallo
As part of the Everything to Lose Yaran Story, you'll immediately receive El Gallo Magnifico.
All Rooster Locations in Valle De Oro
Valle De Oro is home to four roosters: Papacito, El Pico, La Muerte Negra, and El Fénix.
Papacito
Papacito can be seen at the Castillo National Zoo, to the north of the Balacera neighbourhood. Papacito is in the northeast part of the zoo, adjacent to a group of roosters, once you've entered enemy territory. Papacito will be yours if you interact with the brown box on top of the cage.
El Pico
A residence slightly off the main road is located directly south of the Yara Botanical Gardens and west of the Cielo Gardens marker on the map. El Pico is in the customary wooden box at the back of the blue home.
La Muerte Negra
Within the Cruz Del Salvador region, in the municipality of Segunda. A property on the far west side of town houses La Muerte Negra, which is housed in a big box.
El Fénix
You'll want to go to the community west of Muerte Point in the Barrial section of Valle De Oro. Aside from bags, the wooden box will be placed on top of other boxes.
Far Cry 6 A Rising Tide code location and solution
If you want to cheat this treasure hunt on El Este's southern shore, check our Far Cry 6 A Rising Tide code guide. The goal is to locate boats and use them to obtain and request a unique code to unlock a locked door. However, you may not only cheat by just looking up the code, but the game even allows you to do so if you know where to look.
So let's get started on the Far Cry 6 A Rising Tide code solution and open the door.
Far Cry 6 A Rising Tide code
The Far Cry 6 A Rising Tide code is obtained by locating a series of named boats with numbers – such as the one seen above – and then using the names and numbers to press buttons within that building to access a door. You can either look about for all the boats, which we'll explain shortly, or you can simply explore beneath the building in the image, where you'll find a letter with the answer:
The boat names are listed on the note in the order in which you must press them. So now all you have to do is go inside and push the buttons that correspond to the names on the list in the order they appear on the list.
When you've done that, the door will open, revealing the reward inside: a one-of-a-kind gun known as Camo Quinceanera. Soft target rounds, a 3x tactical site, and a laser pointer are included, as well as various holster and reload speed improvements. If you obtain it early in the game, it's not a bad gun, but if you get it later, you could be disappointed.
Now, if you want to complete the task in its entirety, you'll need to locate all of the boats distributed across the hamlet and cross-reference the numbered signs with them. Because these boats are all vividly coloured, you can dismiss any that are mossy and boring. The first boat you'll need is the pink one we mentioned earlier, which can be found in the town's centre. From there, turn right and go down the wooden staircase to a building with a zip line that leads to this boat:
Return to the pink boat and turn left until you notice a blue boat perched on a roof on the opposite side of the road:
Drop down into this building's back yard and follow it to the left until you notice a yellow boat on another roof:
That's all the boats you'll find, so don't go crazy hunting for the Roja Victoria; it's not there. You'll have the following information for the boats you've discovered:
El Tigre is ranked first.
Papi Chulo isn't 5 (the sign denotes that something isn't equal).
Number three belongs to El Lucky.
Clarita is on number four.
From there, figure out the order in which El Tigre, Papi Chulo, El Lucky, Clarita, and Roja Victoria occur in the cheat note. You're done if you press the buttons in that order.
Where to find Far Cry 6 Industrial Circuits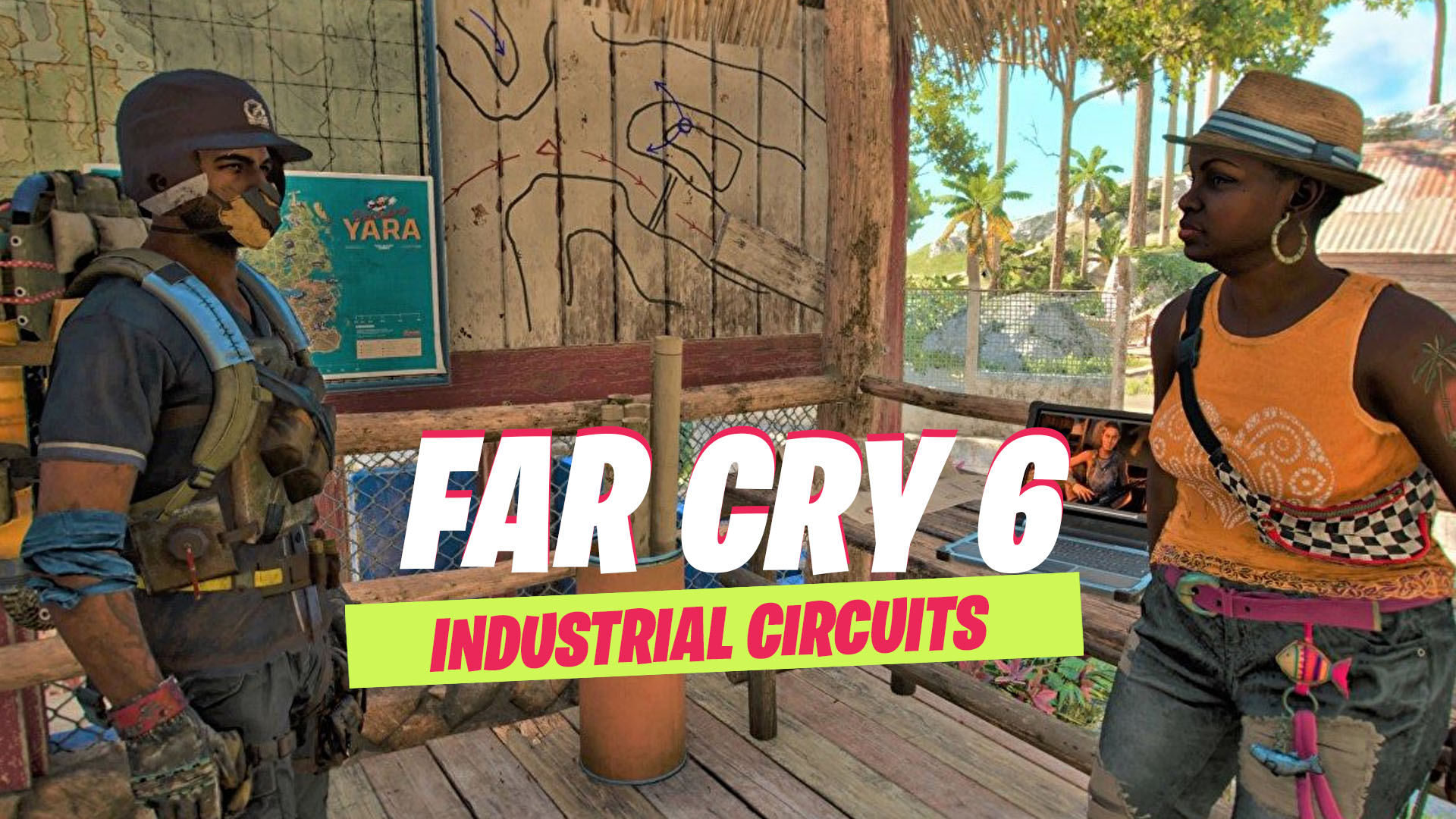 Industrial circuits are a key crafting resource in Far Cry 6, and they're utilised to make some of the game's best weapon upgrades, such as powerful scopes, silencers, and another rank 4 attachments.
Industrial circuits, on the other hand, are difficult to come by in Far Cry 6, which makes sense given that they're needed for the game's strongest upgrades and aren't likely to be laying about.
Fortunately, we've put together this advice on where to get industrial circuits in Far Cry 6 and how to find as many as possible as soon as possible.
The harsh reality is that you won't find any out in the field, and even the simplest one will require some effort. Still, you didn't join the revolution to live a comfortable life, did you? And those silent sniper guns are a blast to play with.
Far Cry 6 industrial circuits locations
Industrial circuits in Far Cry 6 aren't found in the wild; the ones you can find are mostly task rewards or can be purchased from very specific vendors for very specific currencies. There are three ways to gain industrial circuits in Far Cry 6 as far as we know:
Industrial Circuits as a Random Reward for Bandidos Missions: There's a slight chance that Bandidos operations will deliver industrial circuits to the player as a random reward. Keep a lookout for them as both main prizes and smaller commands are provided at the end of an operation.
Lola appears at all three main Guerilla Camps as your contact to begin co-op gameplay, and you can buy it from her with Moneda. You can acquire Moneda, her unique currency, by accomplishing the missions she assigns you, and then use it with her to purchase industrial circuits and other items. Don't worry if you don't have any pals to play co-op with; you may still obtain Moneda by playing her assignments solo.
Sell Alpha Meat: If you have Alpha Meat to sell, any regular merchant will sell industrial circuits to the player. You can gain Alpha Meat by killing the Alpha Animals that spawn randomly over the area, but you'll need to have built and improved the Hunter's Lodge in order to get the Animal Anatomy Guide. However, there's no way of knowing where these animals will appear, so it's strictly a game of chance.
Far Cry 6 industrial circuits crafting uses
Industrial circuits are utilised in Far Cry 6 to create the best upgrades for weapons and Supremos, which are usually any attachment with a Rank 4 on it (the best they can get). You'll need them to make useful attachments and advance your arsenal to the mid-to-late game.
However, because industrial circuits are uncommon in Far Cry 6, you shouldn't fall into the habit of squandering them or treating them as throwaway.