Trudeau's Liberals win the election in Canada but fall short of a majority in Parliament.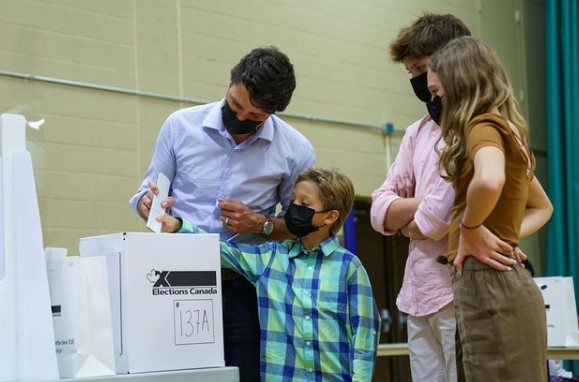 Trudeau's Liberals win the election in Canada, but fall short of a majority in Parliament.
In a quick legislative election, Canadian voters narrowly gave Prime Minister Justin Trudeau a third term, although he fell short of his aim of securing an outright majority for his Liberal Party.
Ballots were still being tabulated across the country early Tuesday, but the general contours of the incoming government were already visible. Trudeau had anticipated that voters would thank his administration for its handling of the coronavirus outbreak, but instead got the same result as in 2019: another minority government reliant on the assistance of partners to govern.
Despite the defeat, Trudeau noted that voters had expressed their satisfaction and that Canadians should be confident in the handling of COVID-19 in the future.
In a victory speech to supporters in Montreal on Monday night, the 49-year-old prime minister stated, "You are sending us back to work with a clear mandate to get Canada through this pandemic, and to the brighter days ahead," "My friends, that is exactly what we are ready to do."
The 35-day campaign began when Trudeau's administration was compelled to defend itself against similar allegations leveled against US Vice President Joe Biden over Afghanistan, particularly that efforts to evacuate his own citizens and Afghans following the Taliban takeover were delayed and haphazard.
In the run-up to Monday's vote, the prime minister's efforts to differentiate his party from the Conservatives on a variety of issues, such as climate policy, vaccination mandates, and passports, appeared to lose momentum.
According to the Toronto Star, Trudeau remarked early Tuesday, "Some have talked about division, but that's not what I see," "That's not what I've seen these past weeks, across the country."
He stated, "I see Canadians standing together,"
On Tuesday, Conservative Party leader Erin O'Toole admitted defeat, but said that the Conservatives had thwarted Trudeau's "quick power grab."
"Five weeks ago, Mr. Trudeau asked for a majority, he said the minority parliament was 'unworkable.' But tonight Canadians did not give Mr. Trudeau the majority mandate he wanted," Speaking in French, O'Toole remarked. "In fact Canadians sent him back with another minority at the cost of $600 million Canadian dollars and deeper divisions in our great country."
Canadian protesters tear down statue of nation's first prime minister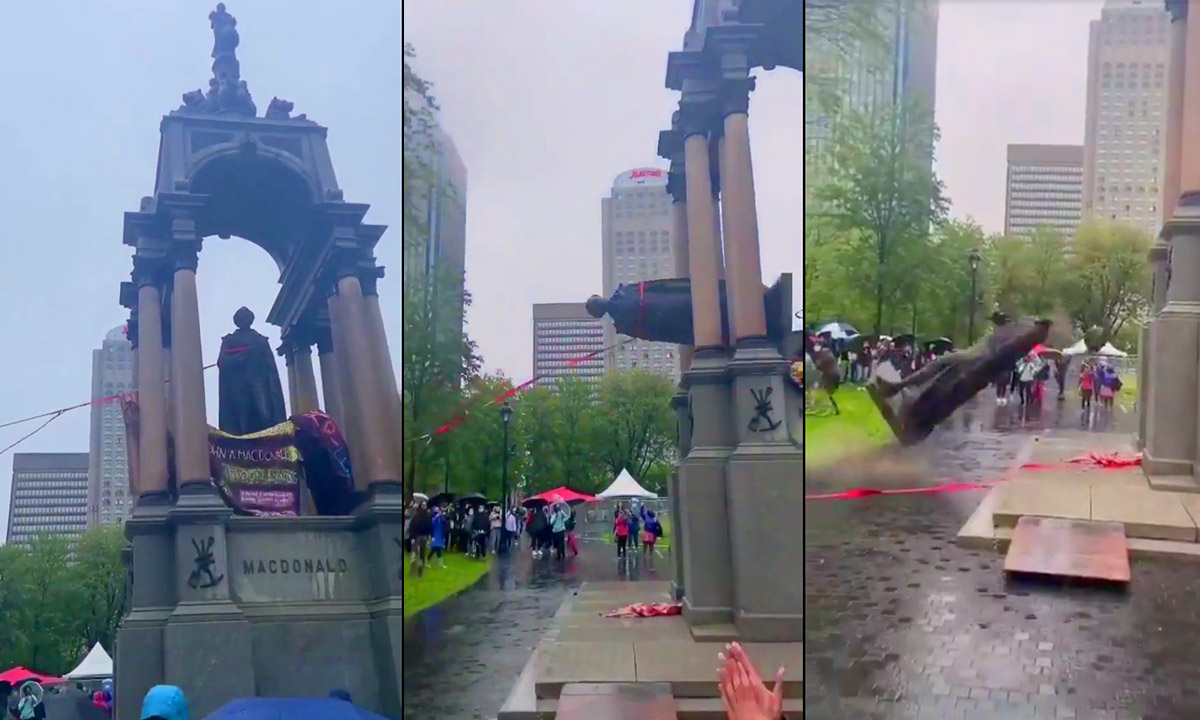 According to reports, Canadian activists have pulled down a statue of the nation's first prime minister, whose policies were linked with the deaths of many indigenous people.
Canadian broadcaster CBC reported, "A leaflet distributed at the protest described MacDonald as "a white supremacist who orchestrated the genocide of Indigenous peoples with the creation of the brutal residential schools system." As of now, no arrests have been made.
Protestors can be seen in a video pulling down the statue of Sir John A MacDonald, the figure's head breaks down and bounces on the paving stones.
Statue taken down today in so-called #Montreal #BlackLivesMatter #DefundPolice #manifencours #decolonize Kanada pic.twitter.com/0TYGayWUiK

— Nore (@noreornot) August 29, 2020
According to the BBC, A video showed the moment that protesters were able to pull down the statue of Sir John A MacDonald, with his head bouncing off after the statue hit the ground. A protester than posed for a photo with the head.
A leaflet distributed at the protest described MacDonald as "a white supremacist who orchestrated the genocide of Indigenous peoples with the creation of the brutal residential schools system," according to Canadian broadcaster CBC. No arrests have been made.
"Destroying parts of our history is not the solution," Quebec's Premier François Legault said, further condemning the action as "unacceptable."
"Whatever one might think of John A. MacDonald, destroying a monument in this way is unacceptable," Legault wrote on Twitter. "We must fight racism, but destroying parts of our history is not the solution. Vandalism has no place in our democracy and the statue must be restored."
Quoique l'on puisse penser de John A. MacDonald, détruire un monument ainsi est inacceptable.

Il faut combattre le racisme, mais saccager des pans de notre histoire n'est pas la solution.

Le vandalisme n'a pas sa place dans notre démocratie et la statue doit être restaurée.

— François Legault (@francoislegault) August 29, 2020
The removal of the figure came at the culmination of a 200-strong protest that started as a call for changes to the city's police funding, according to the local newspaper the Montreal Gazette.
According to the Montreal Gazette, the police accompanied the protesters but didn't intervene at the statue's removal.
The group has called for the removal of all "Statues, Plaques and emblems" connected to those who have promoted racism in a statement on the group's Facebook page.
The statement read, "Statement of hate encourages the mental oppression of marginalized people and serve as reminders to all people of the inequitable imbalance of power and encourage white supremacist attitudes."
The recent shift in MacDonald's standing, particularly in response to the global protests following George Floyd's death, has led Scotland to "disowning him," according to the BBC. Mentions of the Glasgow-born politician have been removed from Scotland.org sites.
In a statement, the Scottish National Party-led government confirmed it had removed articles on Sir John A Macdonald from the websites "following the legitimate concerns raised by Canadian indigenous communities about his legacy."
John A. MacDonald was among the founding fathers of the country and the first prime minister of the country. He helped build the Canadian nation and create the residential school system.
His nation-building policies included the forced removal of at least 150,000 indigenous children from their homes and inclusion in state-funded boarding schools.
The policy enforced assimilation, with students banned from speaking their own language or practicing more explicit elements of their culture. Many of those children were supposedly abused, with some dying.
MacDonald is accused of capitalizing on a famine to drive Indigenous people into reservations. He also founded the Indian Residential Schools system, a project that forcibly removed children from their parents.
Related articles on the Web
Activists topple statue of Sir John A. Macdonald in downtown Montreal
John A. Macdonald loses his head as protesters topple statue
Sir John A Macdonald: Scotland disowns Canada's first PM
Canada: Ontario opens applications for Regional Immigration Pilot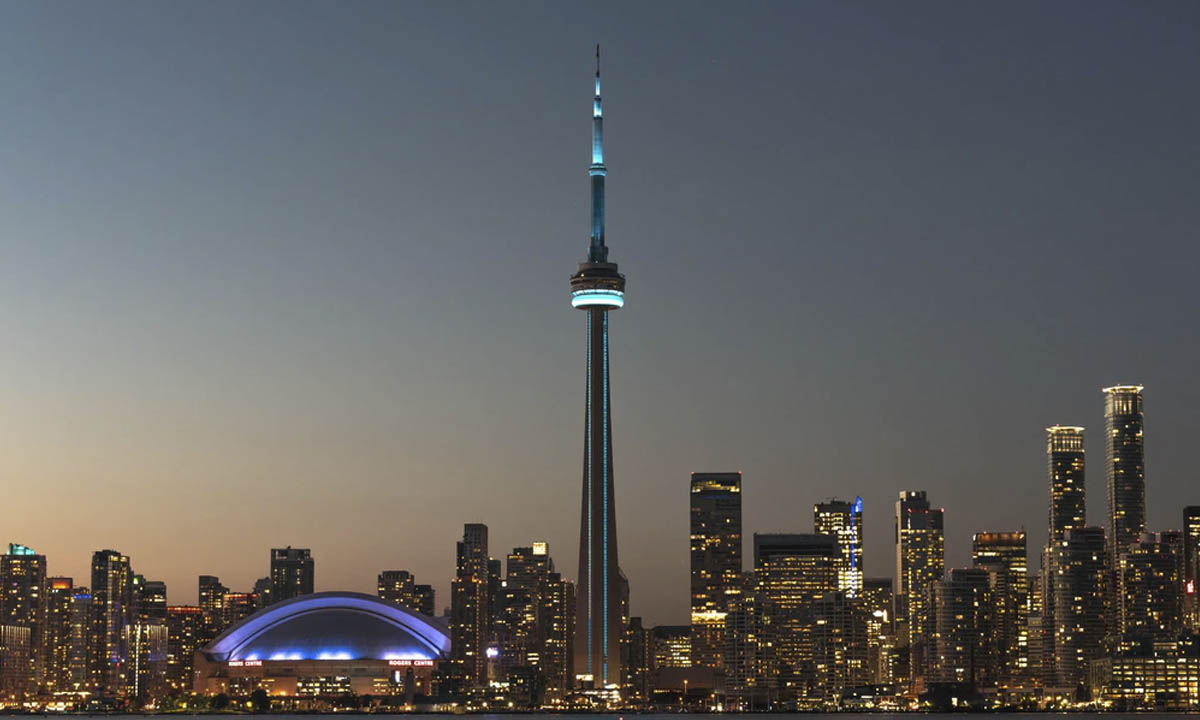 A new way to get your to permanent residence is now available for prospective Ontario immigrants.
The Ontario Immigrant Nominee Program (OINP) has now started accepting applications for the Regional Immigration Pilot.
Candidates should meet the criteria for any of the OINP Employer Job Offer streams.
Applicants should have full-time and permanent job offers from employers located in one of three Ontario communities:
Chatham-Kent
Cornwall
Quinte West/Belleville
The two-year pilot includes about 150 nominations allocated for applicants destined for these communities. The OINP is also doing marketing and outreach to raise awareness among local employers and providing business service support. They are also partnering with stakeholders to leverage the entrepreneur stream local business succession.
The goal of the pilot is to connect highly skilled immigrants with jobs in small and rural Ontario communities. These specific locations were chosen because of their specific labour challenges, and their ability to help newcomers get settled, among other factors.
Eligibility criteria for the Employer Job Offer category
As the name suggests, applicants need a job offer in Ontario to be eligible for one of the streams in this category. They do not need to be physically present in Canada in order to be eligible for this Provincial Nominee Program (PNP).
The Employer Job Offer category has three streams:
To apply for the pilot, applicants must complete an intake form and email the OINP.
Source: CIC News
Trending jobs for immigrants in Canada during COVID 19 Pandemic
The COVID 19 pandemic has brought a once-in-a-lifetime disruption to the global economy. Countless companies were forced to close their doors, millions of Canadians lost their jobs, reduced their working hours, and were temporarily made redundant during the crisis.
Although the economy has been hit hard by these changes, there are some hopeful signs. If you're looking for work now, here's a look at the skills and jobs that are in demand right now. Critical jobs have increased sharply since the pandemic, but what about the rest of the labor force?
Because COVID-19 keeps everyone at home, we spend more time online than ever before, and the digital platforms we depend on need developers to run them smoothly.
Developers:
Developers help companies expand their e-commerce capacities and repair existing platforms, but many companies also rely on online sales to keep them afloat in times of social distancing. Employers are also using this slow phase to work on large-scale projects that are falling by the wayside as a result of pandemics.