SpaceX: Crew-3 mission, led by astronaut Raja Chari, will launch to the International Space Station on October 31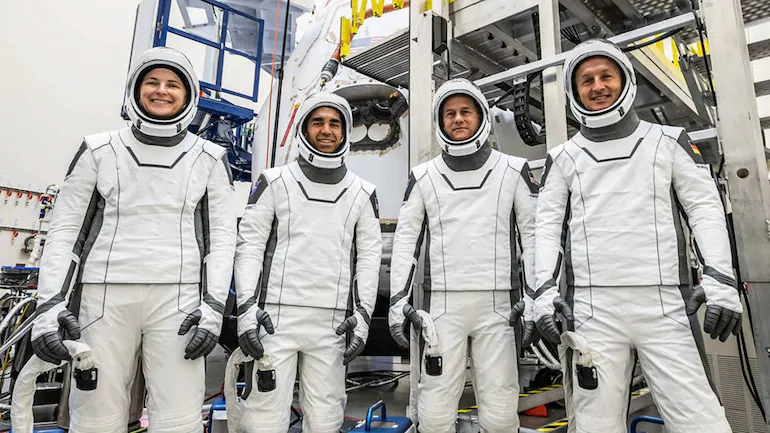 SpaceX: Crew-3 mission, led by astronaut Raja Chari, will launch to the International Space Station on October 31
This is the fourth voyage with astronauts and the third crew rotation mission on the SpaceX Crew Dragon spacecraft.
Nasa and SpaceX are nearing the end of their mission to send the next rotational crew to the space station. The Crew-3 will take off on October 31st.
This is the third crew rotation mission with astronauts on the SpaceX Crew Dragon spacecraft and the fourth voyage with astronauts as part of the agency's Commercial Crew Program, including the Demo-2 test flight.
The four astronauts will be launched on a Falcon 9 rocket from Launch Complex 39A at Nasa's Kennedy Space Center in Florida, led by Elon Musk. The spacecraft is scheduled to dock with the station the following day.
The four-person team will spend six months onboard the microgravity laboratory doing research that will push the boundaries of human space exploration. For a brief period, the team will collaborate with Crew-2 astronauts and members of Expedition 66, who are now onboard the ISS, before taking over the work.
The Crew-3 flight will transport Nasa astronauts Raja Chari, mission commander; Tom Marshburn, pilot; and Kayla Barron, mission specialist, to the space station for a six-month science mission, as well as European Space Agency (ESA) astronaut Matthias Maurer, who will serve as a mission specialist.
On October 16, the four members were quarantined for the mission. The quarantine is a standard element of the final preparations for all space station missions. According to Nasa, spending the final two weeks before liftoff in quarantine will assist assure the crew's health while also protecting the astronauts already on the space station.
Meanwhile, due to the coronavirus pandemic, Chari, Marshburn, Barron, and Maurer, as well as individuals in direct, intimate contact with the team, will be tested for the virus twice as a precaution.
"With the Crew-3 launch date adjustment, return of Crew-2 with NASA astronauts Shane Kimbrough and Megan McArthur, Japan Aerospace Exploration Agency (JAXA) astronaut Akihiko Hoshide, and ESA astronaut Thomas Pesquet, currently is planned for early November with splashdown of Crew Dragon Endeavour at one of seven landing zones off the coast of Florida," Nasa said in a blog post.
This is the first flight for Indian American astronaut Raja Chari, who was chosen as the mission's commander in 2020 and has stated that he is proud to be working and training with Matthias Maurer and Thomas Henry Marshburn in preparation for a mission to the International Space Station aboard the SpaceX Crew Dragon.
Chari was born in Milwaukee, but he considers Cedar Falls, Iowa to be his home. He is a colonel in the United States Air Force and brings vast experience as a test pilot to the operation. In a statement outlining his qualifications, Nasa stated that Chari has more than 2,500 hours of flight time in his career.
LSD – Thunderclouds lyrics
"LSD – Thunderclouds lyrics"
[Verse 1: Sia]
All I need is one
One more man is enough
Babe, you got it wrong
Please turn your fears into trust, to trust
[Pre-Chorus: Sia & Labrinth]
Where did love go?
When all is said and done?
Hey now, put your hands in the air
I'ma go through your stuff
Where did love go?
Put the running into run
You're asking me to stay
But I never met a girl I could trust
[Chorus: Labrinth & Sia]
You're sayin' those words like you hate me now (Wo-woah)
Our house is burning when you're raisin' hell (Wo-woah)
Here in the ashes, your soul cries out (Ah-ah-ah)
But don't be afraid of these thunderclouds
[Post-Chorus: Sia & Labrinth]
These thunderclouds, oh no
These thunderclouds, oh no, no
[Verse 2: Labrinth]
All I need is love (Da-dum, dum, dum)
All I need is a word (Da-dum, dum, dum)
All I need is us (Da-dum, dum, dum)
You turn nouns into verbs (Ooh, oh), to verbs (Ooh, oh)
[Pre-Chorus: Labrinth & Sia]
Where did love go?
When all is said and done?
Hey now, put your hands in the air
I'ma go through your stuff
Where did love go?
You put the running into run
You're asking me to stay
But I never met a man I could trust
Hey, yeah
[Chorus: Sia, Sia & Labrinth]
You're sayin' those words like you hate me now (Wo-woah)
Our house is burning when you're raisin' hell (Wo-woah)
Here in the ashes,​ your soul cries out (Ah-ah-ah)
But don't be afraid of these thunderclouds
[Post-Chorus: Sia & Labrinth]
These thunderclouds, oh no
These thunderclouds, oh no, no
These thunderclouds, oh no
These thunderclouds, oh no, no
[Outro: Sia]
These thunderclouds (Oh, whoa, oh)
These thunderclouds (Ah-ah-ah)
These thunderclouds (Oh)
Eminem – Guts Over Fear lyrics
"Eminem – Guts Over Fear lyrics"
[Intro: Eminem]
Feels like a close, it's coming to
Fuck am I gonna do?
It's too late to start over
This is the only thing I, thing I know
[Verse 1: Eminem]
Sometimes I feel like all I ever do is
Find different ways to word the same old song
Ever since I came along
From the day the song called "Hi! My Name Is" dropped
Started thinking my name was Fault
'Cause any time things went wrong
I was the one who they would blame it on
The media made me the equivalent
Of a modern-day Genghis Khan
Tried to argue it was only entertainment, dog
Gangster? Nah, courageous balls
Had to change my style, they said I'm way too soft
And I sound like AZ and Nas, out came the claws
And the fangs been out since then
But up until the instant that I went against it
It was ingrained in me
That I wouldn't amount to a shit stain, I thought
No wonder I had to unlearn everything my brain was taught
"Do I really belong in this game?", I pondered
I just wanna play my part
Should I make waves or not?
So back and forth in my brain the tug of war wages on
And I don't wanna seem ungrateful
Or disrespect the art form I was raised upon
But sometimes you gotta take a loss
And have people rub it in your face
Before you get made pissed off
And keep plugging, it's your only outlet
And your only outfit, so you know they gonna talk about it
Better find a way to counter it quick and make it… ah
Feel like I've already said this a kabillion 80 times
How many times can I say the same thing
Different ways that rhyme?
What I really wanna say is, if there's anyone else that can relate to my story, bet you feel the same way I felt
When I was in the same place you are, when I was afraid to—
[Pre-Chorus: Sia, Eminem]
I was a, afraid to make a single sound
Afraid I would never find a way out, out, out
Afraid I'd never be found (My dreams)
I didn't wanna go another round (Yeah)
An angry man's power will shut you up (Agh!)
Trip wires fill this house with tip-toed love
Run out of excuses for everyone
So here I am and I will not run (Yeah)
[Chorus: Sia]
Guts over fear (The time is near)
Guts over fear (Might shed a tear)
For all the times I let you push me round
I let you keep me down (Now I got)
Guts over fear, guts over fear
[Bridge: Eminem]
Feels like a close, it's coming to
Fuck am I gonna do?
It's too late to start over
This is the only thing I, thing I know
[Verse 2: Eminem]
I know what it was like, I was there once
Single parents, hate your appearance
As you struggle to find your place in this world
And the pain spawns all the anger on
But it wasn't 'til I put the pain in song
Learned who to aim it on that I made a spark
Started to spit harder shit
Learned how to harness it while the reins were off
And there was a lot of bizarre shit, but the crazy part
Was soon as I stopped saying I gave a fuck
Haters started to appreciate my art
And it just breaks my heart to look at all the pain I caused
But what am I gonna do when the rage is gone
And the lights go out in that trailer park? Oh
And the window is closing and there's nowhere else that I can go with flows and I'm frozen
'Cause there's no more emotion for me to pull from
Just a bunch of playful songs that I make for fun
So, to the break of dawn, here I go recycling the same old song
But I'd rather make "Not Afraid 2"
Than make another motherfucking "We Made You," ah
Now, I don't wanna seem indulgent
When I discuss my lows and my highs
My demise and my uprise, pray to God
I just open enough eyes later on
And gave you the supplies and the tools
To hopefully use that'll make you strong
Enough to lift yourself up, when you feel like I felt
'Cause I can't explain to y'all how dang exhausted my legs felt
Just having to balance my dang self
When on eggshells, I was made to walk
But thank you, Ma, 'cause that gave me the
Strength to cause Shady-mania, so when they empty that stadium
Least I made it out of that house
And found a place in this world when the day was done
So this is for every kid who all's they ever did
Was dreamt of one day just getting accepted
I represent him or her, anyone similar
You are the reason that I made this song
And everything you're scared to say
Don't be afraid to say no more
From this day forward, just let them a-holes talk
Take it with a grain of salt—and eat their fucking faces off!
The legend of the angry blonde
Lives on through you when I'm gone, and to think I was a—
[Pre-Chorus: Sia, Eminem]
I was a, afraid to make a single sound
Afraid I would never find a way out, out, out
Afraid I'd never be found (My dreams)
I didn't wanna go another round (Yeah)
An angry man's power will shut you up (Agh!)
Trip wires fill this house with tip-toed love
Run out of excuses for everyone
So here I am and I will not run (Yeah)
[Chorus: Sia]
Guts over fear (The time is near)
Guts over fear (Might shed a tear)
For all the times I let you push me round
I let you keep me down (Now I got)
Guts over fear, guts over fear
Sia – Cheap Thrills lyrics
"Sia – Cheap Thrills lyrics"
[Verse 1]
Come on, come on, turn the radio on
It's Friday night and I won't be long
Gotta do my hair, put my make up on
It's Friday night and I won't be long
[Pre-Chorus]
'Til I hit the dance floor, hit the dance floor
I got all I need
No, I ain't got cash, I ain't got cash
But I got you, baby
[Chorus]
Baby, I don't need dollar bills to have fun tonight
(I love cheap thrills)
Baby, I don't need dollar bills to have fun tonight
(I love cheap thrills)
But I don't need no money
As long as I can feel the beat
I don't need no money
As long as I keep dancing
[Verse 2]
Come on, come on, turn the radio on
It's Saturday and I won't be long
Gotta paint my nails, put my high heels on
It's Saturday and I won't be long
[Pre-Chorus]
'Til I hit the dance floor, hit the dance floor
I got all I need
No, I ain't got cash, I ain't got cash
But I got you, baby
[Chorus]
Baby, I don't need dollar bills to have fun tonight
(I love cheap thrills)
Baby, I don't need dollar bills to have fun tonight
(I love cheap thrills)
But I don't need no money
As long as I can feel the beat
I don't need no money
As long as I keep dancing
[Bridge]
(I love cheap thrills)
(I love cheap thrills)
I don't need no money
As long as I can feel the beat
I don't need no money
As long as I keep dancing
[Chorus]
Baby, I don't need dollar bills to have fun tonight
(I love cheap thrills)
Baby, I don't need dollar bills to have fun tonight
(I love cheap thrills)
I don't need no money
As long as I can feel the beat
I don't need no money
As long as I keep dancing
[Outro]
La, la, la, la, la, la, la
(I love cheap thrills)
La, la, la, la, la, la, la
(I love cheap thrills)
La, la, la, la, la, la, la
(I love cheap thrills)
La, la, la, la, la, la, la
(I love cheap thrills)