Residents evacuated from New Jersey as 6-alarm fire erupts At Chemical Plant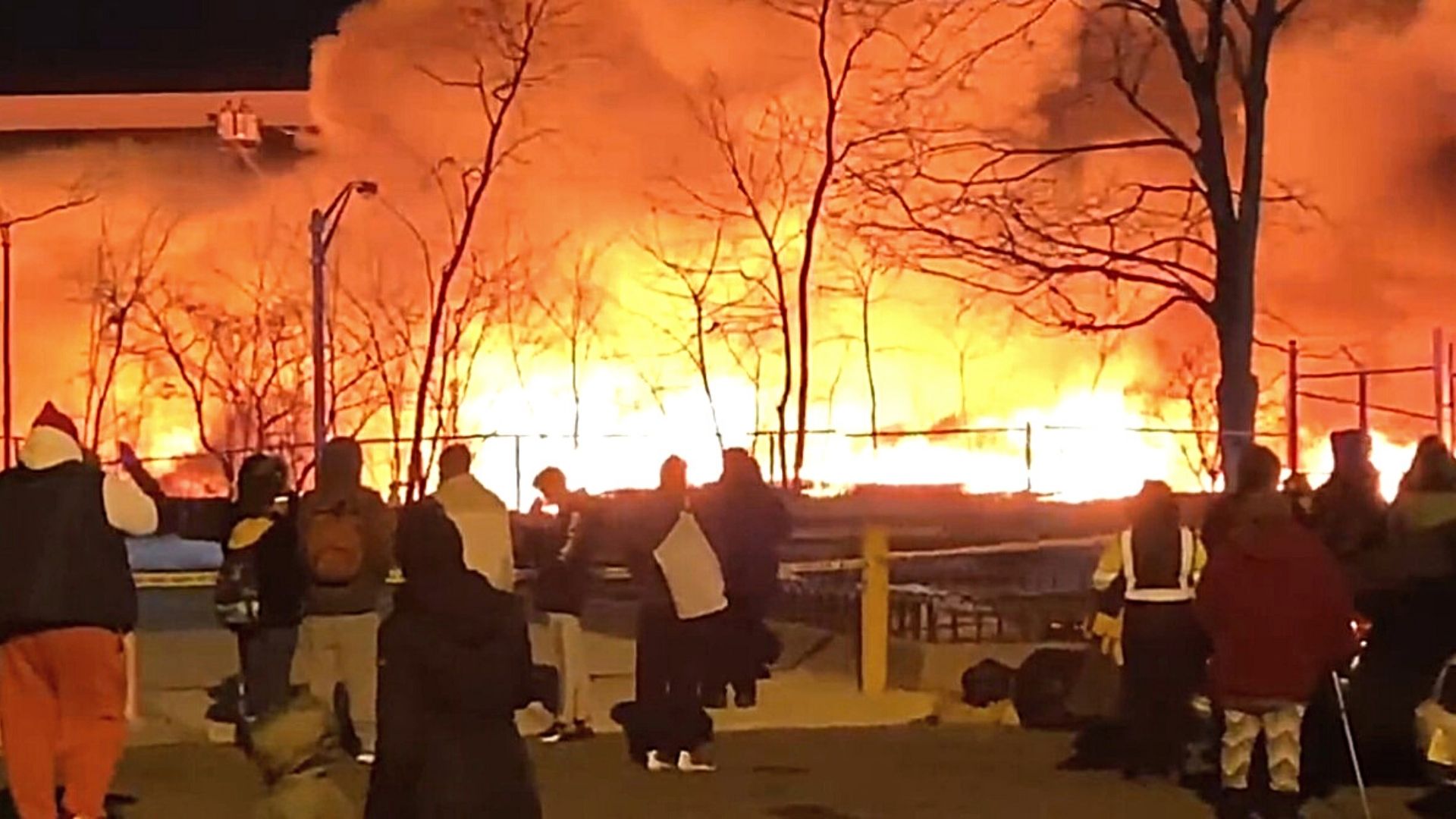 Residents evacuated from New Jersey as 6-alarm fire erupts At Chemical Plant
A six-alarm blaze broke out at a chemical facility in Passaic, New Jersey, on Friday night, forcing the evacuation of nearby residents.
Passaic Mayor Hector Lora told NewJersey.com that the Qualco chemical factory fire had spread to other buildings and that the whole site was anticipated to be destroyed. Majestic Industries, which is only a few hundred yards away, was also on fire.
Workers and people in the area were worried about exposure to harmful vapours.
There had not yet been any explosions in the chemical storage area, but Lora reported hearing them, which indicated the fire was getting close.
"There have been bad fires, but this is the worst that I've ever seen," he added..
Residents in the immediate vicinity of the conflagration were ordered to leave their homes. Some other people were told to keep their windows closed, as well.
Gigantic fire erupted at a chemical plant in New Jersey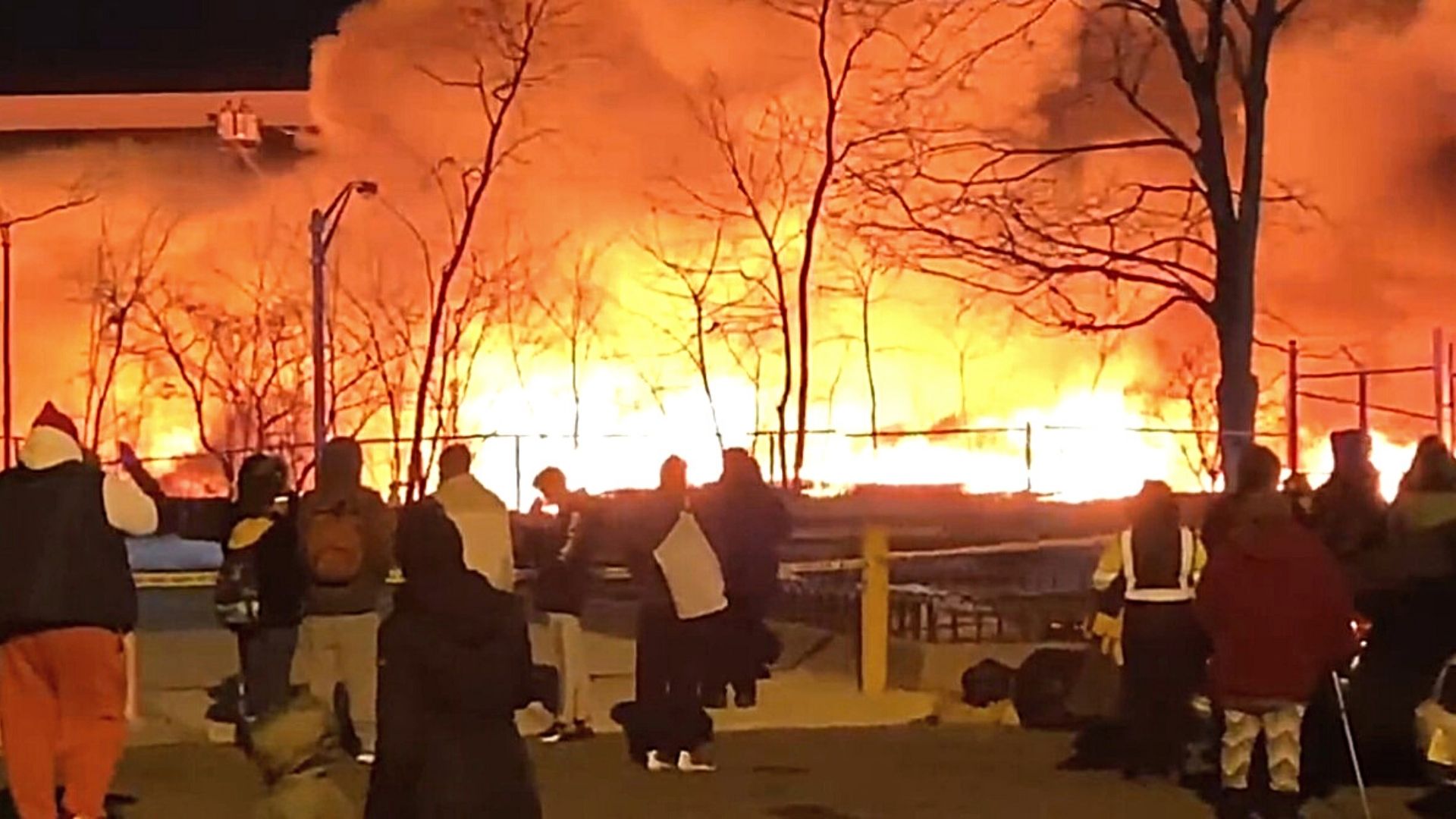 Gigantic fire erupted at a chemical plant in New Jersey
An 11-alarm fire broke out Friday night in Passaic, New Jersey. The three-story structure started fire at 8:30 p.m., according to CBS New York.
According to a fire officer questioned by Passaic Mayor Hector Carlos Lora, roughly 200 firemen from 11 companies had arrived to the location. The fire has not yet reached the main component of the chlorine facility, according to Passaic Fire Chief Patrick Trentacost Sr.
Lora said large evacuations may be required if the fire reaches the plant's core, and officials are "constantly monitoring" its progress. He praised the "heroic" efforts of firefighters who have so far kept the fire from reaching the plant's core.
Trentacost claimed "heavy, heavy smoke" and flames were in the roof and higher stories. The cause of the fire is unknown.
Lora said one fireman was hospitalised with an unknown ailment, but no further injuries were recorded.
Lora alerted local neighbours to stay away from the "extremely serious" fire on Facebook Live. Residents of New York City were advised they could see or smell smoke from the incident.
One New Yorker said she left the neighbourhood to escape any smells. "We don't know if the fumes will return or if there will be any long-term repercussions on the lungs. So it's terrifying "stated.
Governor Phil Murphy encouraged residents to "stay safe" as firefighters fought the wildfire. "If you live nearby, keep your windows closed," he said. "Praying for the safety of our first responders on the scene."
Passaic, NJ: Resident Evacuated As an 11-alarm Chemical Fire Rages Downtown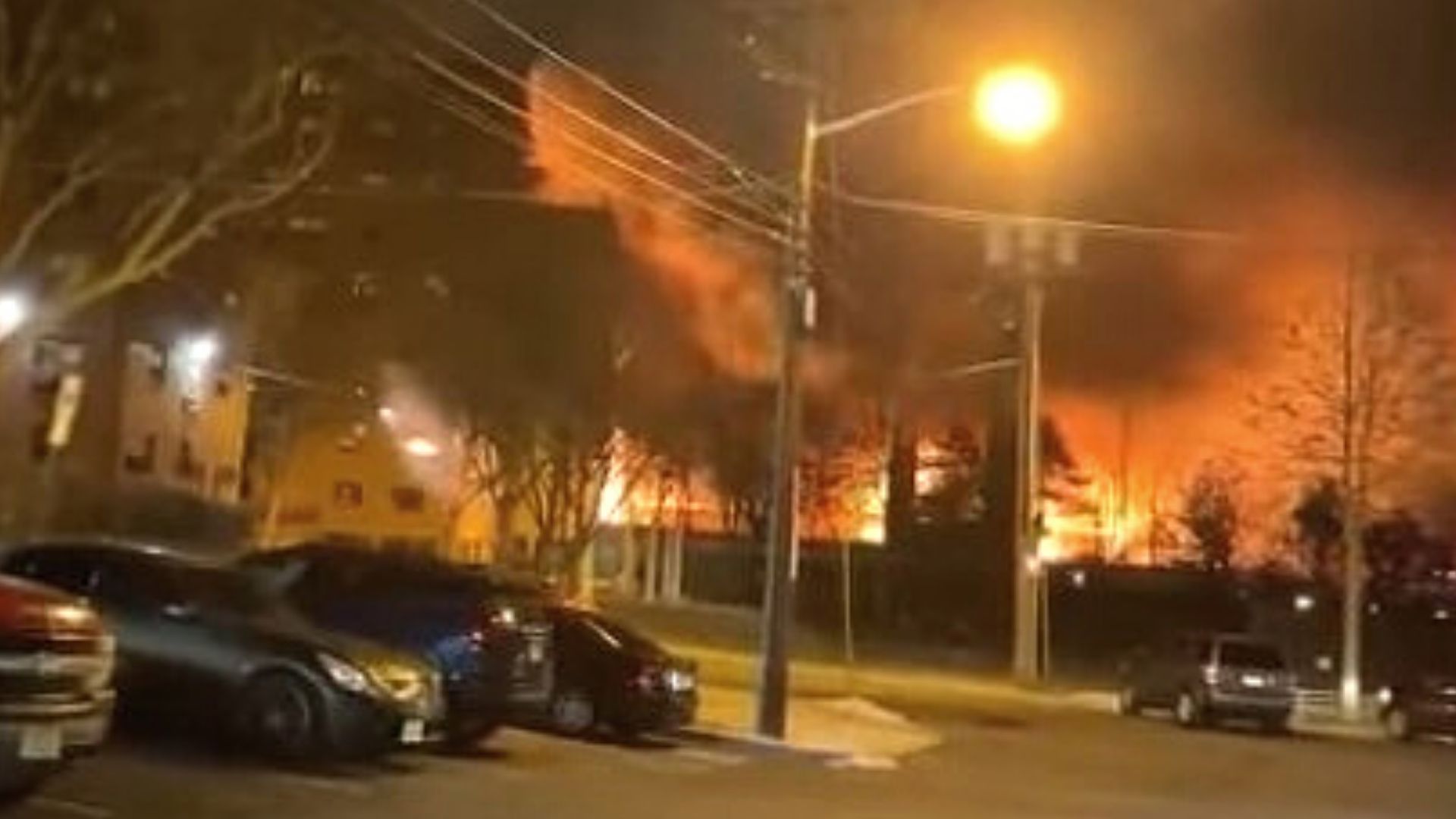 Passaic, NJ: Resident Evacuated As an 11-alarm Chemical Fire Rages Downtown
On a chilly Friday night, an 11-alarm chemical fire brought multiple mutual assistance units to the city.
Mayor Hector Lora said the fire is mostly in the Majestic Industries area, but it has extended to the Qualco chemical factory at 225 Passaic St.
Lora said the fire had spread to many buildings and they feared to lose everything. The fire had not yet reached the chemical storage facility, but occasional popping and minor explosions showed it was getting close.
"There have been bad fires but this is the worst that I've ever seen," he added.
Residents near the flames were asked to shut their windows. Route 21 in both directions was closed from First Street to Main Avenue.
As the fire department and emergency personnel examine the scope of the damage, Lora asks people to keep windows closed. "We ask that everyone stay as far away as possible. A chemical fire. You will see the color in the sky.."
On Twitter, Gov. Phil Murphy encouraged "everyone in Passaic to stay safe as firefighters battle a large eight-alarm fire at a chemical plant off of Route 21."
"If you live nearby, keep your windows closed," Murphy said. "Praying for the safety of our first responders on the scene."
Approximately 200 firemen from Essex, Bergen, and Passaic counties attended.
"We are doing everything we can to contain it," he added.
Trentacost said his department had contacted Passaic Valley Water to ensure appropriate water pressure and that other agencies' fire boats were their route.
Lora said one fireman was injured and brought to hospital.
Fourth Street was mostly deserted by 10:30 p.m., indicating that residents had taken heed.
After the wind turned at 10 p.m., the overpowering fragrance of smoke and chemicals, notably chlorine, made people's eyes wet. Large flames and water sprays also cross the river.
Lora said it was being evaluated but to keep away because there was a chemical fire.
"There are a lot of firefighters, a lot of police officers that are coming out in order to ensure that individuals are evacuated from the immediate area," Lora said. "Because this is a chemical fire we are extremely concerned for the health and safety of those in the area."
Lora said there had been no reports of fatalities "as of right now," but was concerned about police, fire, and rescue services.
Firefighters are tackling a hot blaze. The city is now at 25 degrees, but the National Weather Service predicts subzero wind chills overnight with 15 to 20 mph winds.
It will be between -10 and -5 degrees overnight and Saturday early.
Lora anticipates locals to be evacuated and is trying to put up a municipal shelter for the affected. Residents of nearby Wallington were advised to stay indoors with windows locked and watch for huge embers crossing the river. According to the borough's website, "shifting winds may cause smoke from the working fire at a chemical factory in Passaic to pass over areas of the borough"
The incident was at Qualco, which makes and distributes chemicals for pools and spas. They've been in town for almost 30 years.
Despite the cold, January fires have recently scorched North Jersey. Last January, a major fire devastated Atlantic Coast Fibers recycling factory. When a fire devoured an entire city block and smoked the city skyline, firefighters endured the bitter weather overnight and into the next day. At least two explosions occurred.
On Jan. 30, 2019, a 10-alarm fire destroyed the historic Marcal Paper Mill in adjacent Elmwood Park. By night, 30 of the 36 structures on site had been damaged or destroyed. The Marcal sign that adorned the Elmwood Park section of Route 80 for decades was also demolished.
Massive New York City apartment fire claims the lives of 19, including nine children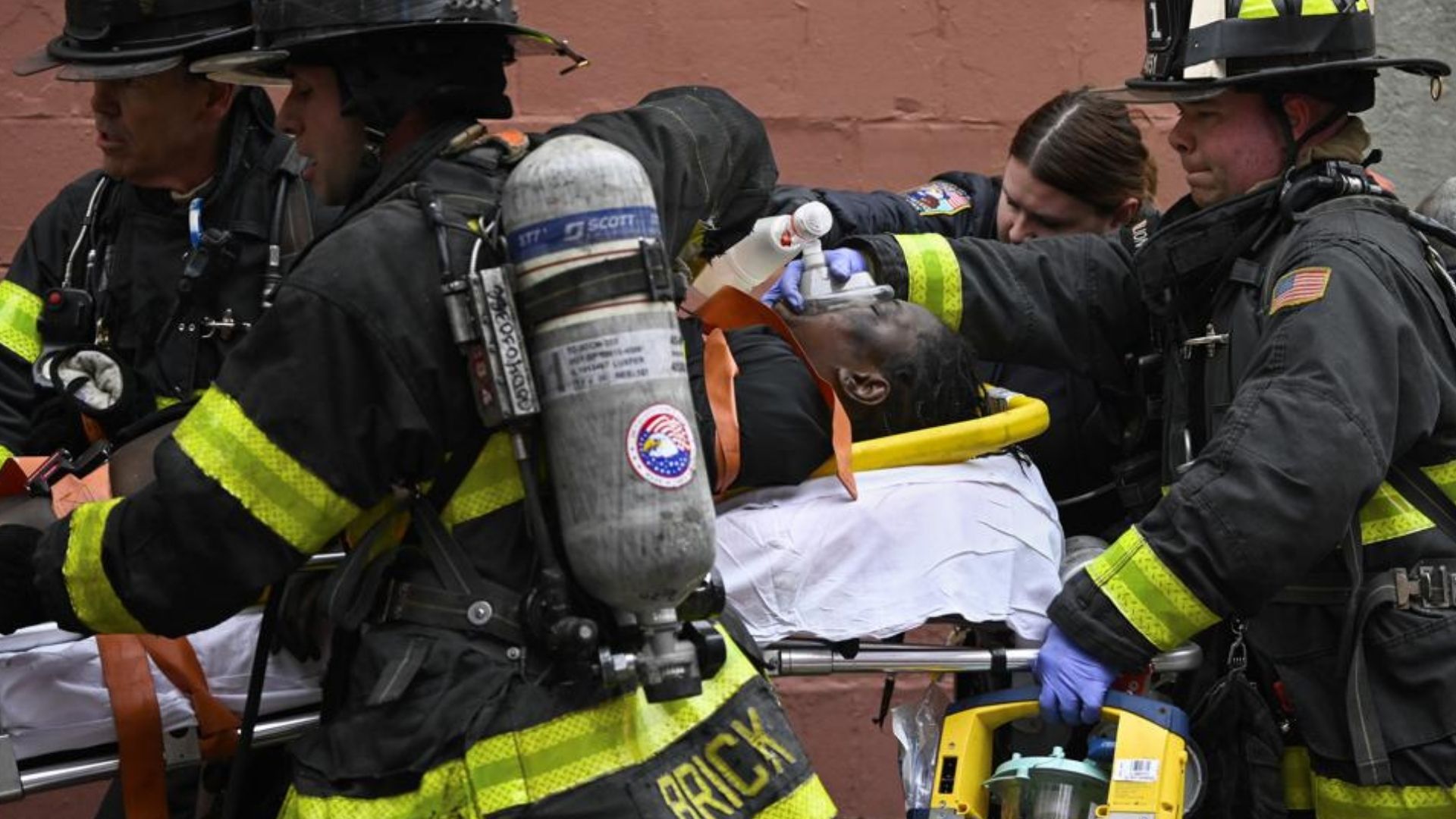 Massive New York City apartment fire claims the lives of 19, including nine children
According to authorities, 19 people, including nine children, died in a catastrophic fire that swept through a building in Manhattan on Sunday.
The 19-story high-rise in the Tremont section of the Bronx was engulfed in a five-alarm flames.
According to FDNY Commissioner Daniel A. Nigro, an electric space heater malfunctioned and sparked the fire. All of the building's smoke detectors were working properly.
According to the New York City Fire Department, at least 63 individuals were hurt, including 32 who had "life-threatening" injuries and 13 who are "clinging to their lives" in adjacent hospitals.
New York Mayor Eric Adams has already stated that the fire "is going to be one of the worst fires we have witnessed here in modern times in the city of New York."
The year 2021 saw 73 individuals lose their lives in New York City fires.
The fire appears to have started in a duplex unit on the third storey of the building, according to authorities. Smoke inhalation may have been the cause of several of the injuries observed on the top levels, investigators said.
Three minutes after the first 911 call, firefighters arrived and found the halls engulfed in flames, Nigro said. Nigro described the blaze as "unprecedented." citing a door that was left open as a factor in the spread of the flames and smoke.
Smoke could be seen rising from all 19 levels of the structure after the fire devoured two.
He described the smoke-filled atmosphere as "The smoke conditions in this building are unprecedented,"
Social media users have tweeted photographs of the building's several windows on fire. The FDNY began getting calls from tenants on higher levels just before 11 a.m. from a variety of different sources.
A resident who resided in the flat where the fire began was interviewed by Josh Einiger, a reporter from our sister station WABC.
Mamadou Wague recalls her children's shrieks of "We was sleeping and then my kids were screaming saying fire, fire," waking her and her husband up in the middle of the night.
In order to save his daughter, Wague had to leap across the raging flames and sustain burns on his nose.
"I don't want anybody life — I don't want to hear anybody dead in this fire, that's what I worry about," Wague added.
Since then, the fire has been extinguished.
It was not immediately clear how many people had been killed or injured.
This was the city's second big wildfire in as few days. A fireman was hurt and three families were forced to flee their homes early Saturday morning after a four-alarm blaze broke out in the Fordham Heights district of the Bronx, according to WABC. The fire was started by a lithium-ion battery, according to authorities.
At least 13 people, including seven children, were murdered in a Philadelphia row house fire last week.