Red Wings top Blue Jackets 4-1, Raymond scores 1st NHL goal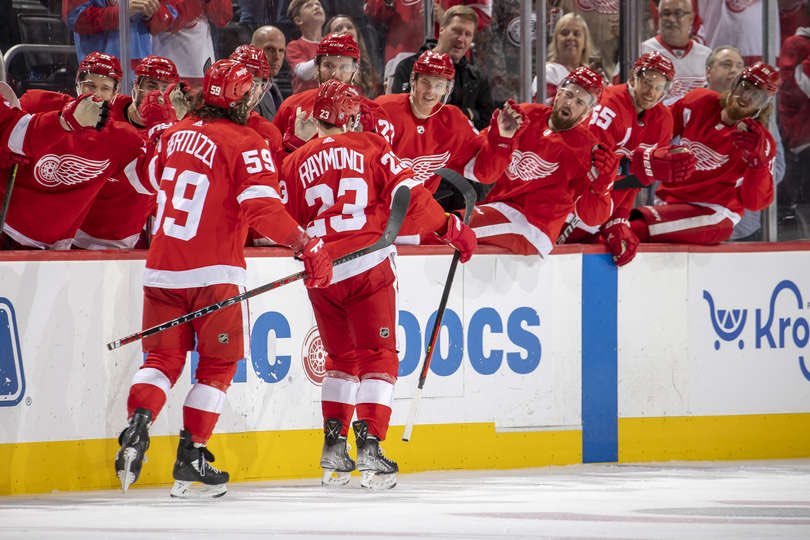 Red Wings top Blue Jackets 4-1, Raymond scores 1st NHL goal
Lucas Raymond's first NHL goal gave the Detroit Red Wings a 4-1 victory over the Columbus Blue Jackets on Tuesday night, breaking a scoreless tie at 6:38 of the third period.
"It feels great," Raymond said. "I've had some good looks, and I wanted to get one to go in. It is really special to get one. I think it has been amazing — the energy in the arena and the energy in this group. We play really hard every night and it makes it a lot of fun."
The Red Wings selected the 19-year-old Raymond from Gothenburg, Sweden, fourth overall in the 2020 draught. He also assisted on Tyler Bertuzzi's sixth goal of the season, which came just over two minutes after Detroit's first 33 efforts on goal were stopped by Joonas Korpisalo.
At 12:51 of the third period, Boone Jenner made it a one-goal game, but Red Wings goaltender Thomas Greiss and his defense kept the lead. Greiss finished the game with a total of 22 saves.
Wings keep rolling along. Stay tune for reaction of Lucas Raymond's first NHL goal, NOW on Bally Sports Detroit. #LGRW pic.twitter.com/LztHbhWdcZ

— Bally Sports Detroit (@BallySportsDET) October 20, 2021
Columbus coach Brad Larsen stated, "There was a little bit of enthusiasm." "But then, after withdrawing Korpisalo, we attempted to force things in the 6-on-5, and it just wasn't a good game for us."
In the last 1:14, Vladislav Namestnikov and Adam Erne scored empty-net goals.
Returning from a one-game suspension, Red Wings captain Dylan Larkin sped in on the right side and found Raymond for the game's first goal. Bertuzzi's goal was also assisted by Larkin.
Despite having a 31-13 shot advantage during the first two periods, Detroit was unable to score despite multiple solid chances.
"They were way better and way hungrier than we were," Larsen said. "We chased the game all night."
Greiss held the Red Wings in the game until the third period when they scored four times.
"He was the first star in the last game and he was good again tonight," Bertuzzi said. "He's definitely on top of his game right now."
For 1:34 in the second, Detroit had a two-man advantage, but they didn't take advantage until the third.
Korpisalo made a strong showing in the net, stopping 41 shots for a.953 save percentage.
"He was outstanding – the only reason we had a chance to be in that game or stay in that game," Larsen said. "He was our best player. It wasn't even close."
On the No. 1 line, Detroit coach Jeff Blashill likes how Larkin and Bertuzzi complement each other, with Raymond working his way into the flow.
"It's obviously a small sample, and they are a good combination," Blashill said. "Bert has the grit to get pucks in the corner, Dylan has the speed to make things happen, and Raymond is a cerebral player. Bert and Larks are both really good at going to get the puck, while that's not a strength for Lucas at this point."
Raymond added: "This was our second game together, and it has been incredible. They are both great players, and it is really easy to play with them."
In the opening week of the season, Columbus fell to 2-1, while Detroit improved to 2-0-1.
"This is the kind of start we needed to build some confidence, especially after I lost almost all of last season and Larks is coming back from his injury (last season)," Bertuzzi sa
LARKIN MAKES A RETURN
During Detroit's 3-1 win over Vancouver on Saturday, Larkin served his one-game ban. Larkin was dismissed from the Red Wings' season-opening 7-6 overtime loss to Tampa Bay, prompting the suspension. After being driven headlong into the boards, he received a match penalty for hitting Mathieu Joseph.
"Mathieu Joseph reached out to me and we texted back and forth and that was nice," Larkin told reporters. "He apologized and I apologized, and I said, 'Let's put it in the past.' And that's what I'd really like to do with all this."
If Joseph had been given a penalty, Larkin believes the confrontation would not have escalated.
NOTES: In 2014-15, Larkin and Columbus defenseman Zach Werenski shared a room in the South Quad dorms at the University of Michigan, where both were named to the All-Big Ten first team. Larkin, who was 18 at the time, spent one season with the Wolverines after being picked in the first round in 2014. In 2015, the Blue Jackets selected Werenski in the first round, when he was 17 years old. They previously won three Michigan state titles with the Belle Tire team and then went on to the United States National Team Development Program in Ann Arbor, where they attended Pioneer High School and shared a few classes.
"Drake – Practice lyrics"
[Intro]
Yeah, Cash Money shit, Cash Money shit
[Verse 1]
I can tell that money's got you working
We've been talking for so long, now we're finally here in person
I taste pain and regret in your sweat
You've been waiting for me, oh
I can tell that you been practicing
I can tell that you been practicing
All those other men were practice, they were practice
Yeah, for me, for me, for me, for me
[Chorus]
Girl, you look good, won't you back that ass up?
You a fine motherfucker, won't you back that ass up?
Call me big daddy, won't you back that ass up?
Girl, who is you playing with? Back that ass up
You workin' with some ass, yeah, you bad, yeah (Uh, uh, uh)
Girl, you workin' with some ass, yeah, you bad, yeah (Uh, uh, uh)
[Verse 2]
Girl, you workin' with some ass, yeah, you bad, yeah
Make a nigga spend his cash, yeah, his last, yeah
Hoes frown when you pass, yeah, they mad, yeah
Couple thousand on your bag, yeah, fuck yeah
I'm a Big Tymer nigga, yeah, money flipper, yeah
Get it understood, yeah, it's all good, yeah
Girl, I know what's real 'cause I've been around it
You only want what's real, you just never found it, ah
Don't give them no more chances, ooh, girl, they had their turn
Everything for a reason, there's things you had to learn from them
But when I get you to myself, you know what's going down
What's going down, oh
[Chorus]
Girl, you look good, won't you back that ass up?
You a fine motherfucker, won't you back that ass up?
Call me big daddy, won't you back that ass up?
Girl, who is you playing with? Back that ass up
You workin' with some ass, yeah, you bad, yeah (Uh, uh, uh)
Girl, you workin' with some ass, yeah, you bad, yeah (Uh, uh, uh)
[Verse 3]
Yeah, I know he messed up, but let a real nigga make it right
Let a real nigga make it right, you deserve that much
Let me put somethin' in your life
Let me put somethin' in your life, put somethin' in your life
You tellin' me it's only been a couple other people that you've been with
I'ma trust you, I'ma give you the benefit of the doubt and I'ma love you
You can even call me daddy, give you someone to look up to
[Refrain]
And my girls from the 504 need to drop it right now, uh
Need to drop it right now
All my girls from the 504 need to drop it right now
Need to drop it right now
All my girls from the 504 need to drop it right now
Need to drop it right now
All my girls from the 504 need to drop it right now
Need to drop it right now, oh
[Bridge]
After you back it up, then stop (Back it up, baby)
After you back it up, then stop (Uh, hey, babygirl)
After you back it up, then stop (Yeah)
After you back it up, then stop
[Outro]
I can tell that money's got you working
That your body's so wet and we're finally here in person
I taste pain and regret in your sweat
You've been waiting for me, oh
I can tell that you been practicing
I can tell that you been practicing
All those other men were practice, they were practice
Yeah, for me, for me, for me, for me
Juice WRLD & The Weeknd – Smile lyrics
"Juice WRLD & The Weeknd – Smile lyrics"
[Chorus: Juice WRLD]
I'd do anything in my power to see you just smile
I want you to prosper and come proper
Even if that means I ain't by your side
I'd do anything in my power to see you just smile
I want you to prosper and come proper
Even if that means I ain't by your side
[Verse 1: Juice WRLD]
Devil on my shoulder tellin' me I'll die soon
I don't really want that to impact you
But I don't know, maybe I'm just paranoid
I just want the best for you, I just want what's left of you
Oh, you tell me that you're sad inside
I'm sad that I can't satisfy
Yeah, I pray that I get it right this time
Maybe we'll be alright
Oh, you tell me that you're sad inside
I'm sad that I can't satisfy
Yeah, I pray that I get it right this time
Maybe we'll be alright
[Chorus: Juice WRLD]
I'd do anything in my power to see you just smile
I want you to prosper and come proper
Even if that means I ain't by your side
I'd do anything in my power to see you just smile
I want you to prosper and come proper
Even if that means I ain't by your side
[Verse 2: The Weeknd]
Oh yeah
I just wanna see you smile (You smile)
Don't cry (Don't cry, yeah)
Even though it means I gotta let you go (Yeah)
Dependent on ya, gotta learn to be alone ('Lone)
'Cause I'm so desensitized
When our skin is touching (Yeah), I need drugs to love you (Yeah)
You want so much more from me, but I can only fuck you (You)
I spent every day right beside you ('Side you), 'side you ('Side you)
A hundred pics of me on your phone
Now you're someone that I used to know
At this point, we playin' with fire (Fire), fire (Fire)
You don't wanna see what's in my phone
It's just gonna hurt you more (More)
[Chorus: Juice WRLD & The Weeknd]
I'd do anything in my power to see you just smile (Oh yeah)
I want you to prosper and come proper
Even if that means I ain't by your side (Oh, oh)
I'd do anything in my power (My power) to see you just smile
I want you to prosper and come proper
Even if that means I ain't by your side
The Weeknd – Rolling Stone lyrics
"The Weeknd – Rolling Stone lyrics"
[Intro]
Ooh
Yeah, yeah, yeah
[Verse 1]
Now you're thinkin' 'bout it
Girl you're thinkin' 'bout it
What we got here
How we fuckin' got here
They recognized
They just recognize
I'm in a life without a home so this recognition's not enough
I don't care about nobody else
Cause I've been on these streets way too long, too long, too long
Baby, I've been on this too long
[Verse 2]
'Cause getting faded too long
Got me on this rolling stone
So I take another hit
Kill another serotonin
With a hand full of beans
And a chest full of weed
Got me singing 'bout a bitch
While I'm blowing out my steam
Yeah, I know I got my issues
Why you think I fuckin' flow?
And I'ma keep on smoking 'til I can't hit another note
[Chorus]
Ooh, but until then
I got you, ooh
Baby, I got you, ooh
Until you're used to my face
And my mystery fades
I got you, ooh
[Verse 3]
So, baby, love me, oh
Before they all love me
Until you won't love me, oh
Because they'll all love me, ooh
I'll be different, oh
I think I'll be different, ooh
I hope I'm not different, oh
And I hope you'll still listen
[Chorus]
But until then
Baby, I got you, ooh
I got you, oh, ohh
Girl, I still got you, oh-ohh
And I got you, ooh, woah