Ramanas Park, Slates, Mysterious Shards, and Legendary Pokémon guide: Pokémon Brilliant Diamond & Shining Pear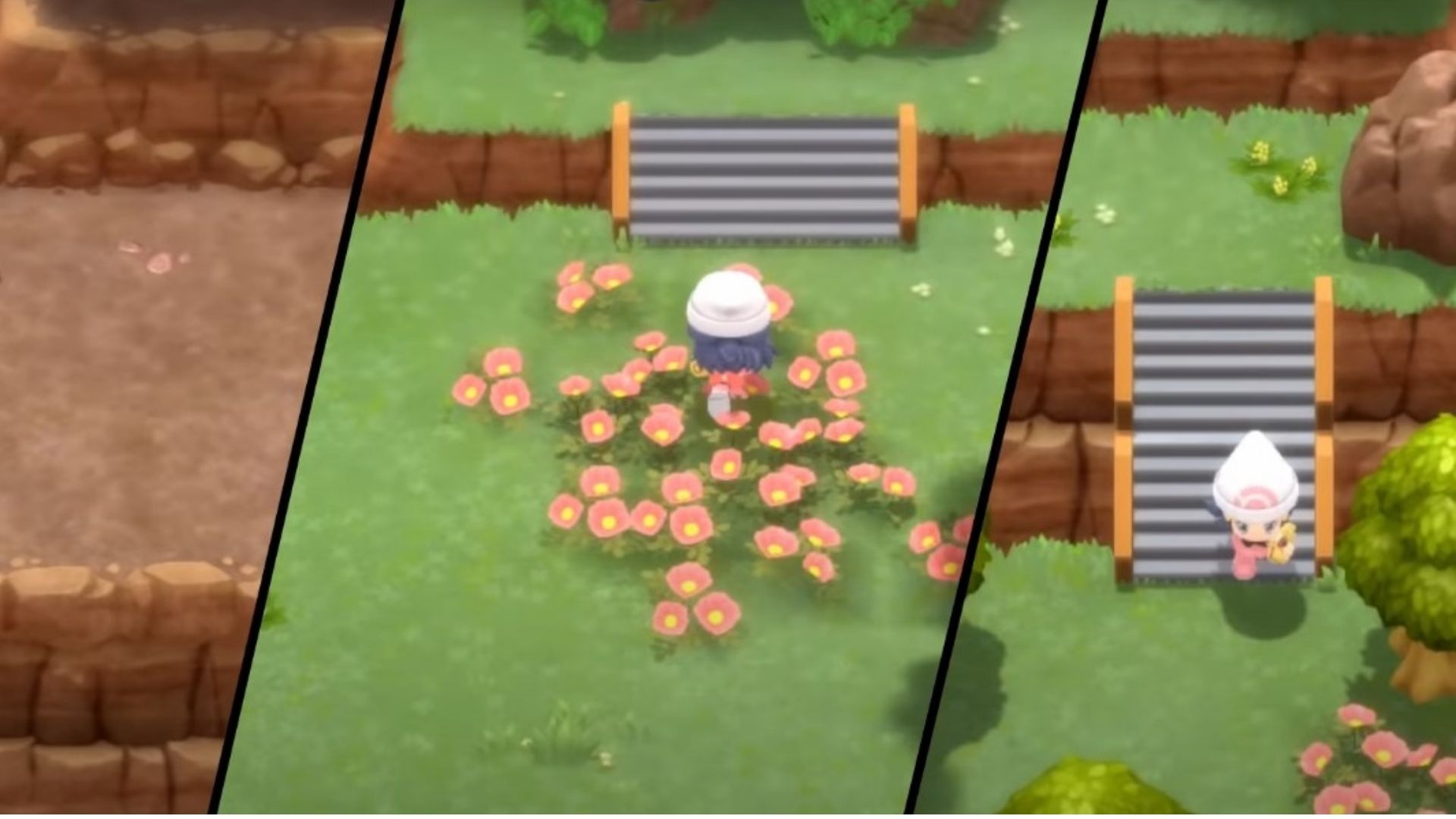 Ramanas Park, Slates, Mysterious Shards, and Legendary Pokémon guide: Pokémon Brilliant Diamond & Shining Pear
After completing the National Pokédex in Pokémon Brilliant Diamond and Shining Pearl, Ramanas Park will be unlocked, letting you to catch Legendary Pokémon that would otherwise be unavailable in the Sinnoh area. Our Ramanas Park guide will show you how to obtain Mysterious Shards and slates, as well as battle Legendary Pokémon.
HOW TO GET INTO RAMANAS PARK
To gain access to Ramanas Park, which is located south of Sandgem Town, you must first defeat the Pokémon League and finish your Sinnoh Pokédex. (You don't have to capture them all to finish the Sinnoh Pokédex. You really must see them all.) Return to Sandgem Town and speak with Professor Rowan to receive a wonderful surprise visit from Professor Oak. Oak will mention Ramanas Park and recommend that you go there.
HOW DOES RAMANAS PARK WORK?
Ramanas Park contains multiple caves, each dedicated to a different Legendary Pokémon (or collection of Legendary Pokémon). To summon these Legendary Pokémon, you'll need to gather special slates. When you summon them, you will be sent to a location where you can fight and catch a level 70 version of the Pokémon.
SLATES, MYSTERIOUS SHARDS, AND LEGENDARY POKÉMON
Slates can be obtained by trading Mysterious Shards at a shop in Ramanas Park. Three small Mysterious Shards or one large Mysterious Shard can be exchanged for one slate.
These are the slates:
Discovery Slate: Regice, Regirock, Registeel
Kanto Slate: Articuno, Zapdos, Moltres (Shining Pearl only)
Johto Slate: Raikou, Entei, Suicune (Brilliant Diamond only)
Soul Slate: Latios, Latias
Rainbow Slate: Ho-oh (Brilliant Diamond only)
Squall Slate: Lugia (Shining Pearl only)
Oceanic Slate: Kyogre
Tectonic Slate: Groudon
Stratospheric Slate: Rayquaza
Genome Slate: Mewtwo
The Discovery Slate will be the only one available for purchase at first. More slates will become available for purchase when you catch Legendary Pokémon. If you're missing a slate, simply keep purchasing and capturing the ones that are accessible to you.
There's also the Distortion State, which grants access to Origin Forme Giratina in some way. We haven't yet received this Slate, so we can't confirm any details, but we'll update this guide as soon as we can.
WHERE CAN I FIND MYSTERIOUS SHARDS?
Mysterious Shards can be extracted from walls in the Grand Underground, just as other rocks and jewels. They are rather uncommon and exist in two sizes: little and giant.
HOW TO CATCH LEGENDARY POKÉMON
When you find the Legendary Pokémon, the greatest thing you can do is reduce its health as much as possible and put it to sleep. In general, this is the best approach for catching Pokémon.
You should have a Pokémon with a sleep-inducing move, such as Sleep Powder or Hypnosis, ready to catch Legendary Pokémon. (We utilised Gardevoir in conjunction with Hypnosis.) You should also load up on Quick Balls, Ultra Balls, and Timer Balls, as the latter two will most likely be used up quickly. False Swipe, TM54, can be taught to an eligible Pokémon.
Follow these methods to properly capture Legendary Pokémon:
Save before you encounter the Pokémon, just in case.
Engage the Pokémon in battle.
Throw a Quick Ball right away.
If that fails, put the Pokémon to sleep.
Lower the Pokémon's health as low as possible. You can use the move False Swipe to leave it at 1 HP.
Keep putting it back to sleep if it wakes up.
Chuck Ultra Balls at it until you catch it. If the battle goes on for longer than 10 turns, use Timer Balls instead.
Valheim: Top 3 Weapons And How To Craft Them?
Welcome to our 'Valheim: Top 3 Weapons And How To Craft Them?' guide in which we will tell you how to craft the most deadly weapons and also about our top 3 personal favorites. Choosing the greatest Valheim weapons increases your chances of survival. Of course, you can create your custom build, but some weapons are superior than others. The kind of of damages, the amount of labor required to construct the weapon and many other factors matter here. If you taking that into consideration, there is always a powerful Valheim weapon at every point in the game.
Here are our top 3 choices for the best weapons in Valheim:
Valheim: The Torch
A strange start, but players often underestimate the Torch's strength as the first usable Valheim weapon. Aside from being simple to make, you can get one for free whenever you get developed into a new character.
Agreed, that its blunt damage is negligible. However, it is the only melee powerful weapon that deals fire damage. Guess who's weak against fire? The Meadows' enemies (Greydwarves, Greylings, Boars and Necks). The fire may even scare them away, provided you a fight in your rags. The Torch is the one weapon that will secure your survivability as a new Viking. You need 1 wood and 1 resin to craft it.
Valheim: The Crude bow
Is this Valheim's best bow? No, however a Crude Bow is the finest weapon you can earn in the game's early stages, before Eikthyr is defeated. The Crude Bow's range allows it to take out even the most fearsome foes without putting you in danger. As a result, it's regarded as superior to most early-game melee weapons.
Using fire arrows to improve the Crude Bow's damage is simple. Wood, resin (which you'll get a lot of from hunting down Greylings), and feathers are all you'll need. Once you've gotten a few feathers, simply shoot additional birds to get more. All you need is 10 wood and 8 leather scrap pieces to craft the Crude bow.
Valheim: The Stagbreaker
This massive two-handed hammer is not only cool to look at, but it's also the most lethal Valheim melee weaponry you can earn without putting in a lot of effort. Take a glance at its incredible knockback strength! The Stagbreaker's only flaw is its slow attack pace, which makes it unsuitable for players that enjoy quick combat and rely on evasive abilities.
Once you gather your initial pieces of 'core wood',  the Stagbreaker creating recipe is automatically activated. Inside the Black Forest biome, you can harvest core wood by cutting down pine trees. To collect enough leather scraps, you only have to kill two boars, but you'll have to hunt a lot of deer because deer trophies only appear on rare occasions. You need twenty core wood, five deer trophies and two leather scraps to craft it.
This ends our selection of the top weapons in Valheim, happy creating!
We hope you liked our 'Valheim: Top 3 Weapons And How To Craft Them?' guide. Please do leave us a comment and let us know all about your favorite weapons too.
Valheim: Top 3 Armors And How To Craft Them?
Welcome to our 'Valheim: Top 3 Armors And How To Craft Them?' guide in which we will focus on top 3 armors that you must have. Against the different foes you'll encounter, you'll need to have the best Valheim armor that you can manufacture and this Valheim armor tier list will help you acquire it. In addition, it'll assist you gather and target essential crafting materials for your current and future armor needs.
Valheim: How to craft The Troll armor?
This is the best possible light armour set in Valheim. Its base armour protects the Meadows & Black Forest biomes and also doesn't slow you down. The sneak bonus is the main benefit of Valheim's Troll Armor. In risky biomes or while dealing with backstab damage, this advantage comes in handy.
Like you might have guessed, Troll Armor can be earned by hunting Trolls. This armour set may be acquired before fighting the very first Valheim boss if you have a good bow. Trolls can be found inside the Black Forest habitat or in Troll caverns. They are not as abundant as Greydwarfs, but are easily identifiable. You'll also need Skeletons for the bone pieces. The troll armour set can be crafted using 25 troll skins and 13 bone pieces.
Valheim: How to craft The Bronze armor?
The Bronze Armor set in Valheim is not the finest in the game, yet it provides better protection than Troll Armor and is easy to construct if the first boss is defeated. After killing Eikthyr, you can immediately equip this armour set. Don't worry if you can't discover the recipe to create it yet, it appears right after the first bronze creation. To make one piece of bronze, you need two copper and one tin.
Simply stroll across the Black Forest till you uncover a massive lump of copper ore. Tin ore exists in the same ecosystem but in smaller amounts near the water. To process the Raw materials you will need a Smelter. The bronze armour set can be crafted using 15 bronze (having 30 copper &15 tin) and 6 deer skins.
Valheim: How to craft The Iron armor?
It's time to create a new armour set, Valheim Iron Armor, after beating Valheim's third boss, Bonemass. This armour is similar to the Bronze armour set, however it is more powerful. When you craft Iron for the very first time, the recipes for crafting the Iron Armor set will be instantly unlocked. All you'll need is some scrap iron as well as a smelter. Scrap iron may be discovered in the Sunken Crypts of the Swamp biome's 'Muddy Scrap Piles.' The Swamp Key, that is dropped by Valheim's second boss, The Elder, can be used to allow entry to these crypts.
For those who are further along in the game, iron can be found in forests if you possess a Wishbone, that is dropped by Valheim's third boss (Bonemass). When you get close to the buried Muddy Scrap Piles, this Wishbone will alert you. This Iron set can be crafted using sixty iron and 6 deer skins.
Now just pick the finest Valheim armor you have and start creating!
If you liked our 'Valheim: Top 3 Armors And How To Craft Them?' guide then please do leave a comment below and let us know which is your favorite variant of armor.
Monster Hunter Rise: Make Money Using Zenny!
Welcome to our 'Monster Hunter Rise: Make Money Quickly Using Zenny?' guide. Hunters that desire the best weapon as well as armor upgrades in the Monster Hunter Rise must earn money. Here's how to make loads of money in minutes.
It takes a long time to farm money within the Monster Hunter Rise, particularly when you need to upgrade weapons, armour, and consumables. Late-game enhancements can quickly bankrupt even the wealthiest hunters.
While you still can start selling rare Monster materials and equipment for a profit, you should save them for upgrades as well as Talisman Melding. The most difficult Apex and Rampage tasks in Rise might net you millions but there's a faster way of making money rather than doing this. This money making guide will make you a millionaire in no time, whether you're a seasoned Monster Hunter Rise gamer or a new PC player.
Monster Hunter Rise: How to Make Money Quickly?
To make quick money playing Monster Hunter Rise, one must meet the following criteria:
Raise up to high rank
Lava Caverns Expedition: "Tour of the Caverns"
Equip a Geologist armor kit.
Raising Geologist to level 3 allows you to mine outcrops one more time, which is vital for farming uncommon ores inside the Lava Caverns. You have to choose between the three Geology Jewel 1 embellishments or the Leather S armor.
Just choose the "Tour of the Lava Caverns" Mission after you have Geologist equipped. If the mission has "Upsurge: Mining", you can claim even more ore.
Without it, simply finish the one-star mission "Roly-poly Lanterns" to restart the Lava Caverns and gain Upsurge: Mining. You can quickly collect all the Firelanterns by fast travelling to sub-camp 1.
How to use the Mining route to make money?
Choose the quest and follow the steps detailed below:
From the map's spawn point, climb up area 5 & mine all ore places along the wall.
Go to the Area 5 and keep walking upto 12
Pass through 12 and jump off the cliff.
Climb Area 11's vines to reach Area 14.
Crawl through the tunnel on the cave's left wall and collect all the ores.
Extract the outcrops inside Area 6 and teleport to 2.
Return to the original camp and use the tent to store your newly mined ores. If you run quickly enough, you'll have time for one more run on the same path. After two mining runs, you should have enough ore to trade to the merchant.
This is by far the quickest way to generate cash in Monster Hunter Rise.
In conclusion, we hope you liked our 'Monster Hunter Rise: Make Money Quickly Using Zenny?' guide. Please do leave a comment below and let us know how helpful this was for you.