Powerful Morning Affirmations for Self Love, Success and Confidence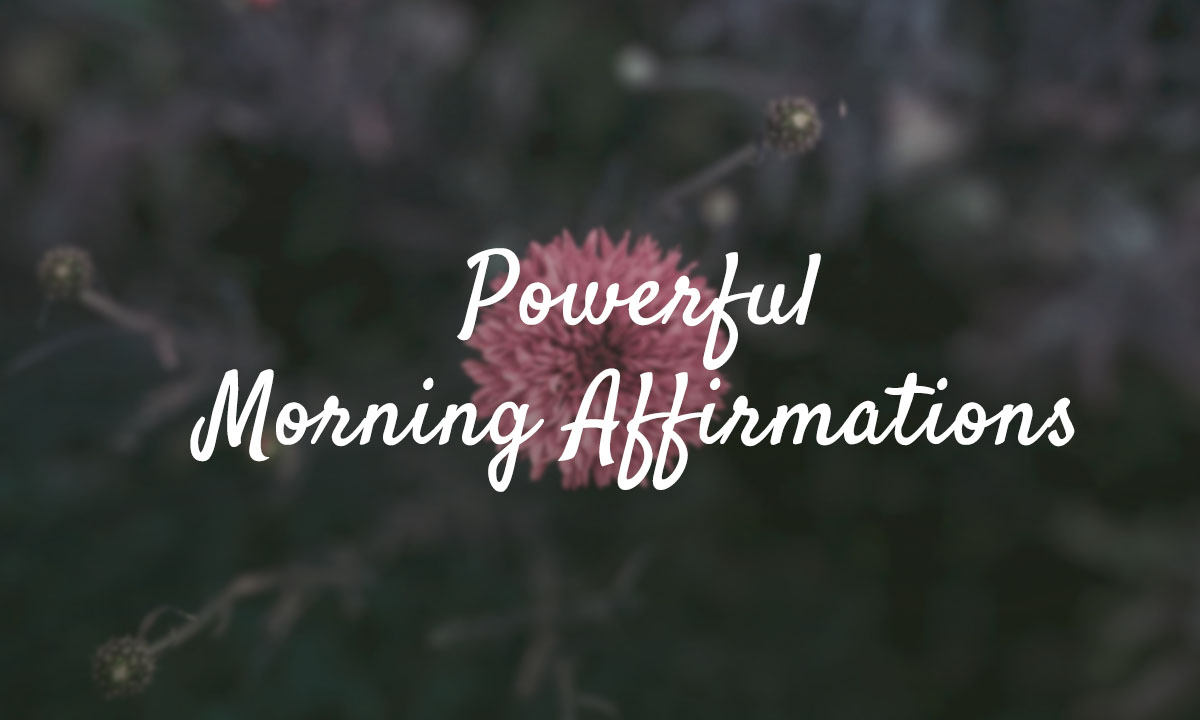 Affirmations make you aware of your thoughts and can strengthen you and make you leave behind the negativity and stress of the previous day. They can also remind you that the possibilities are endless and that every day in life there is something to look forward to, regardless of the current circumstances.
Once you get used to these affirmations, you will notice that you become more aware of your thoughts and begin to change your self – doubts and negative thought patterns.

They will surround you with the things you love, like your family, your friends, and all the things that love you. Tomorrow will be great, the next day better and the day after even better.
Let's start with some powerful morning affirmations in the beginning!
I`m grateful to be alive!
Today will be a great and productive day.
I will finish my tasks with joy today.
I choose to focus on the positive.
I am surrounded by positive and loving people.
I make great decisions.
Each day is filled with joy & abundance.
Life is a beautiful gift.
I am a happiness magnet.
Good energy is flowing through me.
Affirmators! Original Deck 50 Affirmation Cards to Help You Help Yourself – Without the Self-Helpy-Ness!
Starting the day with positive morning affirmations can help you improve in all areas of your life. If you want to make more money, forgive yourself and it will help you succeed in your job, your family life and also in your private life.
Everyone deserves success and happiness, but sometimes it is our own thoughts that block the positive energy. Affirmations are a great and easy way to practice positive thoughts and bring more good things into your life.
The affirmations given here can help you begin your journey towards positive thinking. It is worth more to focus on being happy, surrounding yourself with things and people you love, rather than creating a false sense of what success really is – for example, living a miserable life.
Repeat these Morning Affirmations for Success and Confidence.
"As I take on new challenges I feel calm, confident, and powerful."
"I have all that I need to make today a great day."

"I am, and always will be, enough."

"I acknowledge my own self-worth – my confidence is rising."

"I let go of any negative feelings about myself or my life, and accept all that is good."

"I always attract only the best of circumstances and I have the best positive people in my life."

"I am courageous. I am willing to act and face my fears."

"I have unlimited power."

"I am a powerful creator. I create the life I want and enjoy it."

"Every day I discover interesting and exciting new paths to pursue."

"I trust my intuition and I always make wise decisions."

"I am focused on my goals and feel passionate about my work."

"I have everything I need to face any obstacles that come".

"I have the power to create all the success and prosperity I desire."

"I can let go of old, negative beliefs that have stood in the way of my success"

"The universe is filled with endless opportunities for my career."

"I am surrounded by supportive, positive people who believe in me and want to see my succeed"

"I will be open-minded and always eager to explore new avenues to success."
These affirmations will calm your body, strengthen your self-confidence, help you believe in your worth and ability to succeed, and help you believe that you can achieve things you might never have dreamed of. You can also help translate your dreams of the future into your present reality and help yourself to translate them into reality.
If you use these affirmations in the morning, you can start the day with a positive attitude. Choose a few of them as you want in the beginning, I like to keep my morning statements short and concise because they are easy to understand. Your morning application is most effective when it is the best time to use it, and that is when you are most likely to use it in a good time.
Powerful Morning Affirmations for Self Love
I am grateful.
I am calm and at peace.
I am a unique being with amazing abilities.
I trust the process of life.
I attract positive things and people in my life.
I am attracting abundance into my life.
Even the morning acknowledgment just before waking up can prevent your brain from being overwhelmed with all the difficulties and problems you might experience, and help gets rid of negativity and bad dreams.
I cannot express enough how much I believe that positive affirmations in the morning are the best way to prepare for the day with the right state of mind.
I have compiled a list of positive feelings and words you want to use when creating your daily confirmation. You need to select your favorite affirmation, which can be done at any time, but you can't express everything in one sentence.
God Bless.