Pokémon Go Eevee evolution: How to evolve Eevee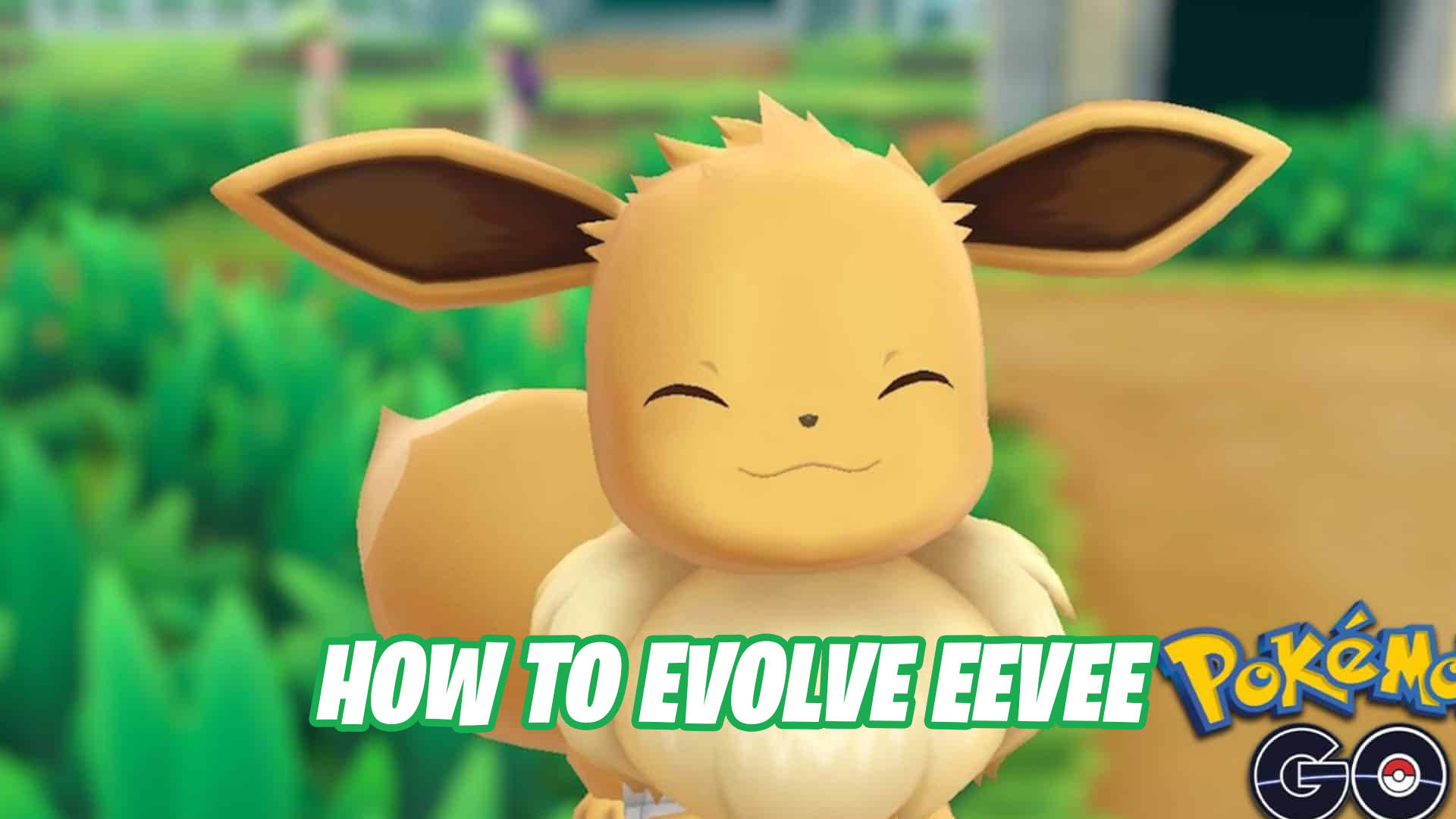 How to evolve Eevee? Eevee is still one of the most talked-about characters in Pokémon Go. Eevee can evolve into multiple type kinds dependent on the use of special items, happiness level, moves available, and even the time of day in the traditional Pokémon games, which fans refer to as Eeveelutions.
Because you can't use the tried-and-true method of utilising one of three elemental stones to convert Eevee into Flareon, Jolteon, or Vaporeon, or the alternative methods for Umbreon, Espeon, Leafeon, Glaceon, and Sylveon in Pokémon Go, you can't use Candy.
Pokémon Go Eeveelutions: How to evolve Eevee into evolutions Slyveon, Leafeon, Glaceon, Umbreon, Espeon, Vaporeon, Flareon and Jolteon with these Eevee names
If you give Eevee 25 Eevee candies and let it grow naturally, it will evolve into Vaporeon, Jolteon, or Flareon at random.
However, by using one of the following Eevee names, you can target any of Sylveon, Leafeon, Glaceon, Espeon, Umbreon, Flareon, Jolteon, or Vaporeon:
Rename Eevee as Kira to evolve into fairy-type Sylveon
Rename Eevee as Rea to evolve into ice-type Glaceon
Rename Eevee as Sakura to evolve into psychic-type Espeon
Rename Eevee as Linnea to evolve into leaf-type Leafeon
Rename Eevee as Rainer to evolve into water-type Vaporeon
Rename Eevee as Sparky to evolve into lightning-type Jolteon
Rename Eevee as Pyro to evolve into fire-type Flareon
Rename Eevee as Tamao to evolve into dark-type Umbreon
How to evolve Eevee into Sylveon in Pokémon Go
Changing an Eevee's nickname to Kira and having at least 25 Eevee Candy is the quickest way to evolve it into Sylveon. Make sure the silhouette for Sylveon is on the evolve button before pressing evolve; if it isn't, your Eevee may evolve into a different Eeveelution. If this happens to you, you can easily solve it by quitting Pokémon Go and reopening it.
Eevee can be developed into Sylveon by earning 70 Buddy hearts after using the naming trick, which requires your chosen Eevee to be at Great Buddy Level. Changing your Buddy Pokémon will not reset your progress towards Sylveon, so feel free to do so.
You can also develop a shiny or flower crown Eevee into a shiny or flower crown Sylveon by evolving a shiny or flower crown Eevee.
Kourtney Kardashian and Travis Barker Engaged Officially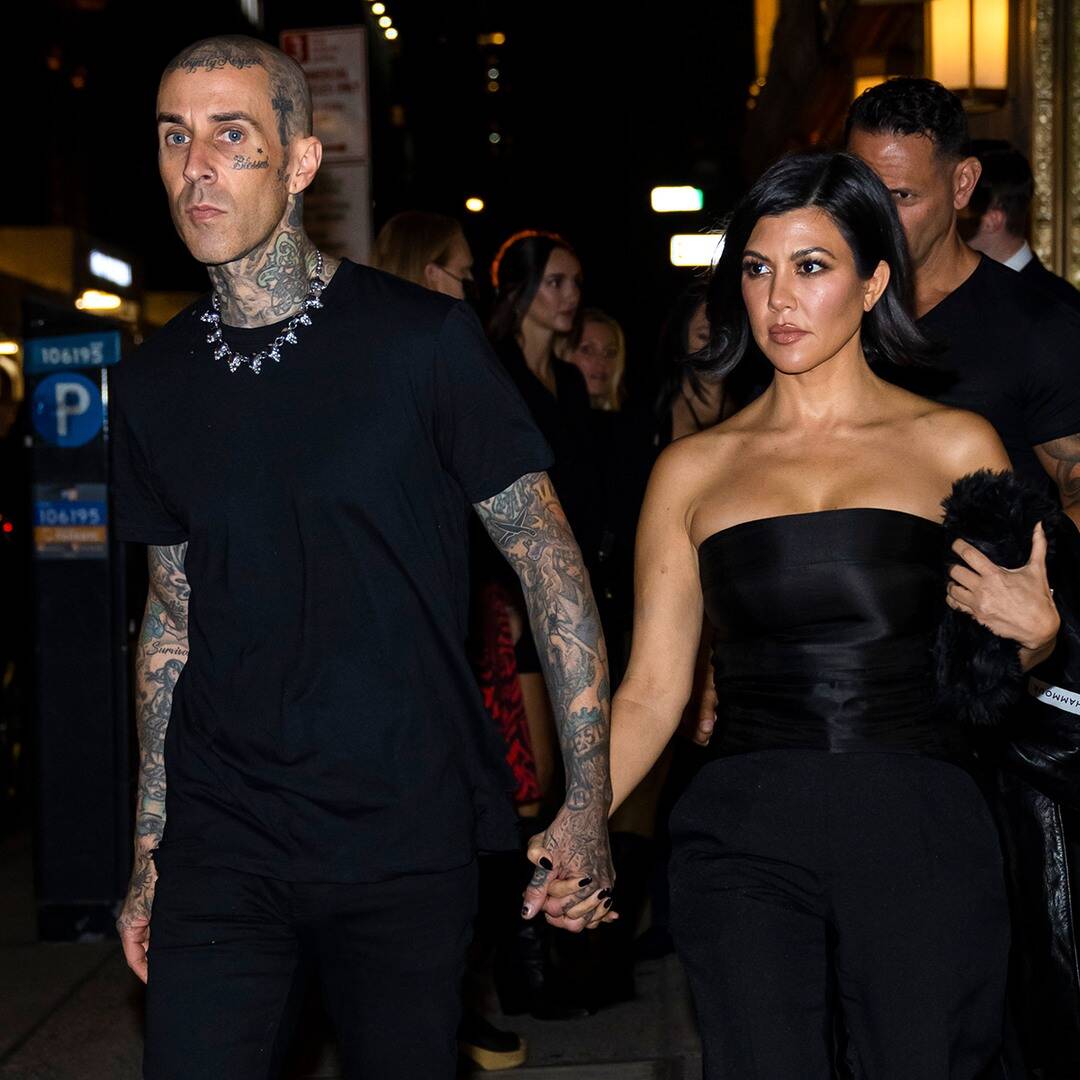 Kourtney Kardashian and Travis Barker Engaged Officially
Kourtney Kardashian will go down the aisle for the first time in her life, and she'll be accompanied by none other than Travis Barker, who recently proposed.
The Blink-182 drummer dropped down on one knee at a beachside hotel in Montecito on Sunday, pulling up all the stops before proposing to her and asking her to marry him. Of course, she said yes… and celebrated with a big smooch.
Some of their friends and relatives appear to have been present to witness the event, and Trav appears to have laid out an extravagant floral arrangement right on the sand. As you can see, Kourtney was having a blast, jumping up into his arms while a private photographer snapped away.
This is shocking news… because, as you may know, the couple only started dating at the beginning of 2021, after being close friends for years. Even so, that was lightning fast!
As you've seen — and as we've dutifully documented — TB and KK have been attached at the hip since becoming together and being public… and have NEVER shied away from the PDA, whether it's on the beach, at Disneyland, on the streets of NYC, in Italy — or in a slew of other locations.
BTW, Travis just hinted at this when he remarked that "forever" wasn't long enough when it came to Kourtney. Clearly, he knew what he was doing.
It's been clear they're head over heels for each other — and the fact that they've moved on to marriage so quickly says a lot about how much they love each other… especially considering Kourtney was with Scott Disick for years — and had several children with him — and she still hasn't married him, despite the fact that he bought her a ring way back when.
She also dated Younes Bendjima for a period a few years ago, but their relationship didn't last. She now appears to be ready to embark on her happily ever after trip.
Paula Badosa defeated Victoria Azarenka to win the WTA Indian Wells title on her desert debut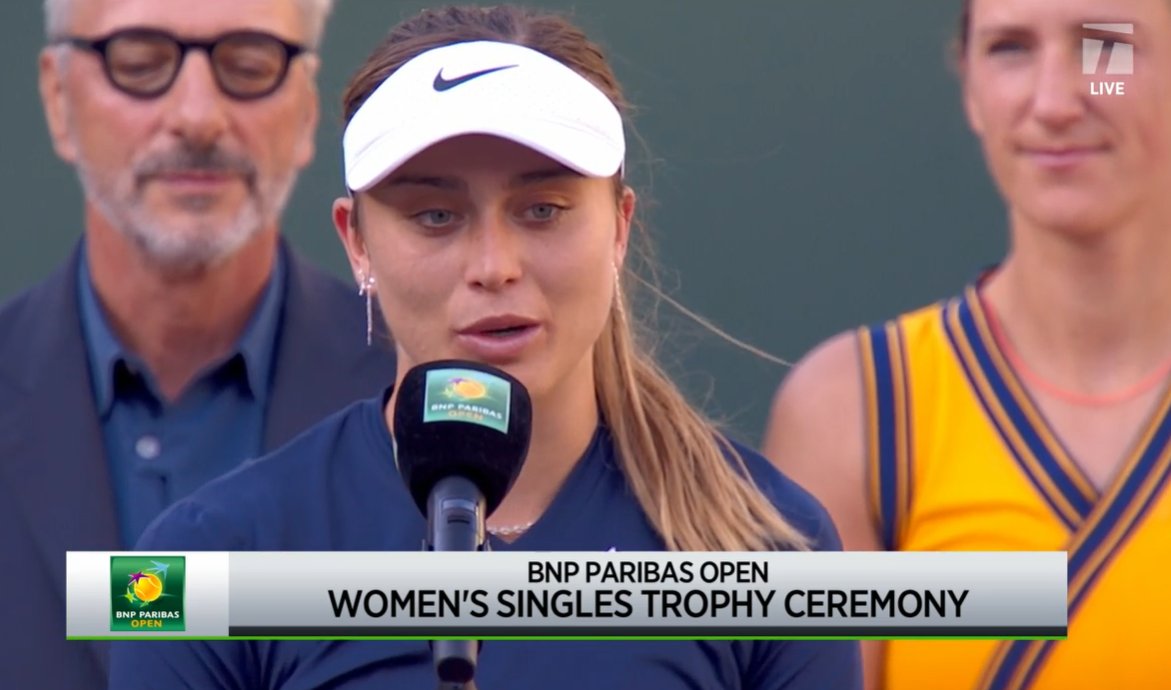 Paula Badosa defeated Victoria Azarenka to win the WTA Indian Wells title on her desert debut
On Sunday, Paula Badosa beat Victoria Azarenka 7-6 (5), 2-6, 7-6 (2) to win the BNP Paribas Open in her first appearance in the Southern California desert, where the tournament was resurrected after a two-and-a-half-year hiatus due to the coronavirus.
She is the third woman to win the title in her first appearance, following Bianca Andreescu in 2019 and Serena Williams in 1999. It was Badosa's second career title, following her victory in Belgrade earlier this year.
In the men's final, Cameron Norrie will face Nikoloz Basilashvili. For moreover three hours, Badosa and Azarenka battled it out, swapping back-to-back service breaks five times. The last time Azarenka broke for a 5-4 lead in the third, Badosa broke back to draw the game at 5-all.
"We were both going for our shots, really pushing each other to the max," Azarenka said.
Badosa's backhand was missed, allowing Azarenka to hold at 6-all. The tiebreaker was dominated by Badosa, who raced to a 6-2 lead. Badosa earned a match point as Azarenka slammed a forehand into the net.
Badosa hit a forehand winner before collapsing near the baseline. Before getting up, she lay face down, weeping and shaking. Azarenka hugged the 23-year-old Spaniard as he came around the net.
"I remember when I was 14, 15 years old seeing you," Badosa told Azarenka after raising the crystal trophy. "I told my coach, 'One day I hope I can play like her.'"
Azarenka, a two-time major champion and former world number one, was attempting to win her first trophy since 2016. After winning Indian Wells in 2012 and 2016, the 32-year-old from Belarus came up short in her attempt to become the first woman to win the tournament three times.
🇪🇸🇪🇸🇪🇸

First Spanish woman to win the Indian Wells singles title, @paulabadosa!#BNPPO21 pic.twitter.com/AFaYnnihtM

— BNP Paribas Open (@BNPPARIBASOPEN) October 17, 2021
Injuries cut short Azarenka's season, and she had to withdraw from Grand Slam competitions early. Her best finish was a fourth-round appearance at the French Open.
"This year has been challenging a bit," she said, "but finishing on a strong note, not necessarily with the result I wanted but with the progress, I wanted to seek, that's really positive."
Azarenka added that her 4-year-old son, Leo, was glued to the television.
"I'm not bringing home the biggest trophy," she said, "but it's still a trophy and I'm sure he'll enjoy playing with it."
Badosa had 4-0 and 5-3 leads in the first-set tiebreaker. On Badosa's netted forehand, Azarenka knotted it up at 5-5. Badosa earned a set chance after Azarenka missed a backhand, and the Spaniard cashed in with a backhand winner to secure the set.
"It was like a roller coaster mentally, emotionally," Badosa said.
To reach the final, she defeated fifth-seeded Barbora Krejcikova in the fourth round, No. 15 Angelique Kerber in the quarterfinals, and No. 14 Ons Jabeur in the semifinals, all in straight sets.
"The first thing I learned this week is that nothing is impossible," Badosa said.
Badosa won $1.2 million, which was more than her previous year's prize money of slightly over $1 million.
She entered the competition rated 27th in the world, up from 87th a year before. In Monday's WTA Tour rankings, Badosa is expected to climb to a career-high 13th place.
"I never thought that would happen that fast," she said.
Badosa might not be finished this year, as well. She overtook Jabeur for the eighth and last qualifying slot in the race to the WTA Finals, which will be held in Guadalajara, Mexico, next month.
2-0 in finals 🔥

🇪🇸 @paulabadosa outlasts Azarenka 7-6(5), 2-6, 7-6(2) for the @BNPPARIBASOPEN title! pic.twitter.com/upn6HMY0kZ

— wta (@WTA) October 17, 2021
When the coronavirus spread across the United States in March 2020, the joint ATP and WTA tour event was one of the first major athletic events to be canceled. Next year, it will be held in March, as usual.
Match stats: When it came down to it, both women were solid. Azarenka saved eight of the 13 break points she faced, while Badosa fended off ten of the seventeen.
Azarenka had four more winners and eight fewer unforced errors than Badosa overall, with two closely contested sets sandwiching a dominant second set. The match was ultimately decided in the final-set tiebreak, in which Badosa won five of the nine points.
Key moments: In the first set's early stages, grueling games were the norm of the day, with the players saving a total of eight breakpoints in the first four games alone. Later in the match, Badosa led by a break at 4-3 and 6-5, but Azarenka was able to match the Spaniard power for power, tying the score each time.
After 70 minutes of intense play, the competitors advanced to the first-set tiebreak, where Badosa's 4-0 advantage was cut to 5-5. The breaker came to a close with incredibly long rallies, with Badosa finally grabbing a set point at 6-5. After 79 minutes of furious play, Badosa took the opening set with a stunning backhand crosscourt winner after a 28-shot rally.
However, in the second set, Azarenka stepped into the court even more for her responses, while Badosa's groundstroke velocity reduced. With depth and groundstroke perfection, Azarenka broke in the first game with a backhand winner, and she swept through the set from there, finally taking a 5-1 lead. Azarenka tied the match at one set apiece two games later.
As the average game length stretched above five minutes in the third set, an early exchange of breaks failed to clarify positions. However, Azarenka put herself in an excellent position to win when she held for 4-4 with a superb backhand down the line, then broke Badosa for 5-4 and a chance to serve for the match.
Badosa fought back to tie the game at 5-5, and the pair advanced to the decider. A string of aggressive Badosa winners on both sides gave her a commanding 4-1 lead, and the Spaniard cruised to victory from there, finishing with a forehand winner to claim the biggest trophy of her career.
Juventus climbed to the top of the Serie A table with a win over Roma, their fourth in a row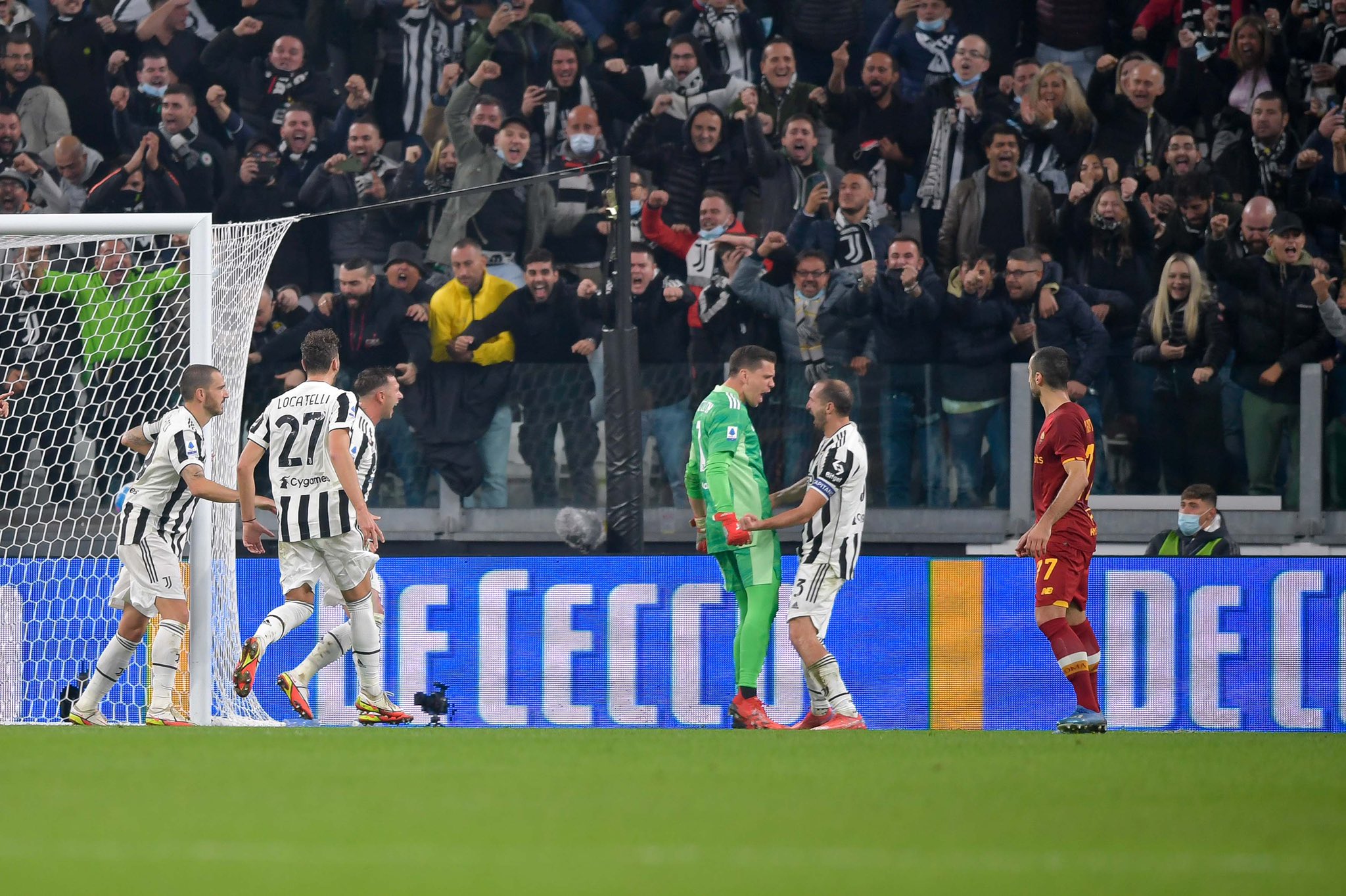 Juventus climbed to the top of the Serie A table with a win over Roma, their fourth in a row
Juventus climbed to the top of the Serie A table with a 1-0 triumph against AS Roma in Turin on Sunday, with Moise Kean's unorthodox early goal sealing the Turin club's fourth consecutive league win. After 16 minutes, Rodrigo Bentancur's header ricocheted off Kean's head and into the back of the net, deciding the game.
But Tammy Abraham put the ball in the net for Jose Mourinho's side, but the goal was not allowed to stand because referee Daniele Orsato had previously whistled for a penalty. Jordan Veretout took the subsequent penalty kick, but Wojciech Szczesny saved it.
Juve is now tied for seventh place with Lazio on 14 points, with Atalanta one point ahead of them and Roma one point behind. Juventus secured its third 1-0 win in as many games in all competitions, holding the fort following Moise Kean's 16th-minute goal and weathering a controversy-filled first half to hold off Roma. It was another classic Allegri game, in which he guides his sides through the ups and downs of a major encounter with a slim lead and emerges victorious. He did it to Chelsea's detriment. He did it against Torino in the Derby Della Mole. Now he's done it against Roma, as Juve has won four straight Serie A games and has a chance to get into the top six in next weekend's Derby d'Italia.
And, just for fun, Allegri's pre-match remarks about how Juventus-Roma is usually exciting but always appears to be marred by controversy… well, those were dead on.
There's little arguing that the penalty kick decision late in the first half was one of the game's most pivotal moments. Do you take advantage of the situation? Do you just dismiss the fact that Henrikh Mkhitaryan handled the ball as he fell to the ground after (kinda-sorta) leaping over Wojciech Szczesny? Do you believe that was all a bunch of nonsense and you just want to be glad that Szczesny saved the penalty and broke Jordan Veretout's spotless record from the spot?
Please choose the last option.
I'll also be relieved to be able to witness Moise Kean dance after a goal once more. (Even if that goal was a very solid indicator that this game was going to be silly, confused, and delightful all at once.)
FT: Juventus 1-0 Roma

Juventus' last six games: WWWWWW pic.twitter.com/SIfNPsRFk2

— B/R Football (@brfootball) October 17, 2021
But, in the end, Allegri and Juventus did essentially the same thing they've done in the previous two games: they got the shutout, they got the win, and they moved up a few spaces in the Serie A table. It's easy to understand why Juve has been so successful in recent weeks, and this is exactly how Allegri is expected to get this squad back on track.
He's also done it with a winger playing forward, a right-winger playing on the left flank, and a slew of other injuries and lack of choices.
This game, Juve's third in a row, just goes to demonstrate that Allegri only needed a little more time to get things right, and the results would come eventually. It's not always pretty, and it's not always going to have us writing 1,500 words about how fantastic Juve just played, but it's turning into a pretty successful recipe for stabilizing a squad that was winless only a month ago.
They're now all one point behind Roma, who had the best start to the 2021-22 season of anyone in the league.
Another 1-0 victory is satisfying. It's nice to have another clean sheet. It's a wonderful feeling to see Juventus play a competent but unspectacular game. Allegri is creating this work, and the results are beginning to emerge. That is how it is carried out.