Paula Badosa defeated Victoria Azarenka to win the WTA Indian Wells title on her desert debut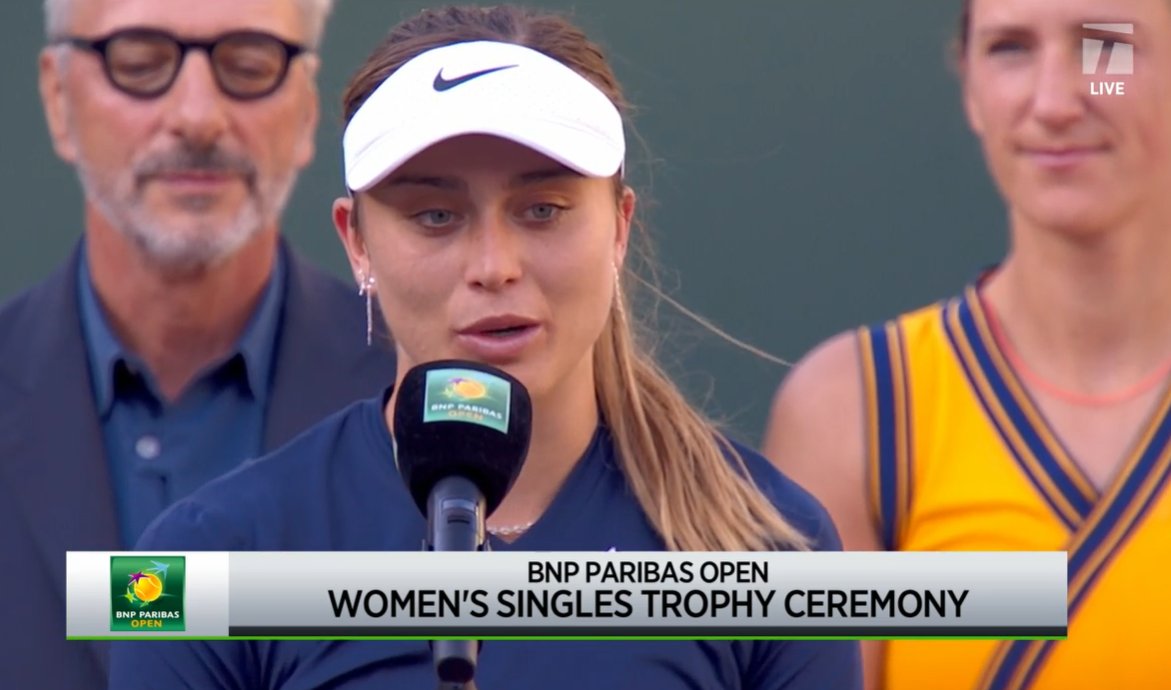 Paula Badosa defeated Victoria Azarenka to win the WTA Indian Wells title on her desert debut
On Sunday, Paula Badosa beat Victoria Azarenka 7-6 (5), 2-6, 7-6 (2) to win the BNP Paribas Open in her first appearance in the Southern California desert, where the tournament was resurrected after a two-and-a-half-year hiatus due to the coronavirus.
She is the third woman to win the title in her first appearance, following Bianca Andreescu in 2019 and Serena Williams in 1999. It was Badosa's second career title, following her victory in Belgrade earlier this year.
In the men's final, Cameron Norrie will face Nikoloz Basilashvili. For moreover three hours, Badosa and Azarenka battled it out, swapping back-to-back service breaks five times. The last time Azarenka broke for a 5-4 lead in the third, Badosa broke back to draw the game at 5-all.
"We were both going for our shots, really pushing each other to the max," Azarenka said.
Badosa's backhand was missed, allowing Azarenka to hold at 6-all. The tiebreaker was dominated by Badosa, who raced to a 6-2 lead. Badosa earned a match point as Azarenka slammed a forehand into the net.
Badosa hit a forehand winner before collapsing near the baseline. Before getting up, she lay face down, weeping and shaking. Azarenka hugged the 23-year-old Spaniard as he came around the net.
"I remember when I was 14, 15 years old seeing you," Badosa told Azarenka after raising the crystal trophy. "I told my coach, 'One day I hope I can play like her.'"
Azarenka, a two-time major champion and former world number one, was attempting to win her first trophy since 2016. After winning Indian Wells in 2012 and 2016, the 32-year-old from Belarus came up short in her attempt to become the first woman to win the tournament three times.
🇪🇸🇪🇸🇪🇸

First Spanish woman to win the Indian Wells singles title, @paulabadosa!#BNPPO21 pic.twitter.com/AFaYnnihtM

— BNP Paribas Open (@BNPPARIBASOPEN) October 17, 2021
Injuries cut short Azarenka's season, and she had to withdraw from Grand Slam competitions early. Her best finish was a fourth-round appearance at the French Open.
"This year has been challenging a bit," she said, "but finishing on a strong note, not necessarily with the result I wanted but with the progress, I wanted to seek, that's really positive."
Azarenka added that her 4-year-old son, Leo, was glued to the television.
"I'm not bringing home the biggest trophy," she said, "but it's still a trophy and I'm sure he'll enjoy playing with it."
Badosa had 4-0 and 5-3 leads in the first-set tiebreaker. On Badosa's netted forehand, Azarenka knotted it up at 5-5. Badosa earned a set chance after Azarenka missed a backhand, and the Spaniard cashed in with a backhand winner to secure the set.
"It was like a roller coaster mentally, emotionally," Badosa said.
To reach the final, she defeated fifth-seeded Barbora Krejcikova in the fourth round, No. 15 Angelique Kerber in the quarterfinals, and No. 14 Ons Jabeur in the semifinals, all in straight sets.
"The first thing I learned this week is that nothing is impossible," Badosa said.
Badosa won $1.2 million, which was more than her previous year's prize money of slightly over $1 million.
She entered the competition rated 27th in the world, up from 87th a year before. In Monday's WTA Tour rankings, Badosa is expected to climb to a career-high 13th place.
"I never thought that would happen that fast," she said.
Badosa might not be finished this year, as well. She overtook Jabeur for the eighth and last qualifying slot in the race to the WTA Finals, which will be held in Guadalajara, Mexico, next month.
2-0 in finals 🔥

🇪🇸 @paulabadosa outlasts Azarenka 7-6(5), 2-6, 7-6(2) for the @BNPPARIBASOPEN title! pic.twitter.com/upn6HMY0kZ

— wta (@WTA) October 17, 2021
When the coronavirus spread across the United States in March 2020, the joint ATP and WTA tour event was one of the first major athletic events to be canceled. Next year, it will be held in March, as usual.
Match stats: When it came down to it, both women were solid. Azarenka saved eight of the 13 break points she faced, while Badosa fended off ten of the seventeen.
Azarenka had four more winners and eight fewer unforced errors than Badosa overall, with two closely contested sets sandwiching a dominant second set. The match was ultimately decided in the final-set tiebreak, in which Badosa won five of the nine points.
Key moments: In the first set's early stages, grueling games were the norm of the day, with the players saving a total of eight breakpoints in the first four games alone. Later in the match, Badosa led by a break at 4-3 and 6-5, but Azarenka was able to match the Spaniard power for power, tying the score each time.
After 70 minutes of intense play, the competitors advanced to the first-set tiebreak, where Badosa's 4-0 advantage was cut to 5-5. The breaker came to a close with incredibly long rallies, with Badosa finally grabbing a set point at 6-5. After 79 minutes of furious play, Badosa took the opening set with a stunning backhand crosscourt winner after a 28-shot rally.
However, in the second set, Azarenka stepped into the court even more for her responses, while Badosa's groundstroke velocity reduced. With depth and groundstroke perfection, Azarenka broke in the first game with a backhand winner, and she swept through the set from there, finally taking a 5-1 lead. Azarenka tied the match at one set apiece two games later.
As the average game length stretched above five minutes in the third set, an early exchange of breaks failed to clarify positions. However, Azarenka put herself in an excellent position to win when she held for 4-4 with a superb backhand down the line, then broke Badosa for 5-4 and a chance to serve for the match.
Badosa fought back to tie the game at 5-5, and the pair advanced to the decider. A string of aggressive Badosa winners on both sides gave her a commanding 4-1 lead, and the Spaniard cruised to victory from there, finishing with a forehand winner to claim the biggest trophy of her career.
The Weeknd – Valerie lyrics
"The Weeknd – Valerie lyrics"
[Verse 1]
There comes a time in a man's life
Where he must take responsibility
For the choices he has made
And there are certain things that he must do
Things that he must say
[Chorus]
Like I love you
And I need you
I only want you
And nobody's going to know if it's true
[Verse 2]
I never thought I'd feel this kind of hesitation (To put)
My hand on another girl
I wish I didn't have to lie
I wish I could let you know
[Chorus]
'Cause I love you
And I need you
I only want you
And nobody's going to know if it's true
[Bridge]
Valerie (Oh, Valerie)
I know you can see through me
(I know you can see through my lies)
Valerie (Oh, Valerie)
You just choose to never know
(No, you just don't know what I do, what I do, oh, Valerie)
Valerie
Why pretend to trust in me?
(I don't know why you try to trust in me baby, but I think I know)
Valerie (I know, Valerie)
You'd rather this than be alone
[Chorus]
'Cause I love you
And I need you
I only want you
And nobody's going to know if it's true
'Cause I love you
And I need you
I only want you
And nobody's going to know if it's true
[Outro]
And I love you
('Cause I love you baby)
And I need you
(When I need, need)
I only want you
And nobody gonna know…
The Weeknd – Hurt You lyrics
"The Weeknd – Hurt You lyrics"
[Verse 1]
And now I know relationship's my enemy
So stay away from me
I'm warning you
You try to fill the void with every man you meet
'Cause you're upset with me
I'm warning you
[Pre-Chorus]
'Cause all the nights you slept alone dryin' your eyes
And all the nights you thought about takin' your life
'Cause if it's love you want again, don't waste your time
But if you call me up, I'm fuckin' you on sight
[Chorus]
I don't wanna hurt you (ooh)
I don't wanna hurt you
I don't wanna hurt you (ooh)
I don't wanna hurt you
[Verse 2]
When you're with him, you close your eyes and think of me
Just call me up again
I'll make you weak
Girl, I'll come to put myself between your legs
Not between your heart
Can't you see?
[Pre-Chorus]
That all the nights you slept alone, dryin' your eyes ('cause of me, baby)
And all the nights you thought about takin' your life ('cause of me, baby)
If it's love you want again, don't waste your time (don't you waste)
But if you call me up, I'm fuckin' you on sight
[Chorus]
I don't wanna hurt you (ooh)
I don't wanna hurt you
I don't wanna hurt you (ooh)
I don't wanna hurt you
I don't wanna hurt you (ooh)
I don't wanna hurt you
I don't wanna hurt you (ooh)
I don't wanna hurt you
[Harmonizing]
[Outro]
I don't want
I don't want
I don't want
I don't want
I don't wanna, baby
I don't wanna, baby
I don't, ooh
The Weeknd – I Was Never There lyrics
"The Weeknd – I Was Never There lyrics"
[Verse]
What makes a grown man wanna cry?
(Cry, cry, cry, cry)
What makes him wanna take his life?
(Yeah)
His happiness is never real
(Real, real, real, real)
And mindless sex is how he feels, ooh, he heals
[Chorus]
When it's time, when it's time, when it's time
It won't matter (it don't matter)
It won't matter (matter)
When it's time, when it's time, when it's time (time, it's time, babe)
It won't matter (it won't matter, babe)
It won't matter (ya)
It was like he was never there
(It was like he was never there)
It was like he was gone in thin air, oh
When it's time, when it's time, when it's time, oh, baby
It won't matter (It won't matter, baby)
It won't matter
[Post-Chorus]
When it's time, when it's time, when it's time
It won't matter
It won't matter
When it's time, when it's time, when it's time
It won't matter
It won't matter
It was like he was never there
It was like he was gone in thin air
When it's time, when it's time, when it's time
It won't matter, it won't matter
[Interlude]
When it's time, when it's time, when it's time
It won't matter, it won't matter
When it's time, when it's time, when it's time
It won't matter, it won't matter
[Bridge]
Ooh, now I know what love is
And I know it ain't you for sure
You'd rather something toxic
So, I poison myself again, again
'Til I feel nothing
In my soul (in my soul)
I'm on the edge of something breaking
I feel my mind is slowly fadin'
If I keep going, I won't make it
If I keep going, I won't make it
[Outro]
And it's all because of you
It's all because of you
It's all because of you
It's all because of you
Woah, woah
Don't you, baby, hey
It won't matter, baby
Don't you know?
Don't you know?
Ooh, no