NFL players and teams pay tribute to Kobe Bryant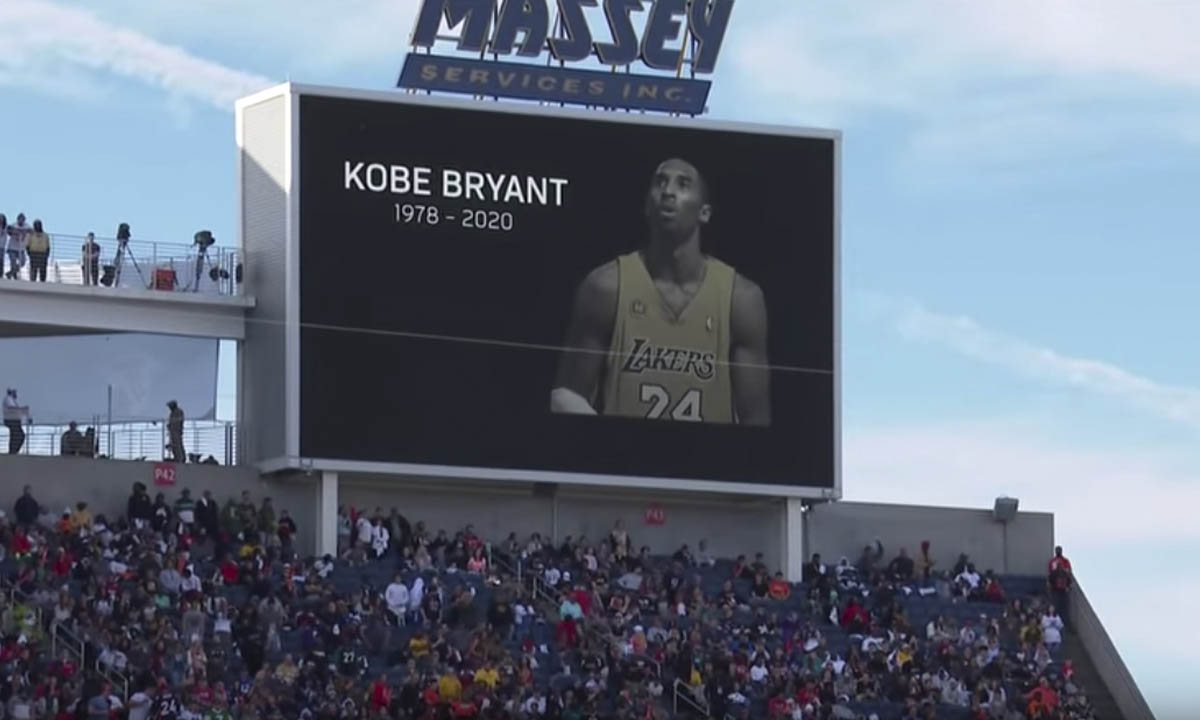 The whole world is in shock and heartbroken with the news that Kobe Bryant and his 13-year-old daughter Gianna died in an unfortunate crash in Calabasas, Calif. Bryant was heading to a youth basketball game at the time of this crash.
According to The Los Angeles Times, the crash happened shortly after 10 a.m. local time in the hills over Calabasas. The news of Bryant's demise has left fans devastated including in the NFL.
A number of NFL players and teams gave their thoughts the entire day to Bryant on social media.
Jacksonville Jaguars DE & Defensive Pro Bowl MVP Calais Campbell said the AFC locker room was emotional when news broke of Bryant's passing before the game:
Russell Wilson got the team together just before the kickoff in the locker room and did a prayer for Bryant and hid family.
Furthermore, Houston Texans and AFC quarterback Deshaun Watson added during the game, "It is heartbreaking, and for us to find out in the locker room before we came out. A lot of the guys were just very emotional."
Jamal Adams tweeted a very emotional tweet right after the game about how difficult it was to play after knowing about the demise of Bryant.
Fans in Orlando broke out a "Kobe" chant:
While talking to Lisa Salters Drew Brees said: "he has a lot of respect for him as a competitor." He further added, "It's a tragic loss."
Lamar Jackson, offensive Pro Bowl MVP went on to praise Bryant for his contributions to the game of basketball.
Watson said, "Just to be able to get to know Kobe a couple of months ago, he came down to Houston. And now with his loss and his family, prayers all out to his family and friends. This is just terrible news."
Announcers Booger McFarland and Joe Tessitore shared an emotional moment during the coverage of the second half.
"I haven't really had time to reflect. As a father, man —" Booger said before a choked up Tessitore cut him off by saying he "can't go there."
During the Pro Bowl, there were few moments where some on-field celebrations that paid tribute to Bryant. Like, Za'Darius and his teammates did an on-field celebration with a dribble and a step-back.
Davante Adams, honoring Bryant by pointing to the sky and signaling the number "24" with his hands.
Watch Smith and Adams talk about what it was like in the locker room to hear the news of Kobe passing away:
Many NFL teams and players came on social media and reacted to the Bryant news, too. Like, Tom Brady was one of the earliest to react on it.
Patrick Mahomes, who is traveling to Miami for Super Bowl LIV, tweeted too:
Richard Sherman was totally at a loss of words.
Here's a statement released by The Philadelphia Eagles, the favorite NFL team of Kobe.
One of the most heartfelt statement was shared by The Los Angeles Chargers.
Los Angeles Rams released a statement too.
Lastly, after the Pro Bowl was over, the NFL extended its condolences to Kobe's family and friends