Mike Tyson Denied the Report That He's Preparing to Box Jake Paul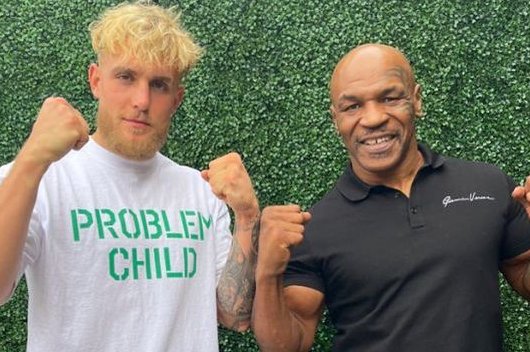 Mike Tyson Denied the Report That He's Preparing to Box Jake Paul
According to a news story from The Sun on Monday, former heavyweight boxing champion Mike Tyson is in talks for a pay-per-view battle with YouTube star Jake Paul in late 2022. Tyson and his agent, on the other hand, were both against the idea. Tyson tweeted in response to The Sun's initial report, "This is something I've never heard of before. Jake never mentioned anything when I met him in St. Barths."
Tyson's representative, Jo Mignano, told Forbes that the rumor was "completely incorrect," and that the 55-year-old would like to face either Jake or his brother, Logan Paul.
It's important to note that "Last October, "Iron Mike" discussed a hypothetical battle with one of the Paul brothers, telling The Sun (h/t TalkSport), "That is the fight for the money. Those are the money-making fights, those guys got 35 million people to watch. Yes. Hell, I would fight them. They would fight me. That would make a lot of money. Hundred million dollars, they do anything, they don't mind getting beat up for a hundred million dollars."
Logan, on the other hand, has boasted about his ability to defeat Tyson, claiming on Impaulsive last year. "I'm like, 'Bro, I just went through all of this. You can't tell me I can't beat Mike Tyson,'" Paul add3ed. "Bro, he's old, old."
While Logan was involved in a high-profile exhibition with Floyd Mayweather last year, Jake's star rose in the boxing world. He's won five fights in the last two years, but none of them have been against professional boxers. In 2021, he defeated former UFC fighter, Ben Askren, by TKO and then defeated former UFC Champion Tyron Woodley in back-to-back fights. The second came about because Tommy Fury, the half-brother of current heavyweight champion Tyson Fury, was forced to withdraw from their scheduled flight.
Meanwhile, Tyson founded the Legends Only League in 2020, and at its first event, he competed in an exhibition against Roy Jones Jr., which ended in a draw.
YouTube star Jake Paul has officially announced his fight against Tommy Fury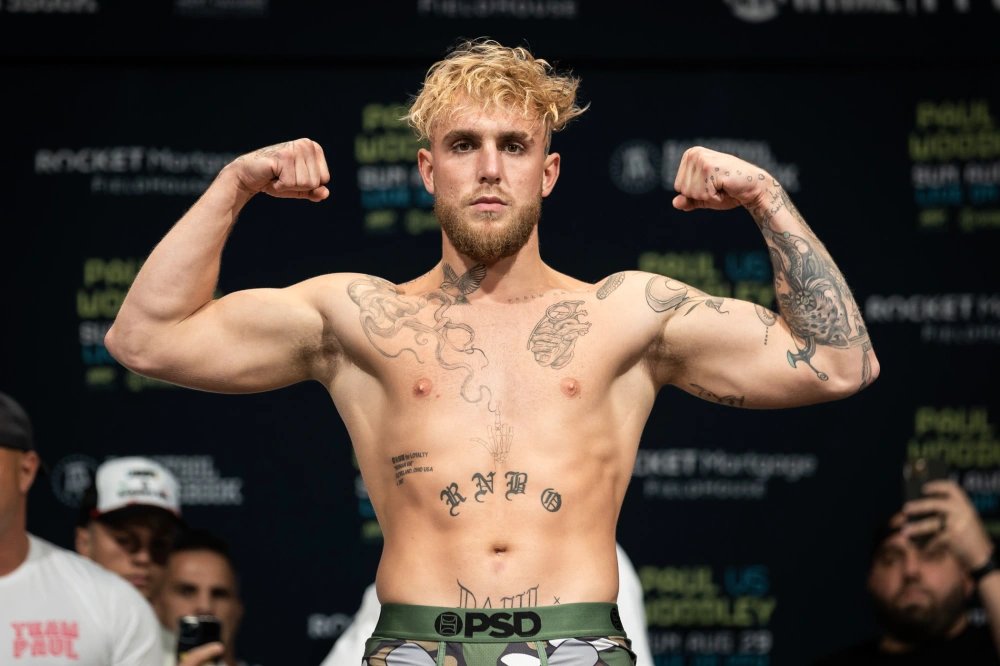 YouTube star Jake Paul has officially announced his fight against Tommy Fury
After months of back-and-forth negotiations, YouTube star Jake Paul has officially announced his bout against fellow boxer and Love Island star Tommy Fury. After a split-decision victory over former five-time UFC champion Tyron Woodley in August, Jake Paul has finally named his next opponent.
While the "Problem Child" has called out a plethora of possible opponents (including Connor McGregor and Floyd Mayweather), he did make a $1 million fight offer to Tommy Fury, which Fury turned down.
When is Jake Paul vs Tommy Fury?
Paul revealed in a tweet on October 29 that he will fight Fury on Saturday, December 18. This announcement comes after speculation that Paul will fight Fury during the holidays, though Paul's promotional team first dismissed this information.
Pucker up Timmy, it's time to kiss ur last name and ur family's boxing legacy goodbye. DEC 18th Im changing this wankers name to Tommy Fumbles and celebrating with Tom Brady. Tickets on sale November 10th!#PaulFury One Will Fall. @MostVpromotions @showtimeboxing @amaliearena pic.twitter.com/IFStMpJul5

— Jake Paul (@jakepaul) October 29, 2021
In Tampa Bay, Florida, these two superstars will square off. Their fight will be broadcast on Showtime PPV, according to the official fight poster. Ticket sales will begin on November 10th, a month before their long-awaited clash. While Paul has a 4-0 professional record, this is the first time he's faced a true-blue boxer of his caliber. During his career, the Problem Child has taken out a former NBA player, an Olympic mixed martial artist, and two other influences.
If Paul's stance on the subject is any indication, he's confident and ready to fight. "Pucker up Timmy, it's time to bid your last name and the boxing legacy of your family farewell," he wrote.
Only time will tell if his predictions are correct, and it all happens on December 18.
Mike Tyson vs Logan Paul is targeted for February 2022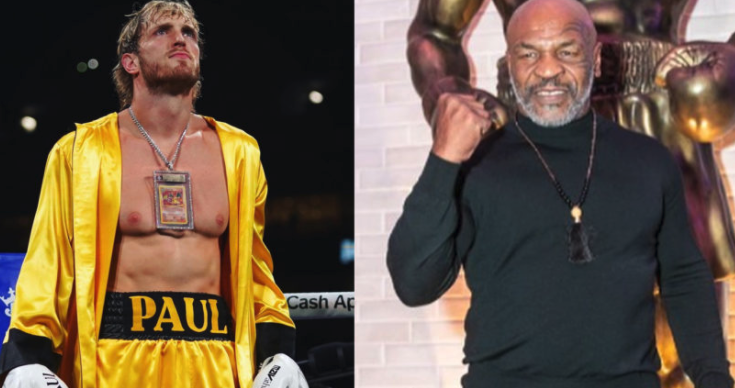 Mike Tyson vs Logan Paul is targeted for February 2022
Mike Tyson's return to the ring in February, with Logan Paul as a possible opponent, promises to be a thrilling fight. Mike Tyson, the 55-year-old heavyweight boxing legend, previously returned to the ring on November 25, 2020, in an eight-round exhibition contest against Roy Jones Jr.
The demonstration match between Tyson and Jones Jr ended in a tie, promising boxing fans that it wouldn't be the last. Iron Mike also talked about who he might fight next in an exclusive interview with The Sun, amid rumors that it could be Logan. "I think he'll be a tremendously interesting opponent," Mike Tyson stated.
Mike Tyson, the world's youngest heavyweight champion, formed a bond with Jake, who is Logan Paul's younger brother. By knocking out Nate Robinson in the extra fight of the return duel Tyson vs. Jones, he became a YouTube sensation.
Logan Paul vs Mike Tyson

Feb 2022 !

Sources tell #DramaAlert pic.twitter.com/7B6hmEiXDg

— KEEM 🍿 (@KEEMSTAR) October 23, 2021
Tyson recently stated that he could easily KO Jake Paul, but that he would never do it. Logan Paul, who recently humiliated Floyd Mayweather in an exhibition fight, is looking forward to fighting Iron Mike.
At the dedication of a statue of Tyson outside the Mulberry Pizzeria restaurant in Las Vegas, he discussed his plans to fight again. In honor of a personal friend, Resorts World President Scott Sibella and restaurant owner Richie Palmer created the statue.  "It's important because we've been friends for 35 years. It's my way of honoring him and paying tribute to him because people don't know how great he is," Palmer stated.
Both men have yet to make an official announcement. Various reports, however, indicate that it is already final. Since Keem of Drama Alert broke the story, it has spread like wildfire. Mike Tyson vs Logan Paul will take place in February, according to his statements.
Watch: Fury defeats Wilder to retain WBC heavyweight title in Las Vegas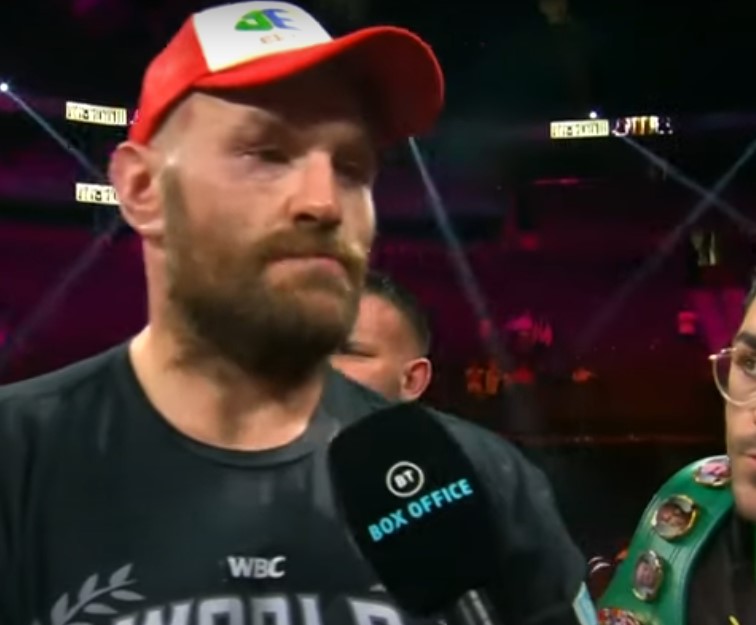 Fury defeats Wilder to retain WBC heavyweight title in Las Vegas
Tyson Fury defeated Deontay Wilder with an 11th-round TKO Saturday night in a classic fight that featured five knockdowns in the heavyweight boxers' third fight.
Fury was knocked down twice, and Wilder was knocked down three times, the last time with a powerful right hand. The fight was quickly called off by the referee.
The fight at T-Mobile Arena in Las Vegas completed Fury and Wilder's trilogy, with the first fight ending in a split draw and Fury winning the second fight by TKO in the seventh round.
Fury successfully defended his WBC heavyweight world title belt as well as the heavyweight lineal championship. Fury improved to 31-0-1, while Wilder fell to 42-2-1.
Fury will seek a rematch with the winner of the Anthony Joshua-Oleksandr Usyk rematch, which is expected to take place in the spring. But he may have to first face Dillian Whyte, who faces Otto Wallin on October 30.
Magic Johnson and Shaquille O'Neal, as well as retired NFL stars Charles Woodson and Michael Strahan, were among those in attendance at the fight on Saturday night.