How to get FIFA 22 Twitch Prime Gaming reward packs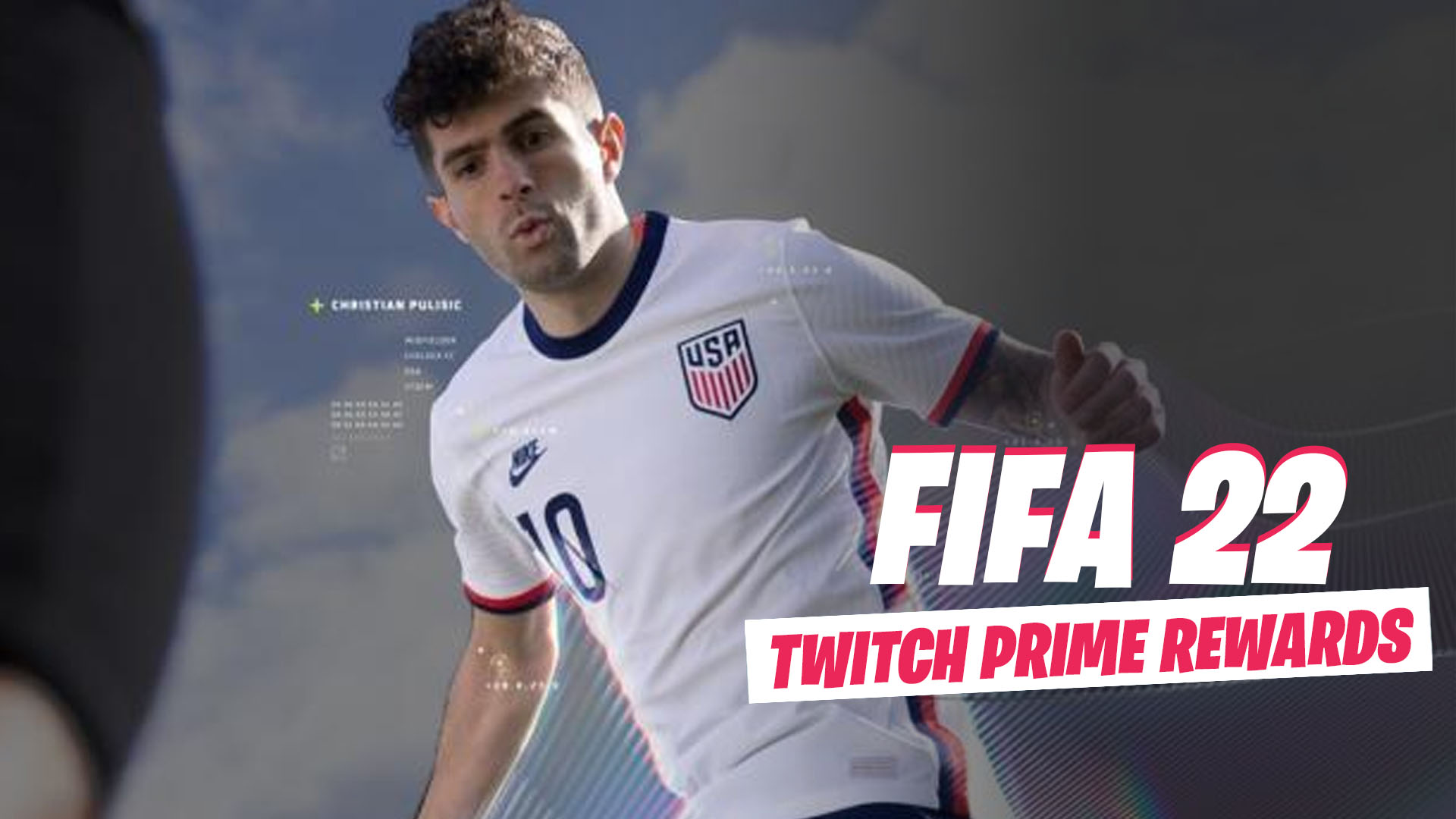 A new batch of FIFA 22 Twitch Prime Gaming loot has been announced for November 2021, which means Amazon Prime members will be able to collect a new special FUT pack in-game chock-full of rare players.
Last year, on a month-by-month basis, a number of free packs were made available to members of the game's community. These, in addition to their Division Rivals and FUT Champions awards, aid in the gathering of a large squad of players, which can be valuable for either playing with or completing SBCs.
The higher the number of cards, the better. For Ultimate Team, this is the typical rule.
And now, with FIFA 22, there are a slew of additional packs on the way. Let's go over how to get the FUT unlocks, as well as what's included.
Twitch Prime rewards for FIFA 22
The second set of FIFA 22 Prime Gaming goodies was confirmed for November on October 20.
Each month, Amazon Prime Gaming subscribers will receive a new FUT pack, which means there will be lots of opportunities to open packs.
What does the FIFA 22 Prime Gaming pack include?
The November FIFA 22 Prime Gaming prizes have been revealed, and they include a short-term loan Kylian Mbappe card (91-rated PSG striker), as well as almost half a dozen gold players and two 81+ player pick selections.
Here's what you'll get when you buy the bundle:
7 rare gold player cards
Mbappe, Kylian (five-game loan)
2 rare Gold Player picks (over 81)
It's a decent haul of prizes, and having additional high-rated FUT players is always a good thing. Plus, if you can acquire it for free through Twitch Prime, you won't say no; perhaps your Ultimate Team pack luck will strike the perfect chord.
How to get Twitch Prime Gaming awards for FIFA 22
You'll only need to perform a few things to obtain the FIFA 22 Twitch Prime incentives when they start rolling out:
On their website, you can link your Twitch account to an Amazon Prime account.
Connect a Twitch account to an EA SPORTS account.
Go to the top-right corner of the website and click the Twitch Prime crown.
From there, claim your prizes.
Start FIFA 22 and go to the Ultimate Team interface and select 'Store.'
Your prizes should be delivered – ready to open – once you click 'My Packs.'
Everything should be added to your account automatically once you've completed those procedures.
How to finish FIFA 22 Player Moments Nakamura & Miura: Cost and Solutions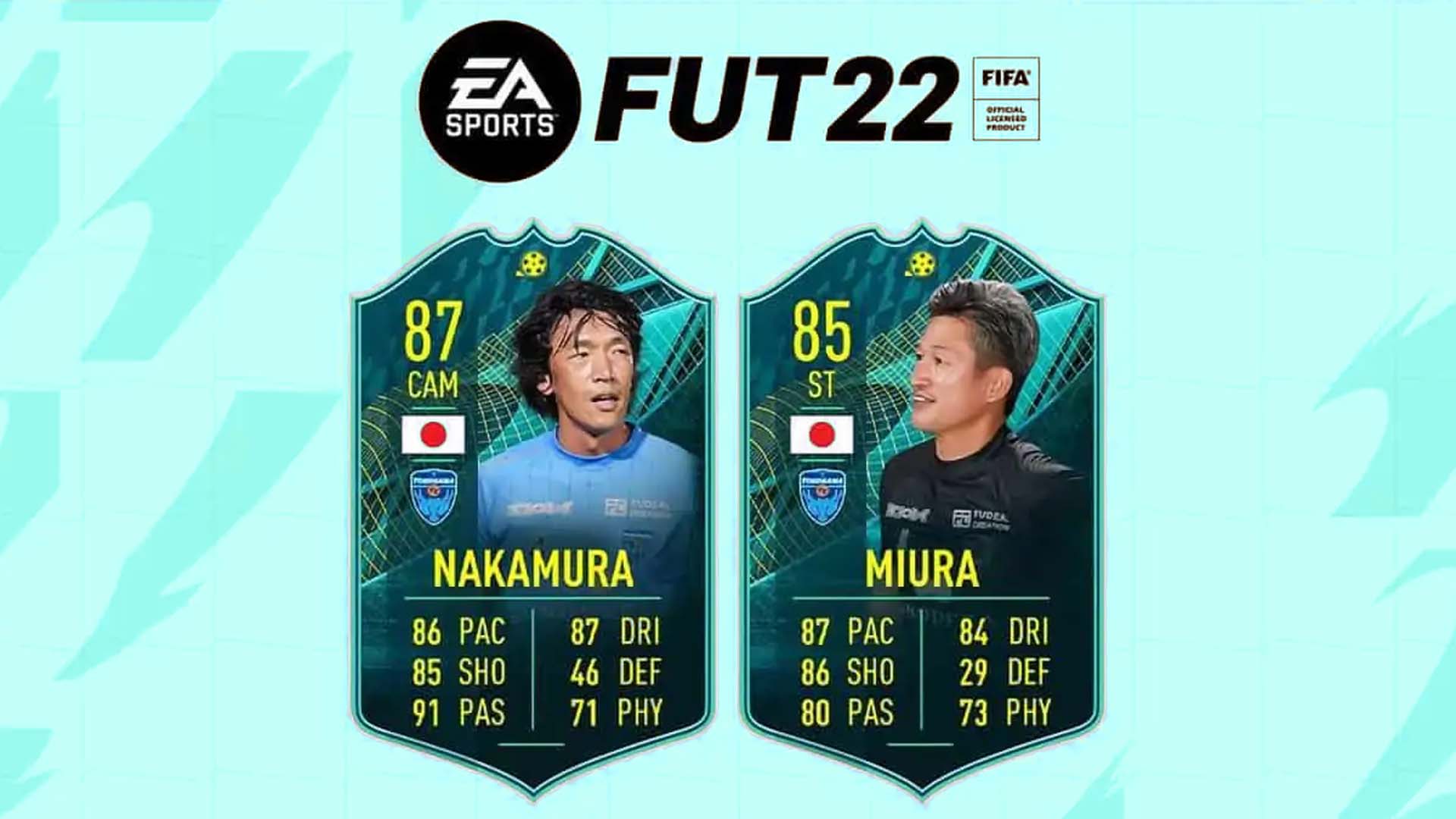 Player Moments cards are EA's attempt to reintroduce an old FUT favourite into the FIFA 22 meta. Do you want to know how to finish the Nakamura and Miura player moments in FIFA 22? Here are the costs for each player, as well as both SBC solutions.
Here's where you can get your hands on these Japanese icons, as well as how much they'll cost you.
FIFA 22 Player Moments Nakamura and Miura cost
The Moments Duo challenge, according to FUTBIN, will cost between 60,000 and 70,000 coins to complete. When you consider you're receiving two cards with great chemical linkages to each other, this is a rather good deal.
If only one of the cards appeals to you, the challenge is divided into two independent SBCs. So, if you don't have the finances or players to complete both, you can still choose which one you want.
Spending the money on both SBCs earns you a Prime Electrum Players Pack, so you may even earn part of the money you put into it.
SBC solutions for Player Moments Nakamura and Miura
The Shunsuke Nakamura SBC costs roughly 40,000 – 45,000 coins, whilst the Kazuyoshi Miura costs only around 20,000. The cards themselves have received a significant improvement, and their flawless linkages make them simple to integrate into a team.
Nakamura received his Player Moments award for a magnificent strike against Manchester United in the 2006/07 season, while Miura received his for becoming the oldest ever goalscorer at the age of 50.
If you want to add these FUT favourites to your club, here are the SBC requirements and some low-cost alternatives.
Shunsuke Nakamura
Squad Rating: Min. 84
Team Chemistry: Min. 70
Players in the squad: Exactly 11
Kazuyoshi Miura
Squad Rating: Min. 84
Team Chemistry: Min. 75
Players in the squad: 11
FIFA 22: How to complete Signature Signings Baku Objectives challenge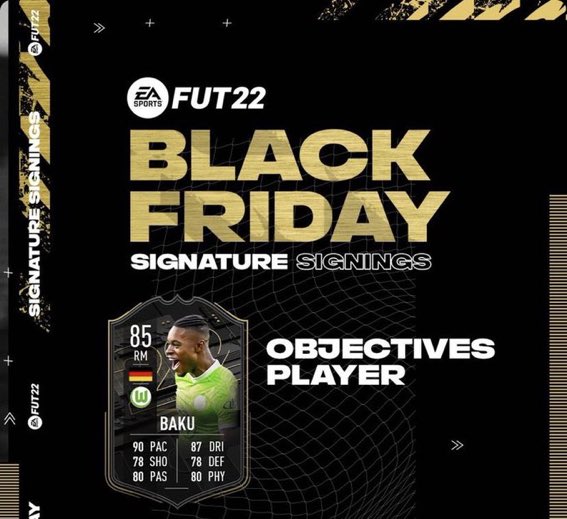 FIFA 22: How to complete Signature Signings Baku Objectives challenge
EA Sports has launched a new promotion called Signature Signings as part of its Black Friday celebration. Gamers like Kevin de Bruyne and Ben Yedder are part of the promo team, but players who want to improve their team through games can also strive for a new Objective player. Riddle Baku of Wolfburg is the perpetrator this time. Let's have a look at how you can bring him into your club.
Players must achieve four separate objectives in order to unlock Baku. You don't need to enter a specific friendly mode for this set, which is fortunate. Instead, you can complete the objectives in either Squad Battles or Rivals. Here are all of them:
Attacking Intent – Score 15 goals using Bundesliga players in Squad Battles on min. Professional or Rivals (Reward: 75+ Rated Rare Player Pack and 300 XP)
Consistent Form – Score using German players in 11 seperate Squad Battles matches on min. Professional or Rivals (Reward: Two Players Pack and 300 XP)
Brilliant Bundesliga – Win seven matches with min. six players from the Bundesliga within your starting squad in Squad Battles on min. Professional or Rivals (Reward: Gold Pack and 300 XP)
Link Up Play – Assist seven goals using defenders in Squad Battles matches on min. Professional or Rivals (Reward: Small Electrum Players Pack and 300 XP)
As you can see, they're not too difficult to complete. We recommend concentrating on winning the first seven games with six Bundesliga players in your starting lineup. After you've completed those games, you may easily move on to other objectives (such as any of the Squad Foundations you haven't completed) while subbing in German or Bundesliga players to complete the remaining three.
The 85 OVR Signature Signings Baku and 300 XP are awarded to players who achieve all four tasks.
This goal will be completed on December 3rd.
FIFA 22: How to complete Flashback Karim Benzema SBC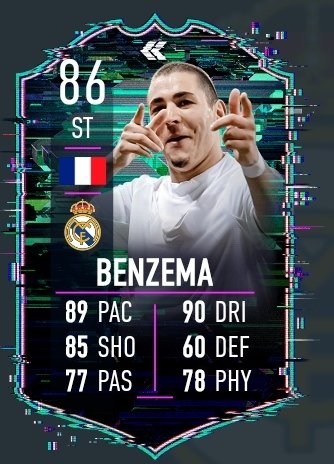 FIFA 22: How to complete Flashback Karim Benzema SBC
To commemorate Black Friday, EA Sports and the FIFA 22 team have released a slew of new content. They've added a new Flashback card to Squad Building Challenges, along with a tonne of new players in packs (SBCs). Karim Benzema is the subject of this publication, which dates back to the 2009/10 season. That indicates the Real Madrid striker has gained enough speed to become one of LaLiga's best attackers. This guide will show you how to add this 86 OVR card to your team.
How to complete Flashback Karim Benzema SBC
FIFA players will need to complete two distinct squads in order to achieve this SBC. Both of these have their own set of requirements that must be adhered to. They are as follows:
Real Madrid
Starting players – 11
Read Madrid players – Min. 1
Signature Signings players – Min 1
Team Overall Rating – Min. 83
Team Chemistry – Min. 75
Reward – Small Gold Players Pack
LaLiga
Starting players – 11
LaLiga Santander players – Min. 1
Team of the Week players – Min. 1
Team Overall Rating – Min. 85
Team Chemistry – Min. 70
Reward – Small Rare Gold Players Pack
Solutions
The current value of Benzema is slightly about 140,000 coins. This price may change in the coming days as more players open packs during Black Friday and Cyber Monday. However, if he's a good fit for your club, he's a fantastic player. Here are a few options for getting him into the club.
Real Madrid
LW: LM Thomas Lemar (83 OVR)
ST: CF Joao Felix (83 OVR)
RW: RW Signature Signings Marucs Edwards (84 OVR)
CM: RM Gareth Bale (82 OVR)
CM: CAM Mason Mount (83 OVR)
CDM: CDM Tomas Soucek (82 OVR)
LB: LWB Ben Chilwell (82 OVR)
CB: CB Azpilicueta (83 OVR)
CB: CB Joel Matip (83 OVR)
RB: RWB Reece James (81 OVR)
GK: GK Bernard Leno (83 OVR)
LaLiga
ST: CF Josip Ilicic (84 OVR)
LM: LM Robin Gosens (83 OVR)
CM: CAM Luis Alberto (84 OVR)
CM: CF Dries Mertens (84 OVR)
RM: ST Zlatan Ibrahimovic (84 OVR)
CDM: CDM Matteo Brozovic (84 OVR)
LB: CDM Fernando (84 OVR)
CB: CB Matthias de Ligt (85 OVR)
CB: CB Stefan de Vrij (85 OVR)
RB: CB TOTW Leonardo Bonucci (86 OVR)
GK: GK Wojciech Szczesny (87 OVR)
This SBC expires on December 3.