Fortnite: El Chapulín Colorado Skin, Price, Release Date & all you should know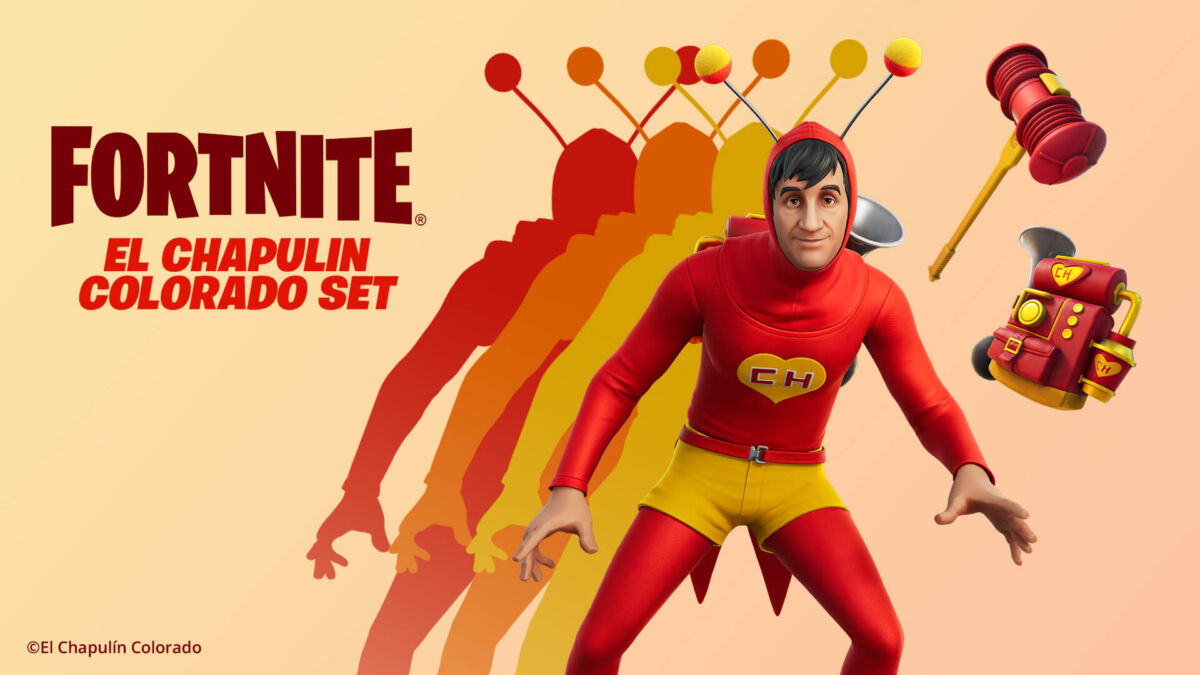 Fortnite: El Chapulín Colorado Skin, Price, Release Date & all you should know
Fortnite is one of the most popular games in the world and has been for many years, and it appears that their South American fanbase will be pleased with a new skin on the way: El Chapuln Colorado.
El Chapuln Colorado is a massive property in Brazil and Latin America in general. It's not a name that many Fortnite fans or most Europeans will be familiar with, but it's difficult to overestimate how big of a crossover this could be. After all, just because something isn't popular within your own bubble doesn't mean it isn't popular at all — for example, many people believe Fortnite is a dying game (it isn't) because they and their friends no longer play it.
Here's everything you need to know about El Chapuln Colorado, a Fortnite reference to Brazil.
Who or what is El Chapuln Colorado?
El Chapuln Colorado (English translation: "The Red Grasshopper") is the name of a Mexican TV show that aired from 1973 to 1979 but has a long legacy, with an animated show version released as recently as 2015.
The show is a parody of superhero media that follows the titular El Chapuln Colorado, a bumbling hero who is just trying his best while looking nothing like the squeaky clean mainstream superhero image. Superman he isn't, but that's part of the reason he's so beloved.
El Chapuln Colorado was the inspiration for The Simpsons' Bumblebee Man, and an animated and live-action film adaptation is currently in the works. It's safe to assume that as part of this new collaboration, we'll hear something on both of those fronts.
Here's what the Fortnite skin looks like.
Agente Colorado, Capitana Colorada, Soldado Colorado, Amazona Colorada, Guerrero Colorado, Guerrera Colorada, Héroe Colorado, Herona Colorada, Defensor Colorado, and Defensora Colorada will also be involved in the collaboration.
Price of Fortnite El Chapuln Colorado Skin
According to recent Fortnite crossovers, the El Chapuln Colorado skin will most likely cost 1500 or 1600 V-Bucks. Collaboration skins, for whatever reason, tend to fluctuate between those two prices — the most recent Resident Evil skins cost 1500 V-Bucks, while the Street Fighter ones cost 1600.
The complete El Chapuln Colorado bundle typically costs 2800 V-Bucks for everything included in the set.
Release Date for Fortnite El Chapuln Colorado Skin
Update: El Chapuln Colorado and all other skins will be available on November 1st, 2021 at 8PM ET.
ORIGINAL: Fortnite's Spanish language Twitter accounts have already begun to tease the crossover, so the El Chapuln Colorado crossover is very likely to happen sooner rather than later.
Fortnitemares is just wrapping up as we write this, and there's still one horror crossover skin left to release, so it won't be available until after October 29th, at the very least on October 30th.
Trailer for Fortnite El Chapuln Colorado
Fortnite is available for free on PC via the Epic Games Store, the PlayStation 5, the PlayStation 4, the Xbox Series X | S, the Xbox One, the Nintendo Switch, and Android.
Fortnite Season 2 Chapter 3: How To Find Shield Bubble?
Welcome to our guide "Fortnite Season 2 Chapter 3: How To Find Shield Bubble?". This guide will aid players with locating Shield Bubbles within Fortnite. Although it is likely that they will only be able to do so for a short time.
How to find Shield Bubble in Fortnite Season 2 Chapter 3?
If a player wants to find a Shield Bubble, all they have to do is keep an eye on Floor Loots which show up everywhere on Fortnite's map. The item does have a chance of showing up among these irregular spawns. All the fans who keep looking should surely find one. After some while the Shield Bubble will go back to the vault. But this could be another momentary absence for this item. Especially, since the community will be able to vote on whether or not the Shield Bubble should be added to the loot pool for good. The voting should start next week. The Shield Bubble would be against Balloons, that also came out of the vault and for the weekend. Fortnite players who want to have a say in this decision must ensure to fill up on Gold Bars. This will be utilized to vote.
How to use Shield Bubble?
When it comes to how to utilize a Shield Bubble when you have one, you can throw it like a grenade. When the Shield Bubble lands, it will make a big dome all over itself that can't be broken through by gunfire or explosions. So, the inside of the dome can be a great place for Fortnite gamers to stay safe, even though the Shield Bubble only lasts for 30 seconds. In Fortnite, a Shield Bubble can be made mobile by connecting it to a vehicle. If they want, they can also change the item when it is on the ground. Time will show if this feature is sufficient for Shield Bubble to beat Balloons during the upcoming vote. However, it can make the item very powerful in the right situation.
So, this was our guide "Fortnite Season 2 Chapter 3: How To Find Shield Bubble?". Feel free to leave a comment below!
Fortnite Season 2 Chapter 3: How To Find Omni Chips At The Joneses?
Welcome to our guide "Fortnite Season 2 Chapter 3: How To Find Omni Chips At The Joneses?". Week 8 of the latest Fortnite season introduces a new set of the Omni Chips for fans to gather, featuring some in The Joneses.
Fortnite Season 2 Chapter 3: Finding Omni Chips at the Joneses
The major Fortnite protagonists have teamed together to establish The Joneses, wherein players may instantly gather three Omni Chips. At The Joneses, players can find their first Omni Chip in the southwest part of the area. Head over to the small lake. The chip would be seated on the edge of the pier there. The second place where the Joneses have an Omni Chip is to the east of the first. Go east to the big building that looks like a barn. Use the stairs to the lowest level to find the jail cell with the Omni Chip inside. Just at north of the second Omni Chip is the third and last one. From the jail cell, go up the stairs and keep going north. The final chip is located under the boat that has flipped over.
After collecting all three Chips at The Joneses, there's another set at Coney Crossroads. Knowing that the POI has an IO Tank and is a popular hangout, it's best to acquire chips from The Joneses before heading to Coney Crossroads. This week, additional vaulted weapons and Omni Chip sites were added to the island. Flint-Knock Pistol as well as Hunting Rifle are returned in Fortnite's v20.30 update. Air Strike, a long-dormant throwable weapon, drops 20 missiles anywhere it falls.
In conclusion, we hope you liked our guide "Fortnite Season 2 Chapter 3: How To Find Omni Chips At The Joneses?". Please leave a comment below! We post fresh content daily and if there is something specific that you would like us to cover then please do let us know all about it in the comments section below.
Fortnite Season 2 Chapter 3: How To Find Balloons?
Welcome to our guide "Fortnite Season 2 Chapter 3: How To Find Balloons?". Balloons have momentarily reappeared to the island in Fortnite, and this guide will show you how to find them.
Despite releasing over five years ago, Fortnite remains a top free-to-play game. The regular turnover between old and new goods on the island keeps gameplay fresh. This also features Fortnite's Balloons item. Just two months into the Chapter 3 Season 2 and Epic Games brings back Balloons. Balloons are just a mobility tool that were launched in Season 6 from the first chapter and were vaulted two seasons after, staying inactive until recently.
Fortnite Season 2 Chapter 3: Finding balloons
Fortnite's Balloon item creates a low-gravity effect that allows players to jump higher while gently falling. Maximum three balloons can be connected or released during the game to improve this impact. Balloons increase vertical mobility, but are vulnerable to gunfire, making players exposed while airborne. Balloons can be found in Supply Drops, Floor Loot and chests. Tomorrow starts the voting session between Fortnite's Shield Bubble and balloons. The Shield Bubble provides a 30-second unbreakable shield. The only way to disable the Shield Bubble is to shoot from within its boundary. From May 16, gamers can vote on Gold Bar-funded loot additions. Fortnite too has unvaulted two popular weapons – the Flint-Knock Pistol as well as the Hunting Rifle. Both firearms were added in Fortnite's v20.30 update, which even unvaulted the Air Strike. They had been vaulted from Chapter 2. Both weapons will return to the vault soon.
We hope you liked our guide "Fortnite Season 2 Chapter 3: How To Find Balloons?". Please leave comment below!