FIFA 22 new update brings huge changes to free kicks, referees and goalkeepers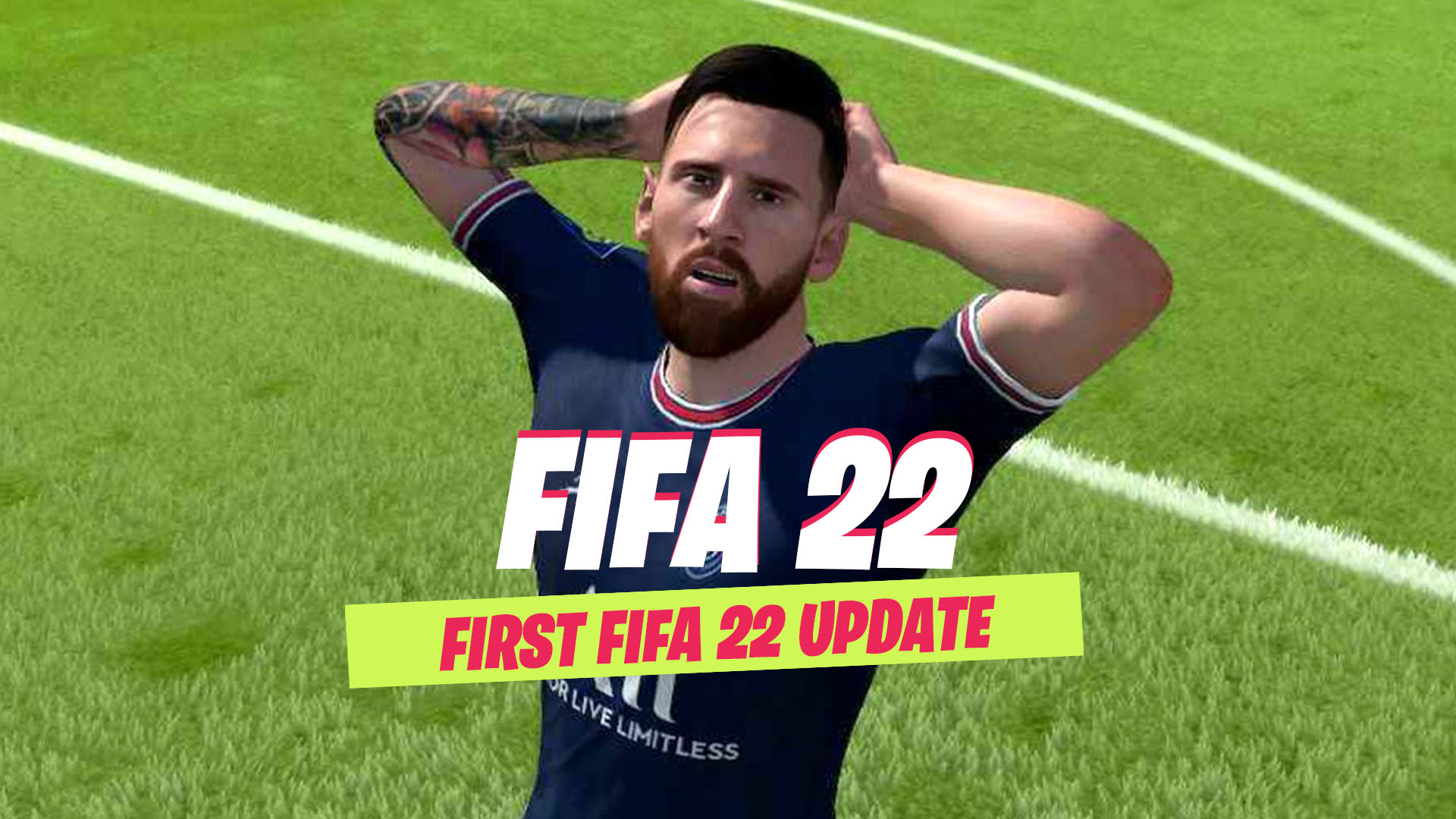 FIFA 22's first update is out, and EA SPORTS is already hammering goalkeepers and officials, while amplifying the potency of the game's already potent free kicks in Ultimate Team and kick-off modes – here's everything in the October 6 patch notes.
FIFA 22 has been released for a little over a week, and publishers EA SPORTS are ready to make their first major tweaks and improvements to the gameplay of their latest version.
The first and most important is aimed for goalkeepers.
Shot-stoppers have been an early standout in FIFA 22, dominating the Ultimate Team meta. Unlike in previous FUT metas, no single goalie has been a must-pick; regardless of the card players chose to fit into their squads, they have been delivering each and every game.
EA SPORTS has taken steps to "lower the efficiency" of goalkeepers, particularly when it comes to attempts from inside the eighteen-yard box. According to EA, this update will affect all shots taken within 11.27 metres of the goalmouth.
FIFA 22 goalkeepers have received many new "genuine" in-game movements to "improve efficacy" when saving flair shots to counteract these nerfs.
Goalkeepers aren't the only ones who have been scrutinised by EA in FIFA 22 update #1; referees have also been given a helping of "logic" in the patch.
This contains improved AI interpretation of high-velocity tackles (more fouls) and keeper impacts, but officials will no longer call as many penalties for "reasonably timed slide tackles."
The most significant change is that they will "no longer call fouls due to gentle touch."
The final major change in the October 6 patch is connected to free kicks. Dead-ball situations have already been a highlight of many players' Ultimate Team campaigns, and they're about to get even better.
In the notes, EA announced that they have now "widened the region where the reticle can be placed during free kicks" to enable more control over spin and shot placement.
Aside from the FIFA 22 gameplay changes, the first patch of the new title cycle includes a slew of bug patches, as well as updates to Ultimate Team, Volta Football, Pro Clubs, Kick Off mode, Career Mode, and a slew of other features.
On October 6, the new FIFA update will be available for all PC versions of the game. As is customary, the patch will be delayed on consoles — including the PlayStation 5 and Xbox Series X — so that EA SPORTS can iron out any serious issues. It is scheduled to be released on consoles next week.
FIFA 22 update #1 patch notes
Gameplay changes
Goalkeepers' efficiency when diving for top corner shots from inside the penalty box has been reduced.
This modification applies only to shots taken within 37 feet/11.27 metres of the goalkeeper.
The frequency of player-controlled sliding blocks making contact with a travelling ball has been increased.
When defending a counterattack that came from a corner situation, the defensive reasoning for players along the halfway line has been updated.
Defenders along the midway line will now try to track the counter-attacking players more closely.
Goalkeeper animations have been included that may occur when a keeper attempts to stop a high finesse strike.
This adjustment is intended to create more realistic goalie reflexes while also marginally increasing the effectiveness of goalkeepers saving this type of shot.
When defending a counterattack that came from a corner situation, the defensive reasoning for players along the halfway line has been updated.
Defenders along the midway line will now try to track the counter-attacking player more closely.
The frequency of player-controlled sliding blocks making contact with a travelling ball has been increased.
The region where the reticle can be positioned during free kicks has been increased in size to allow for more control over spin and overall placement.
Player Lock will now be cancelled in Co-Op matches once the Player Locked player makes a pass or their teammate makes a pass to a different player.
[Only for PS5] A new Controller Setting has been added to configure the desired Adaptive Trigger Resistance.
Improved referee rationale to make the following call:
more fouls as a result of high-velocity tackles
fewer penalty kicks as a result of well timed slide tackles
More fouls in scenarios where a player collides with a goalie who is holding the ball on purpose.
Fewer fouls as a result of mild physical contact
Throw accuracy and target selection have both improved.
The following concerns were addressed:
A late Fake Shot request resulted in a pass on occasion.
In rare circumstances, players may unintentionally take a terrible touch.
In some cases, the ball carrier might refuse to perform the Feint and Exit Skill Move when asked.
When rushing the goalkeeper outside of the penalty box, the keeper may attempt to make an inaccurate save with their hands.
When attempting to intercept the ball, the intercepting player may unintentionally take a strong touch, resulting in possession loss.
Players with a Skill Move rating of one to three will now perform the Bridge Skill Move instead of no Skill Move when requesting a Skilled Bridge Skill Move.
In some cases, the defensive team's player would stop moving for a brief while after the attacking team accomplished a Lobbed Through Pass.
Players receiving the ball from the air were rarely seen running in place before taking control of the ball.
In some circumstances, while receiving the ball from the air from behind, the receiving player would not attempt to take possession of the ball while running.
In rare circumstances, players may unintentionally take a terrible touch.
The Goalkeeper could sometimes slide on the pitch after catching the ball near the goal line and sliding to the ground with it.
When a goalie tries to punch the ball after a deflected shot, he or she may instead try to head the ball.
If the shot was close to the goalkeeper, the goalkeeper would occasionally not make an attempt to stop the ball.
In certain rare cases, the goalkeeper would rise excessively slowly after a violent match.
When attempting a diving save, the goalie may descend diagonally rather than laterally.
This was a purely visual issue, and resolving it had no effect on goalie performance in these instances.
When attempting to move while shielding the ball, the shielding player may lose sight of the ball.
A cross near the goal area is not caught by the goalkeeper.
When a ball was kicked out of play, the ball was given to the wrong team to resume play.
When playing as a locked player and the match finishes in a penalty shootout, the locked player's Match Rating may decline inadvertently during the shootout.
This problem is documented on the EA SPORTS FIFA Tracker at https://trello.com/c/651ZT9ZQ.
When skipping a non-playing scene that plays before a goal kick, the input combination may occasionally result in the Come Short or Push Up function being asked.
When fouls were committed on a player performing a nutmeg or a Bridge Skill Move, they were not always called.
After a well-timed sliding tackle in the penalty box, a penalty kick may have been erroneously awarded.
After requesting a Skill Move, an erroneous animation may occur on rare instances.
The ball carrier may occasionally dribble in a direction other than the one specified.
Occasionally, a player may become stuck in a Strafe Dribble animation for a longer period of time than planned.
If the Sprint button configuration was altered, Sprint Knock Ons could not be requested.
When attempting to save a header, the goalkeeper may occasionally perform an inaccurate saving animation.
When utilising the Pro camera, gameplay may appear fuzzy at times.
Only for PCs – Cancelling an advantage call had no effect.
During gaming and replays, hair may appear hazy at times.
During gaming and replays, players may notice a faint dark light around them.
FIFA 22 Ultimate Team Changes
The FIFA 22 Division Rivals Progress tile UI has been updated to increase readability and clarity.
When opening or previewing a Pack with a walkout Player Item, players will begin their walkout motion somewhat later.
While a match is halted, Tifos can now be viewed in the Stadium.
Tifos can now be seen in Squad Battles and Friendlies during additional pre-match scenarios.
When purchasing Stadium Items or Bundles from the FUT Store, a pop-up message will now notify players if one or more of the Items are for a Stadium customization slot that must be unlocked through Objectives.
When previewing a kit Stadium Item or a Stadium Item Bundle including a kit, a goalie dressed in the aforementioned kit now appears alongside the outfield player.
The following concerns were addressed:
The post-match screen for FUT Champions Play-Offs did not always appropriately reflect the total points and Rank.
The right Play-Offs progression was and continues to be displayed on the Play-Offs progression panel, therefore this is purely a visual issue.
Fixed an issue with FUT Hero Joe Cole's Player Item, which prevented players from entering a match while the Item was present in the Squad.
This problem is documented on the EA SPORTS FIFA Tracker at https://trello.com/c/7Oub63CD.
The Play-Offs rewards screen indicated an inaccurate number of Finals qualifiers after qualifying for the FUT Champions Finals. This was purely a visual issue.
Finals qualification grants one entrance into the competition, and the relevant information is provided while previewing awards on the Play-Offs Progression screen.
This problem is documented on the EA SPORTS FIFA Tracker at https://trello.com/c/wcVRGSf3.
If the Starting Price was one increment lower than the Buy Now Price when putting an item on the FUT transfer market, players may have gotten an error preventing the item from being published on the transfer market.
This problem is documented on the EA SPORTS FIFA Tracker at https://trello.com/c/hAsLE17o.
When indicating that the player's awards were ready to be claimed, the Division Rivals main menu window did not indicate the player's current placement. This was purely a visual issue.
This problem is documented on the EA SPORTS FIFA Tracker at https://trello.com/c/GYv4WMXi.
When it appeared after a successful penalty kick in extra time, the augmented reality presentation overlay failed not show the right scoreline.
The Squad Rating and Chemistry UI components were not display correctly when displaying the opposing squad during offline Friendly match loading.
Quick Sold Kit Items were not always removed from the Club and could be Quick Sold again for 0 FUT Coins.
After finishing a Division Rivals match, the button callout for the in-game friends list may vanish until you re-enter Rivals.
During post-match moments in Division Rivals and FUT Champions, some sound effects did not play appropriately.
During a FUT Friendlies Swaps match, swapped players were flickering.
Increased visibility of the wins counter in the Division Rivals post-match flow.
When being promoted to a new Division in Division Rivals, the New Division text that appears in the post match flow is now more visible.
The Division Rivals post-match screen may occasionally run slower than planned.
Following a defeat in Division Rivals, the progress bar may vanish during the post-match flow.
On the Rivals Progression screen, some Division Rivals award status descriptions were more ambiguous than intended. This was a cosmetic flaw that had no bearing on progress.
When the Competitive Master Switch was on, the Through Ball Assistance setting could not be changed to Manual.
Some Badge and Kit Items did not appear properly.
When viewing Crowd Card Items in the Stadium menu, there may be a stability issue.
Career Mode Changes
In FIFA 22 Player Career, a Player Growth button callout has been added to the levelling up screen.
The Board Expectations section has been replaced with the team's formation on the team choice screen in Player Career.
The following concerns were addressed:
Board Objectives could often be inadvertently contradictory.
An unnecessarily excessive number of performance warnings may arise when simulating matches in Player Career.
Player fitness did not display appropriately on the post-match panels when skipping to the end result after coming on as a sub in Player Career.
The number of teams who can compete in the Polish Cup has been reduced.
The A-start League's date has been corrected.
The Turkish Super Lig's start date has been corrected.
Following a completed match, the post-match interview button callout would sometimes take the player to the main hub.
When addressing the manager, Inbox messages occasionally utilised an inaccurate title.
Players generated via Create Your Club and Youth Players were not given randomised footwear.
Some Training Drills had erroneous descriptions.
This problem is documented on the EA SPORTS FIFA Tracker at https://trello.com/c/0LFvzlkt.
After obtaining a new level while simulating matches in Player Career, the level up screen will not appear.
When skipping dialogue during post-match interviews, the microphone may shake unintentionally.
In Player Career, an incorrect button callout was shown when selecting objectives prior to entering a match.
Sometimes, players could ask to play in the match despite being injured.
Youth player kits were always displaying first names.
The import Avatar pop up was incorrectly appearing when trying to edit the manager after starting the first season.
When editing a genuine player in Player Career, the UI colours are incorrect.
On the Player Growth widget in Player Career, some UI elements overlapped.
Behind the Player Career main menu, the selected team's outfit did not appear.
During various pre-match scenarios, placeholder kits were mistakenly presented. PC Only – The button callout for skipping a pre-match scene could display a mouse icon, even when a controller was connected and being used.
When disconnecting and reconnecting the controller during a Player Career match, Objectives could stop tracking progress.
When coming on as a sub in Player Career, the Objectives UI overlay could not be skipped.
In Player Career, an incorrect email could be repeatedly received when being a member of a national team's squad.
International Player Career matches were incorrectly being referred to as league matches.
Away games may carry an unnecessarily large cost in exceptional cases.
The News tile sometimes displayed with harsh lighting.
VOLTA Football Changes
FIFA 22 VOLTA ARCADE competitions can now begin with as little as two human participants.
In VOLTA ARCADE, the maximum amount of time that a matchmaking search can last has been increased.
Foot Tennis now lacks the Driven Lob.
Requesting a Driven Lob will result in a regular Lob request.
The Welcome To VOLTA ARCADE screen that appeared before each VOLTA ARCADE tournament has been removed.
Some text lines in the UI have been updated.
The following concerns were addressed:
Avatars in the Disco Lava VOLTA ARCADE party game could occasionally become trapped towards the limits of the playing field.
During a game of Foot Tennis, requesting a High Lob could cost the opposing side a point.
In Foot Tennis, the serving Avatar's teammate would sometimes move inappropriately away from the playing area.
Even if no progress was made, the Season progression UI presented an erroneous progress bar. This was purely a visual issue.
Following the completion of a VOLTA ARCADE competition, some text was cut out on the progression panels.
The start counter in the VOLTA ARCADE Party Game did not always start at three.
The lobby took longer to load than expected after accepting a game invite from a friend.
Goal celebrations could be skipped.
The wording on the VOLTA BATTLES match results screen was misplaced.
Some outfits contrasted with long hairstyles.
The kiosk has been removed from the background of the main menu.
The Skill Meter may have accidentally filled up after the ball was removed from play.
On the post-match screen, the XP advancement metre did not appear appropriately.
The post-match screen may occasionally falsely refer to the finished match as a tournament win.
The corners of the Team Keepaway party game were not always visible to the camera.
Pro Clubs Changes
The following concerns were addressed:
The visual overlay displaying the amount of XP earned after completing a Club Friendly match did not appear. This is a purely cosmetic issue; players were still gaining XP.
This problem is documented in the EA SPORTS FIFA Tracker: https://trello.com/c/9QRuYxt4.
During Drop In matches, Custom Tactics presets were not always implemented appropriately.
If the CPU AI made tactical modifications during a Practice Battle, the match could have ended early.
For player-controlled goalkeepers, the ball trail was not always apparent.
Some equippable celebrations were misnamed.
The Known As field was not saved when customising AI teammates.
During gameplay, threat signs were not always visible.
The active voice chat speaker was not shown in the Drop In lobby.
The Commentary Name UI may display erroneously when configuring your Virtual Pro.
During gameplay, custom kits may appear to be completely black.
When configuring the Club, the Brentford Community Stadium was mistakenly made selectable.
This problem is documented on the EA SPORTS FIFA Tracker at https://trello.com/c/B5UGSmws.
Players were unable to exit a match search after fast preparing many times.
During matches, the Match Performance UI element overlapped with the Mystery Ball UI element.
On the Club Customization screen, there may be a stability issue.
Start the ball rolling
Kick Off Changes
The following concerns were addressed:
During Kick Off matches, the transition effect between different tabs in Match Facts has been improved.
A player's second yellow card in a Kick Off match does not display the relevant red card UI indicator on the Events screen.
The UI indicator for Advantage Settings was difficult to understand.
The Connect Online option did not work properly, returning the player to the Side Select screen.
Audio, Video, and General
I made the following modifications:
Audio and Video Changes
31 new starheads were added.
Added new songs in EA SPORTS Trax and VOLTA Trax.This will be available only after a server update. Please keep an eye on @EAFIFADIRECT for information on when this will be available in-game.
Some players now have the ability to perform Jul's celebration.
The arrangement of players on the Player Performance screen has been changed so that strikers are at the top rather than goalkeepers.
Some broadcast packages, stadiums, crowd shouts, commentary lines, tifos, UI components, corner flags, crowds, pre and post-match scenarios, goal songs, anthems, badges, ad boards, tutorial overlays, celebrations, non-playable characters, and balls
Several instances of errors, misplaced text, improper graphics, and unexpected space in the UI.
The following concerns were addressed:
When disabled, the Player Based Difficulty Indicator may still appear during matches.
The Player Based Difficulty Indicator might remain on during non-playing scenes and be visible at all times during a match.
After being switched off during a match, the Player Based Difficulty Indicator remained active.
The Default Game Plans seen in Team Sheets via the Customise option only differed in terms of Defensive Depth.
When the Defensive Depth of other Game Plans was updated and saved in Team Sheets, the default Game Plan's Defensive Depth was overridden.
Depending on the lighting, hairstyles may appear a different hue than intended.
Closing and reopening the title during the Welcome Experience may result in faulty audio and lights.
Match losses in the FIFA Online Seasons Cup were not being noted on the stats section.
In Game Plans, the Fast Build Up and Balanced Offensive tactics exhibited erroneous reference animations.
Some visuals and language in the Welcome Experience have been updated.
After exiting Career Mode and returning to the main menu, the intended visuals were not displayed.
The font used on the FIFA 22 Trainer UI has been corrected.
When playing the title while installing, the transition between the Welcome Experience and the full game has been improved.
The status of an online friend was not always appropriately displayed in the game's friends list.
After completing a Co-Op Seasons match, a stat tracking error warning may appear, leading Match Facts to disappear.
After opening the in-game friends list, parts of the main menu may have ceased appearing correctly.
When displayed in menus, some character models may appear smaller than their true size.
The visual indicator for Man of the Match did not appear on the post-match Player Performance screen.
In the main menu, EATV videos were not looping properly.
EA SPORTS Trax did not play instantly in several cases.
The button callouts in FIFA Trainer did not reflect customised button configurations.
The Quick Subs UI has been improved in terms of clarity.
The spacing on the Tournaments Main Menu tile has been updated.
In the Controller Settings, there was no written description for Player Rotation Right Stick Switching.
In the menus of some Skill Games, an inaccurate preview image was presented.
Several instances of clashing kit colours were addressed.
General stability has been improved.
Addressed a potential stability issue while utilising Dutch commentators.
FIFA 22: Advance Defense Techniques
Welcome to our "FIFA 22: Advance Defense Techniques' guide. In this article we are going to tell you the most effective advanced defensive strategies for defending your goal.
You should study advanced defensive strategies in FIFA 22, particularly online. Especially after you've mastered the fundamentals. Techniques include shoulder to shoulder, sheltering the ball and some more stuff that go as follows.
FIFA 22: Shoulder to shoulder defense technique
When you catch up to an opponent, you'll frequently find yourself fighting for the ball shoulder to shoulder. A push-off battle normally ends with a push, although a foul might be called. This strategy works well for players that are strong and aggressive.
FIFA 22: The Jockey technique
The most vital defensive manoeuvre that prevents the opponent from playing the ball. It takes practise to use the Jockey method right, but it's worth it.
The Jockey approach helps you not just in one-on-one scenarios but also in defence and predicting when the other team will send the ball to you. By hitting the L2/LT button, the player enters Jockey mode and begins strafing in the direction of your choosing.
FIFA 22: Shielding technique
Shielding the ball is a tactic that helps players to hang onto the ball until help arrives. This tactic may be utilised when you have no chance to create a play, want to waste time, or want to offer space to players rushing behind defenders. To use the shield, click the appropriate button (L2/LT).
FIFA 22: Body block technique
In FIFA 22, you regularly have to stop your own goal attempts. You may accomplish this by hitting the tackle button (O on PS4, A on Xbox) and performing a sliding tackle.
FIFA 22: Pressing technique
In a close game, you can use this tactic to keep score. If the opponent isn't in a rush to attack, push him and attempt to swiftly seize the ball. To enable teammate pushing, hit the d-pad or keyboard, then one of the side directions.
Be careful while applying this tactic though because it leaves a big section of the field undefended, and it also causes players to exhaust quicker. A swift attack or a through ball can definitely force you to concede a goal or two. However it's proper application generates instant result and you will gain possession of the ball within seconds.
We hope you liked our 'FIFA 22: Advance Defense Techniques' guide. Please leave a comment below and let us know about your favorite defensive tactic. We post fresh content daily and if there is something specific that you would like us to cover then please do let us know all about it. Your thoughts and opinions matter to us the most because they help us to serve you better.
FIFA 22: What Is Attack & Counter Attack?
Welcome to our 'FIFA 22: What Is Attack & Counter Attack?' guide. In this article you will learn how to successfully generate attacking plays as well as counter plays. It's not always simple to get possession of the ball in FIFA 22. Thus, prepare an attacking play that ends with a shot at goal, ideally a goal. Attacking the opponent objective is a multi-stage process.
FIFA 22: Attacking & counter attacking in the mid-field
Controlling the midfield is crucial in FIFA 22, as it is in every game. So, if the goalie kicks the ball away, battle for it and attempt to get it back to one of your players for a rapid counterattack.
FIFA 22: One touch passing
One-touch football is a good approach to get past the defence. It features two or three players making rapid passes in a limited space. As a result, your teammates have a better probability of escaping hostile players and receiving a through pass.
FIFA 22: Precise positioning
Preparing a positional attack in FIFA 22 takes time, precision, and plenty of short passes. Use one-touch football with through balls intended at strikers racing behind opponent defenders, and incorporate side midfielders and wingers. As a result, opponents are unable to construct a solid defence in time. It is highly important to play a constructive game and this is only possible with precise positioning.
FIFA 22: Counter attacks are crucial
In FIFA 22, you may launch deadly counterattacks if your opponent makes an error with a pass, loses the ball, or fails a technical trick. Most counter-attacks occur on the field's fast flanks, although they may also occur in the centre if a through ball is available (on the ground or in the air).
We hope you liked our 'FIFA 22: What Is Attack & Counter Attack?' guide. Please do leave a comment below and let us know if this was helpful. We post fresh content daily and if there is something specific that you would like us to cover then do comment below. Your thoughts and opinions really matter to us because they help us to serve you better.
FIFA 2022: What Are Set Pieces?
Welcome to our 'FIFA 2022: What Are Set Pieces?' guide. Set pieces in FIFA 22, particularly those in the opponent's penalty area, offer wonderful scoring chances, whether directly or via passing to the forwards.
What are throw-ins?
A throw-in restarts the game from the field's sidelines. When throwing in, aim for a player who isn't presently covered or a player who is rushing in. To make the player toss the ball farther away, you may hold down the pass button longer.
What is a corner?
A cursor will show in the opponent's penalty area before you take a corner kick. After you've placed the cursor, use the cross button to change the power. Remember not to kick the ball too hard or you may miss your opportunity to score.
In FIFA 22, a short corner kick comprises a fast ground pass to the closest player, followed by a kick into the penalty area. This kind of corner kick is meant to loosen up the penalty area and locate a space to score a goal. By pressing the modifier (R1/RT), you may have a midfielder run closer for the short corner kick.
What are free kicks?
Choose a player with the best shot power, accuracy, and curve stats. Choose a left-footed player to attack the right side of the goal. When shooting towards the left side of the goal, use a right-footed player.
In FIFA 22, free kicks may be taken in a variety of ways:
A penalty area cross is taken when a direct shot cannot be scored.
Short pass: this is how you restart the game near the middle or even the opponent's goal line;
Try a hard shot right towards the goal from roughly 18 metres away. First, establish your player's target and firing power. Taking straight free kicks on goal needs a lot of experience, therefore expect to wait;
When placing the ball up near to the goal, you may be tempted to try a technical curving shot. To begin, aim away from the opponent's wall, which is outside the goal area. You may then choose your shot with the right analogue stick (curved shot).
What are penalty kicks?
Penalty kicks in FIFA 22 are always a gamble, particularly if they determine a close match in Division Rivals or FUT Champions. To take a penalty kick, hit the shot button, then hold the direction you want the ball to go.
A modifier or a finesse shot modifier may also be used. If you set the shooting power too high, the player will likely kick the ball over the goal, losing the opportunity to score.
We hope you liked our 'FIFA 2022: What Are Set Pieces?' guide. Please do leave a comment below.