FIFA 22 Heroes: Morientes, Dempsey and Cahill are now available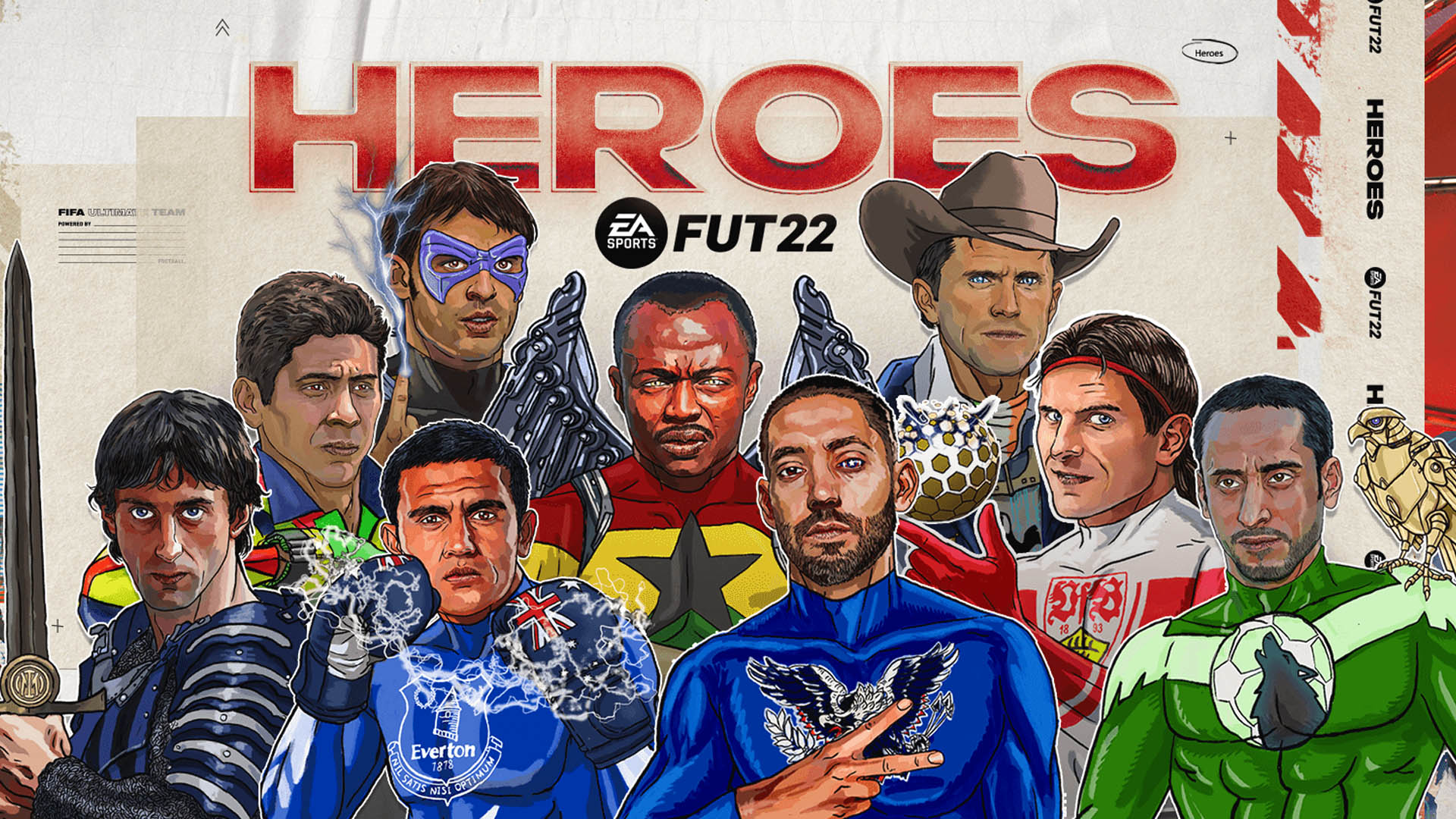 FIFA 22 Heroes introduces a slew of 'new' players to Ultimate Team, although these are all very old characters. All of the superstars below are assigned to a certain league, which means they must be placed up next to cards from the same competition for maximum harmony. Scroll down to view thorough biographies of nine elite contenders, as well as the full list of FIFA 22 Heroes.
Mario Gomez (88, Bundesliga)
Gomez, a long-time FIFA favourite who only retired in 2020, returns to the series with a super-powered card commemorating his time with Stuttgart, Bayern Munich, and Wolfsburg. The 6ft 2in target man scored 231 goals in 456 games for his club, and added 31 more in 78 appearances for Germany. If you play FIFA 22 with an all-Bundesliga team, you'll get a Physicality rating of 90+ and be good for the full season — but at a high beginning cost.
Tim Cahill (85, Premier League)
The box-to-box midfielder has 108 caps for Australia, and his career has taken him to Millwall, New York Red Bulls, Shanghai Shenhua, Hangzhou Greentown, Melbourne City, and Jamshedpur, but FIFA 22 honours his period at Everton. Cahill spent eight years in Merseyside's blue half, scoring 56 goals in 226 games and earning player of the year honours in 2004-05.
Diego Milito (88, Serie A)
The Argentine's international achievements pale in comparison to those of his contemporaries on this list, with only 25 games and four goals. His club career, on the other hand, is a different storey. Milito moved to Italy after 34 goals in 137 games for Racing Club, scoring 57 goals in two spells at Genoa and 62 goals in 128 games for Inter Milan. He won both the Serie A and the Champions League while at the San Siro in 2010, and was awarded man of the match in the latter's final after scoring twice to defeat Bayern Munich.
Jorge Campos (87, Liga BBVA MX)
Mexico's greatest goalkeeper has to be considered one of the most eccentric net-minders of all time, alongside Bruce Grobbelaar and Rene Higuita – and it's nice to see his 1990s achievements gain FIFA 22 recognition. Campos sported bright jerseys, made 130 international appearances, and occasionally played up front, scoring 35 goals in the process. UNAM, LA Galaxy, Chicago Fire, and Puebla are among the clubs on his resume.
Robbie Keane (86, Premier League)
Wolves, Coventry City, Leeds United, Tottenham Hotspur, Liverpool, West Ham United, Villa, Celtic: Keane's lung-busting performances and stunning finishing have made him a fan favourite across the United Kingdom. He's also quite popular in California, thanks to an 83-goal season with the LA Galaxy. After 146 matches and 68 goals for his country, the brave Irishman retired in 2018 and should be a popular Premier League card in FIFA 22. Will EA, on the other hand, incorporate his signature cartwheel-to-forward-roll goal celebration?
Abedi Pele (89, Ligue 1)
Isn't that a familiar face? If that's the case, it's presumably because Abedi Pele is the father of Crystal Palace striker Jordan Ayew and Swansea forward Andre Ayew. The former Ghana captain is regarded as one of the best African players of all time, having won the Champions League with Marseille in 1993 after a six-year career with the club during which he scored 23 goals in 112 games. While on loan at Lille, he scored 16 goals in 61 games, and he has also played for Lyon, Torino, and 1860 Munich.
Fernando Morientes (89, La Liga Santander)
The Spaniard's time at Liverpool won't be remembered in FIFA 22 – or anywhere else – for long, but it was an outlier in an otherwise stellar career. Morientes won the Champions League three times with Real Madrid, in 1998, 2000, and 2002, and scored 143 goals in 421 games during his career, which also included stops at Zaragoza, Monaco, and Valencia.
Clint Dempsey (85, MLS)
This is a bit of a setback for Fulham supporters. While Demspey's 50 goals in 189 appearances make him a Craven Cottage icon, FIFA 22 honours his return to the United States in 2013. Following that, he played for the Seattle Sounders and scored 47 goals in 115 games, as well as 57 goals in 141 games for the national team. Demspey and Seattle won the MLS Cup in 2006.
Sami Al-Jaber (86, MBS Pro League)
Al-Jaber was the epitome of a one-club player, appearing for Al-Hilal from 1989 until 2007, with the exception of a four-match loan spell with Wolves in 2000. He scored 204 goals in 376 games for the club where he is still revered, and added 46 more goals in 156 appearances for Saudi Arabia. Al-Jaber played in four World Cups for his country: 1994, 1998, 2002, and 2006. He is now the assistant manager of Scottish club Hearts.
List of FIFA 22 Heroes
As of Wednesday, September 29, every player on the FIFA 22 Heroes list is listed below.
Sami Al-Jaber (ST, MBS Pro League) – 86
Tim Cahill (ST, Premier League) – 85
Jorge Campos (GK, Liga BBVA MX) – 87
Joe Cole (RW, Premier League) – 87
Ivan Cordova (CB, Serie A) – 87
Clint Dempsey (CAM, MLS) – 85
Antonio Di Natale (ST, Serie A) – 88
Jerzy Dudek (GK, Premier League) – 86
David Ginola (LM, Ligue 1) – 98
Mario Gomez (ST, Bundesliga) – 88
Jurgen Kohler (CB, Bundesliga) – 89
Freddie Ljungberg (LM, Premier League) – 86
Robbie Keane (ST, Premier League) – 86
Diego Milito (ST, Bundesliga) – 88
Fernando Morientes (ST, La Liga) – 89
Aleksandr Mostovoi (CAM, La Liga) – 86
Abedi Pele (CAM, Ligue 1) – 89
Lars Ricken (CAM, Bundesliga) – 85
Ole Gunnar Solskjaer (ST, Premier League) – 86
How to finish FIFA 22 Player Moments Nakamura & Miura: Cost and Solutions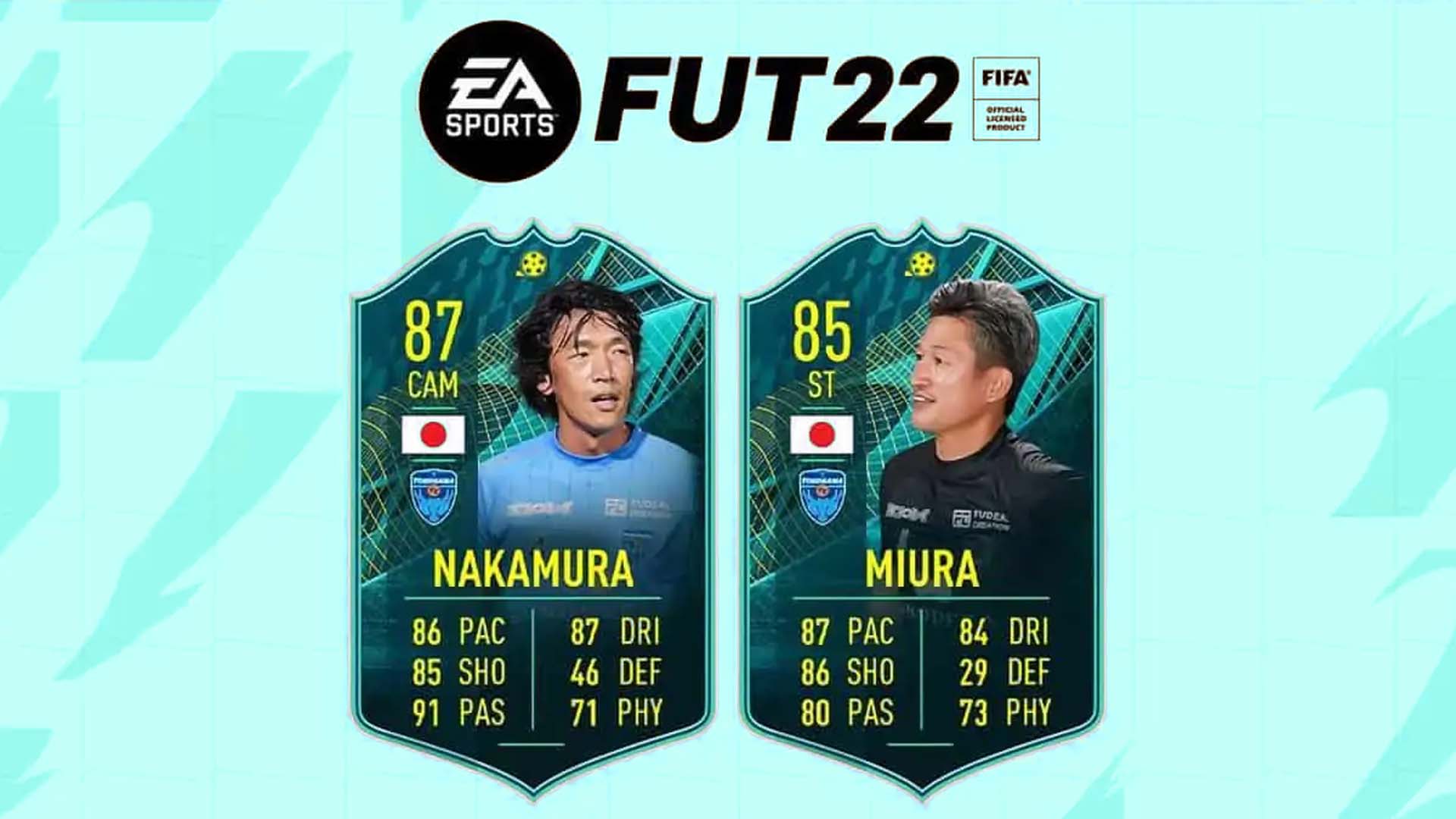 Player Moments cards are EA's attempt to reintroduce an old FUT favourite into the FIFA 22 meta. Do you want to know how to finish the Nakamura and Miura player moments in FIFA 22? Here are the costs for each player, as well as both SBC solutions.
Here's where you can get your hands on these Japanese icons, as well as how much they'll cost you.
FIFA 22 Player Moments Nakamura and Miura cost
The Moments Duo challenge, according to FUTBIN, will cost between 60,000 and 70,000 coins to complete. When you consider you're receiving two cards with great chemical linkages to each other, this is a rather good deal.
If only one of the cards appeals to you, the challenge is divided into two independent SBCs. So, if you don't have the finances or players to complete both, you can still choose which one you want.
Spending the money on both SBCs earns you a Prime Electrum Players Pack, so you may even earn part of the money you put into it.
SBC solutions for Player Moments Nakamura and Miura
The Shunsuke Nakamura SBC costs roughly 40,000 – 45,000 coins, whilst the Kazuyoshi Miura costs only around 20,000. The cards themselves have received a significant improvement, and their flawless linkages make them simple to integrate into a team.
Nakamura received his Player Moments award for a magnificent strike against Manchester United in the 2006/07 season, while Miura received his for becoming the oldest ever goalscorer at the age of 50.
If you want to add these FUT favourites to your club, here are the SBC requirements and some low-cost alternatives.
Shunsuke Nakamura
Squad Rating: Min. 84
Team Chemistry: Min. 70
Players in the squad: Exactly 11
Kazuyoshi Miura
Squad Rating: Min. 84
Team Chemistry: Min. 75
Players in the squad: 11
FIFA 22: How to complete Signature Signings Baku Objectives challenge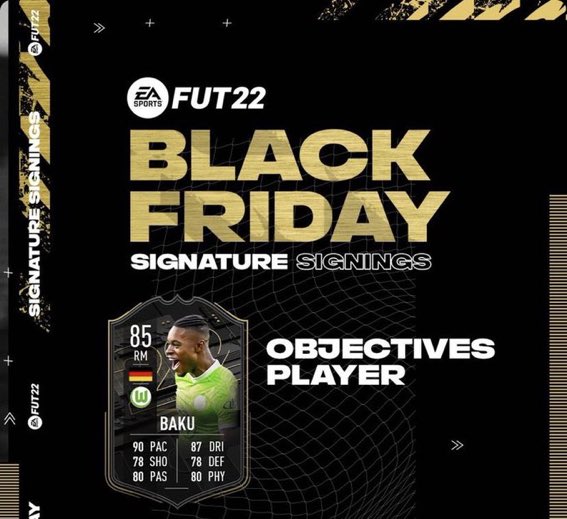 FIFA 22: How to complete Signature Signings Baku Objectives challenge
EA Sports has launched a new promotion called Signature Signings as part of its Black Friday celebration. Gamers like Kevin de Bruyne and Ben Yedder are part of the promo team, but players who want to improve their team through games can also strive for a new Objective player. Riddle Baku of Wolfburg is the perpetrator this time. Let's have a look at how you can bring him into your club.
Players must achieve four separate objectives in order to unlock Baku. You don't need to enter a specific friendly mode for this set, which is fortunate. Instead, you can complete the objectives in either Squad Battles or Rivals. Here are all of them:
Attacking Intent – Score 15 goals using Bundesliga players in Squad Battles on min. Professional or Rivals (Reward: 75+ Rated Rare Player Pack and 300 XP)
Consistent Form – Score using German players in 11 seperate Squad Battles matches on min. Professional or Rivals (Reward: Two Players Pack and 300 XP)
Brilliant Bundesliga – Win seven matches with min. six players from the Bundesliga within your starting squad in Squad Battles on min. Professional or Rivals (Reward: Gold Pack and 300 XP)
Link Up Play – Assist seven goals using defenders in Squad Battles matches on min. Professional or Rivals (Reward: Small Electrum Players Pack and 300 XP)
As you can see, they're not too difficult to complete. We recommend concentrating on winning the first seven games with six Bundesliga players in your starting lineup. After you've completed those games, you may easily move on to other objectives (such as any of the Squad Foundations you haven't completed) while subbing in German or Bundesliga players to complete the remaining three.
The 85 OVR Signature Signings Baku and 300 XP are awarded to players who achieve all four tasks.
This goal will be completed on December 3rd.
FIFA 22: How to complete Flashback Karim Benzema SBC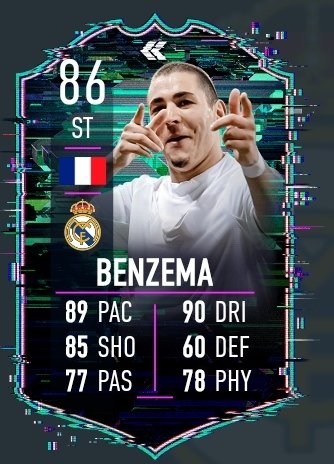 FIFA 22: How to complete Flashback Karim Benzema SBC
To commemorate Black Friday, EA Sports and the FIFA 22 team have released a slew of new content. They've added a new Flashback card to Squad Building Challenges, along with a tonne of new players in packs (SBCs). Karim Benzema is the subject of this publication, which dates back to the 2009/10 season. That indicates the Real Madrid striker has gained enough speed to become one of LaLiga's best attackers. This guide will show you how to add this 86 OVR card to your team.
How to complete Flashback Karim Benzema SBC
FIFA players will need to complete two distinct squads in order to achieve this SBC. Both of these have their own set of requirements that must be adhered to. They are as follows:
Real Madrid
Starting players – 11
Read Madrid players – Min. 1
Signature Signings players – Min 1
Team Overall Rating – Min. 83
Team Chemistry – Min. 75
Reward – Small Gold Players Pack
LaLiga
Starting players – 11
LaLiga Santander players – Min. 1
Team of the Week players – Min. 1
Team Overall Rating – Min. 85
Team Chemistry – Min. 70
Reward – Small Rare Gold Players Pack
Solutions
The current value of Benzema is slightly about 140,000 coins. This price may change in the coming days as more players open packs during Black Friday and Cyber Monday. However, if he's a good fit for your club, he's a fantastic player. Here are a few options for getting him into the club.
Real Madrid
LW: LM Thomas Lemar (83 OVR)
ST: CF Joao Felix (83 OVR)
RW: RW Signature Signings Marucs Edwards (84 OVR)
CM: RM Gareth Bale (82 OVR)
CM: CAM Mason Mount (83 OVR)
CDM: CDM Tomas Soucek (82 OVR)
LB: LWB Ben Chilwell (82 OVR)
CB: CB Azpilicueta (83 OVR)
CB: CB Joel Matip (83 OVR)
RB: RWB Reece James (81 OVR)
GK: GK Bernard Leno (83 OVR)
LaLiga
ST: CF Josip Ilicic (84 OVR)
LM: LM Robin Gosens (83 OVR)
CM: CAM Luis Alberto (84 OVR)
CM: CF Dries Mertens (84 OVR)
RM: ST Zlatan Ibrahimovic (84 OVR)
CDM: CDM Matteo Brozovic (84 OVR)
LB: CDM Fernando (84 OVR)
CB: CB Matthias de Ligt (85 OVR)
CB: CB Stefan de Vrij (85 OVR)
RB: CB TOTW Leonardo Bonucci (86 OVR)
GK: GK Wojciech Szczesny (87 OVR)
This SBC expires on December 3.