Fallen Order Boss | Oggdo Bogdo (Bogano planet)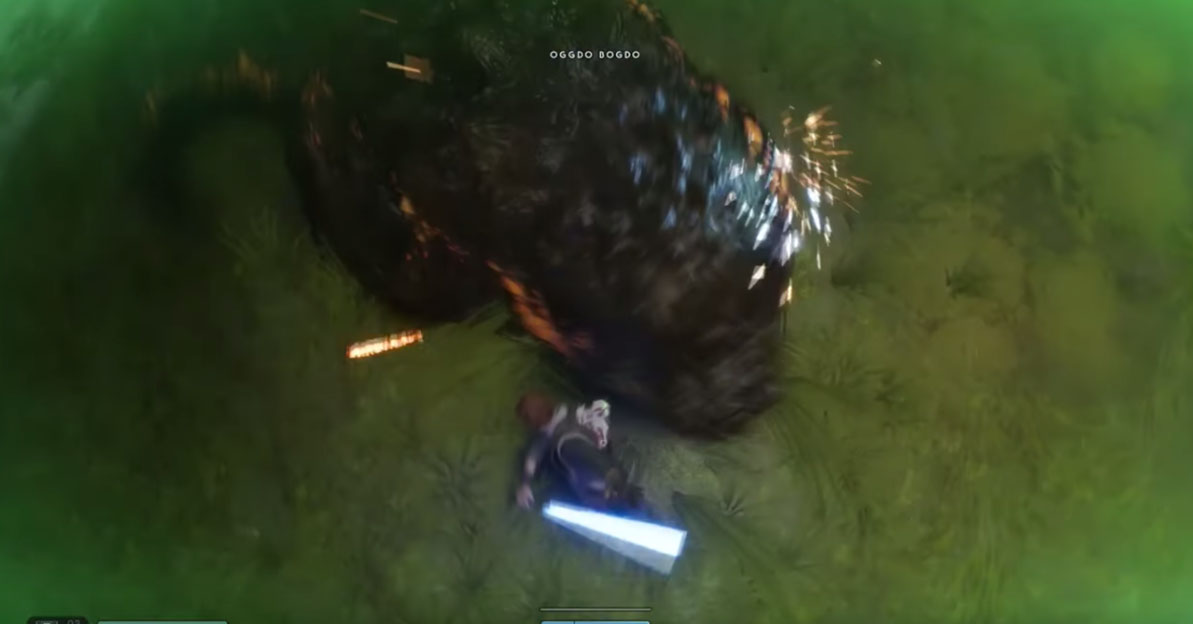 Star Wars Jedi Fallen Order guide and walkthrough
This particular guide of Star Wars Jedi: Fallen Order is about the fight with Oggdo Bogdo which is an optional boss on the planet Bogano. 
The den of Oggdo Bogdo is right at the beginning of Bogdano, located beside a place where the player can solve an optional puzzle using fans and spheres. Look for the stone ledges to enter the cave.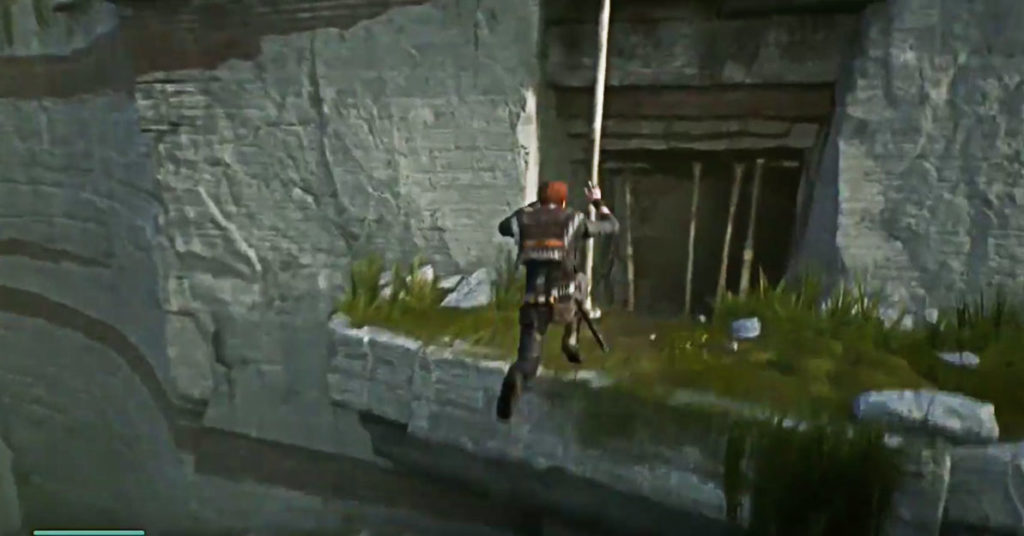 After entering the cave torch up the lightsaber to dispell the darkness in the cave. Before beginning the duel with Oggdo Bogdo make sure you have the ability to heal the hero and you have the Dash Strike ability. Dash Strike's ability does well against regular toads and Oggdo Bogdo. 
Before you immerse yourself into the game, ensure you lock down the camera on Oggdo Bogdo so that you can effectively fight and respond to the attacks of the boss. Use dodge and roll during the fight.
Oggdo Bogdo's main attacks: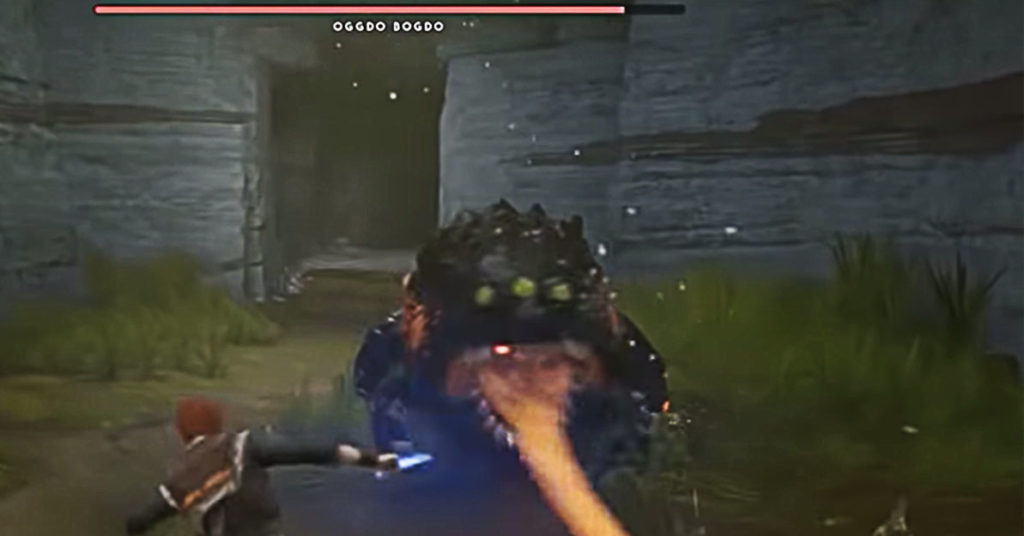 The main attacks of the boss are Tongue attack, Bitting and Leaping forward. Leaping forward and Tongue attack are unblockable red attacks.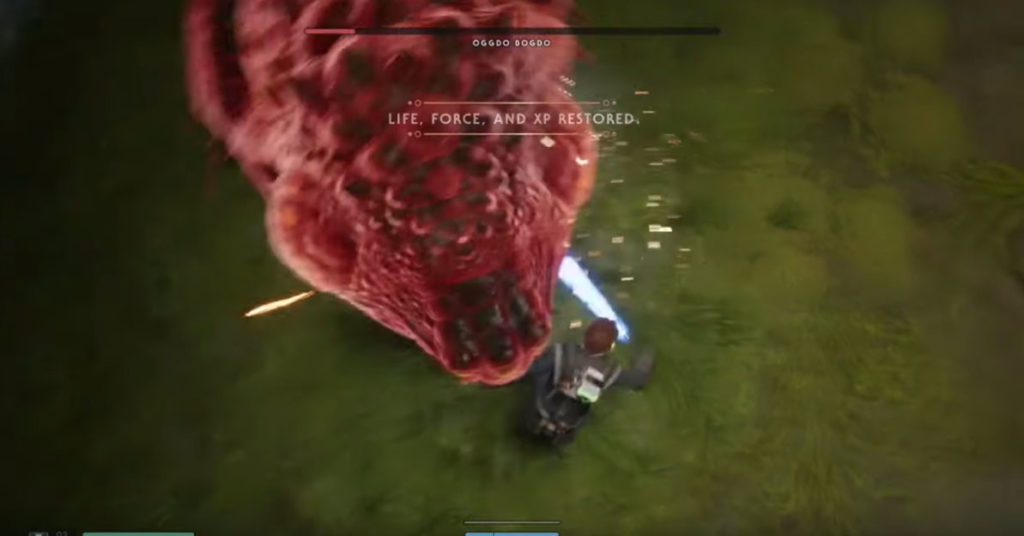 During the duel, don't get caught by the boss or else you will face severe damage. Use the lightsaber to cut the boss's tongue. Also, you can use the force to slow down the boss and move towards the side to attack. 
How to attack the Toad in Fallen Order?
Firstly, use the lightsaber attacks and attack twice or thrice without being tempted to attack more or else the boss will hit you back. Secondly, use the Dash Strike, this attack can be done from a safe distance. And thirdly, use the force to slow down the boss. This attack can be done before the boss's attack. 
Additional Tips for Oggdo Bogdo fight
After defeating the Oggdo Bogdo boss, you can receive the treasure in the den. A chest with loot and an echo. Also, make sure you heal the hero only when he has less than one-third of the health. 
Previous guide: Fallen Order Boss | The Second Sister (prologue) 
The official PS5 website is live! Is Playstation 5 reveal imminent?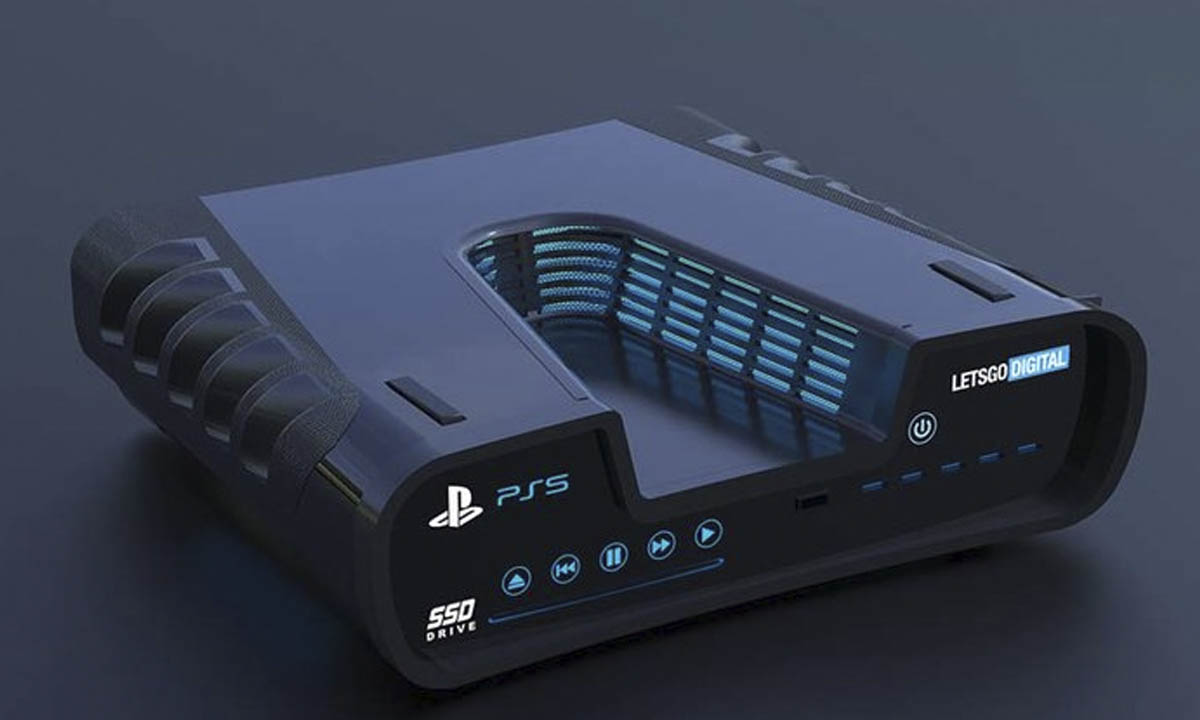 Sony has launched its PS5 homepage on the official website of Playstation, for the much-rumored February reveal event of the much-awaited next-gen console that is due to release this year. 
It was initially spotted on Reddit, Uk and German versions of the website which are live now, allowing users to sign up for the latest news via email from Playstation itself about the PS5. 
"We've begun to share some of the incredible features you can expect from PlayStation 5," reads the paragraph on PlayStation site, "but we're not quite ready to fully unveil the next generation of PlayStation. Sign up below to be among the first to receive updates as we announce them, including news on the PS5 release date, PS5 price and the upcoming roster of PS5 launch games."
Sony still hasn't decided a price for the PS4 successor and is instead waiting to see what the rival Microsoft plans to keep for the Xbox Series X, which is slated to release in the upcoming Holiday period. 
The reason is unclear behind the page going live so early but it does seem that Sony is gearing up to reveal more information about the much-awaited PS5. 

Kobe Bryant's Inspirational quotes you must read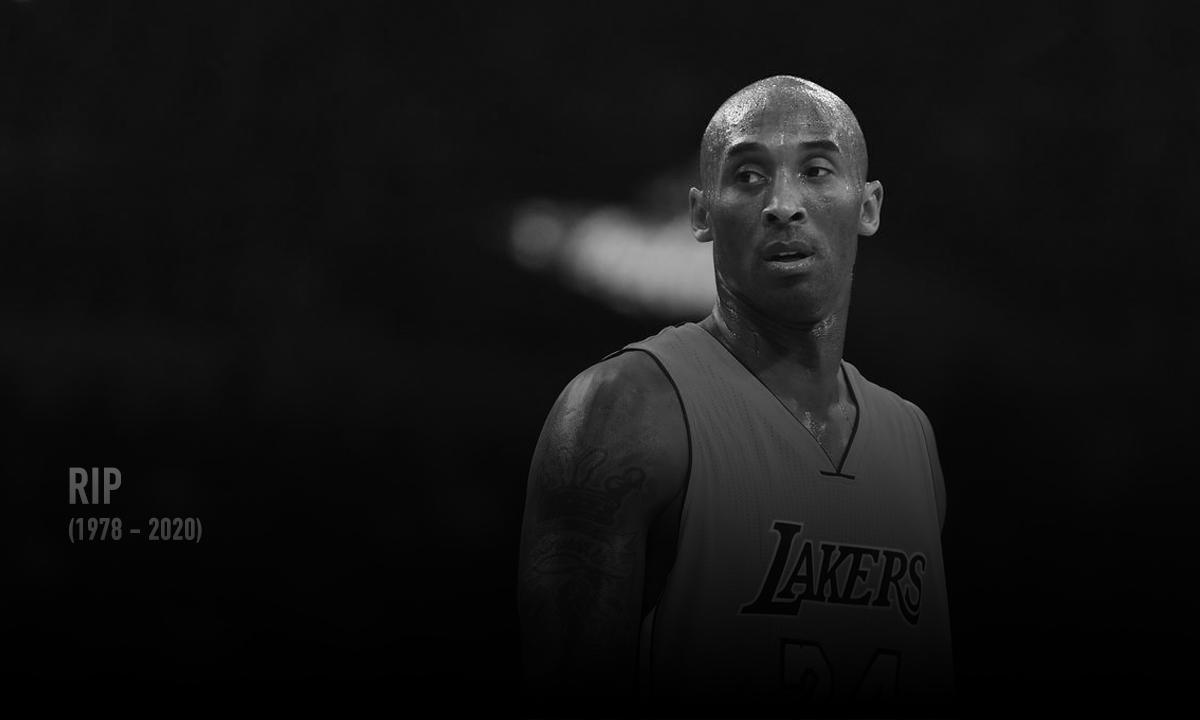 The sudden death of the legend has put the whole sports world in shock. Bryant died in a helicopter crash alongside his daughter in the hills of California.
Kobe has been an inspiration for all and has inspired many on and off-field. Just like his game he has inspired people through his wisdom and the life he lived.
Here are the few memorable quotes from the legend Kobe Bryant:
In a recent interview with USA Today just three days before his death he said, "You got to do what you love to do. I love telling stories."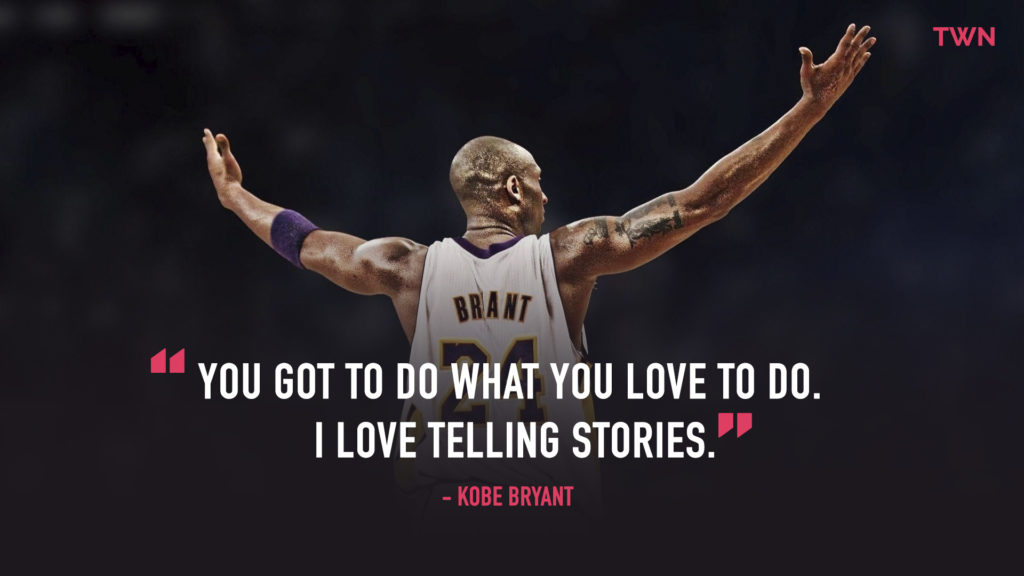 During an interview in 2019 with ESPN, Bryant said. "Because I am. That's just the maturation. That's 17 years of seeing everything the game can dish out. I've seen it all before. There's no need to get too crazy or bent out of shape. There are still challenges every day. But I'm still having fun. I was born to play this game. I still love it."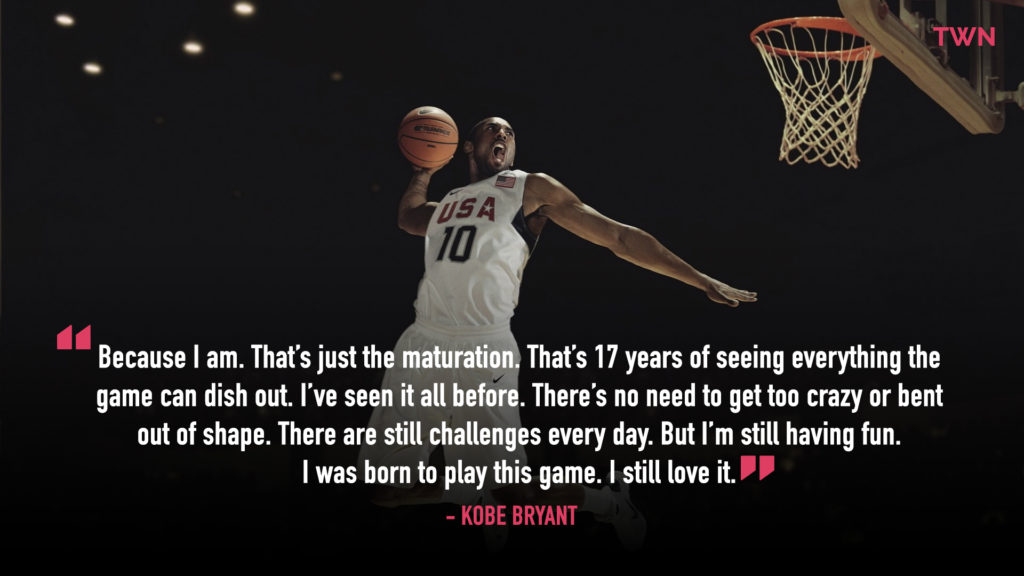 In the year 2015, from a profile in GQ, "I have 'like minds.' You know, I've been fortunate to play in Los Angeles, where there are a lot of people like me. Actors. Musicians. Businessmen. Obsessives. People who feel like God put them on earth to do whatever it is that they do. Now, do we have time to build great relationships? Do we have time to build great friendships? No. Do we have time to socialize and to hang out aimlessly? No. Do we want to do that? No. We want to work. I enjoy working."
During a 2008 interview, Kobe quoted, "Have a good time. Life is too short to get bogged down and be discouraged. You have to keep moving. You have to keep going. Put one foot in front of the other, smile and just keep on rolling."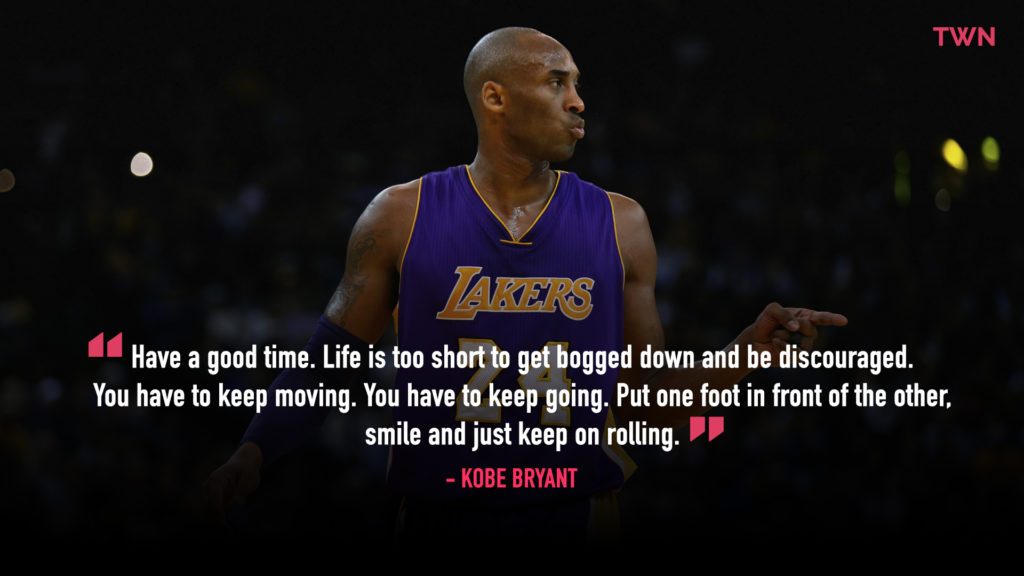 One of Kobe Bryant's famous Instagram quotes, "Be sad. Be mad. Be frustrated. Scream. Cry. Sulk. When you wake up you will think it was just a nightmare only to realize it's all too real. You will be angry and wish for the day back, the game back THAT playback. But reality gives nothing back and nor should you."
2015 SBS Sports' documentary "Kobe Bryant's Muse," he quoted, "We all can be masters at our craft, but you have to make a choice. What I mean by that is, there are inherent sacrifices that come along with that. Family time, hanging out with friends, being a great friend, being a great son, nephew, whatever the case may be. There are sacrifices that come along with making that decision."
"When we are saying this cannot be accomplished, this cannot be done, then we are short-changing ourselves. My brain, it cannot process failure. It will not process failure. Because if I have to sit there and face myself and tell myself, 'You're a failure,' I think that is worse, that is almost worse than death."
Here are some more quotes from the legend Kobe Bryant.
I'll do whatever it takes to win games, whether it's sitting on a bench waving a towel, handing a cup of water to a teammate, or hitting the game-winning shot.
There's been a lot of talk of me being a one-man show but that's simply not the case. We win games when I score 40 points and we've won when I score 10.
Everything negative – pressure, challenges – is all an opportunity for me to rise.
My parents are my backbone. Still are. They're the only group that will support you if you score zero or you score 40.
These young guys are playing checkers. I'm out there playing chess.
I don't want to be the next Michael Jordan, I only want to be Kobe Bryant.
Complete List of all side missions in Dragon Ball Z: Kakarot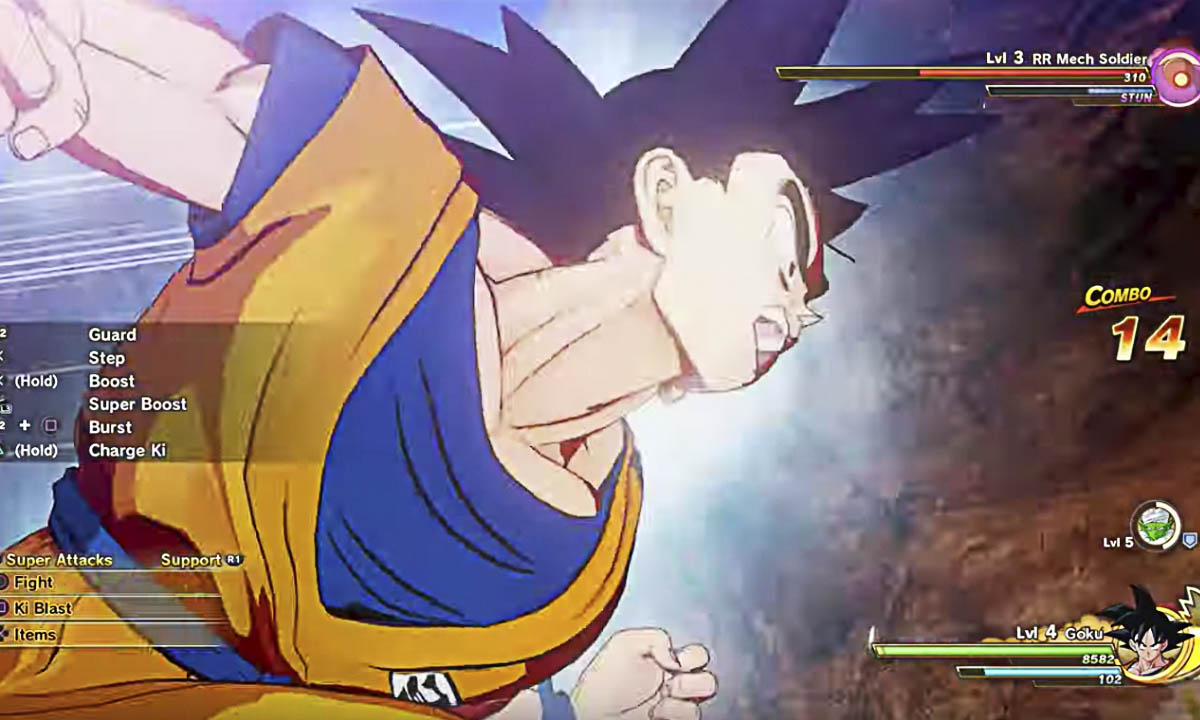 Dragon Ball Z: Kakarot is full of amazing side missions that keep you engaged with the game. You come across several characters from the DBZ universe. Follow this guide to explore all the side missions and quests in DBZ Kakarot.
List of all side missions in Dragon Ball Z: Kakarot
Master Roshi's Prized Possession
Nam the Peddler
Gentle Giant
Foggy Future
Foreboding Fear
Like a Different Person
The Pilaf Gang's Plan
Wild Imagination
Tough Break for Turtle
Yamcha's Alive
Tourists in Trouble
The Mystery of the Missing Tail
One Cool Dude
Attacked Villager
Victimized Namekian
Rouge Chef Melone
Selfish Bulma