EA now holds the Guinness World Record of most downvoted comment in Reddit history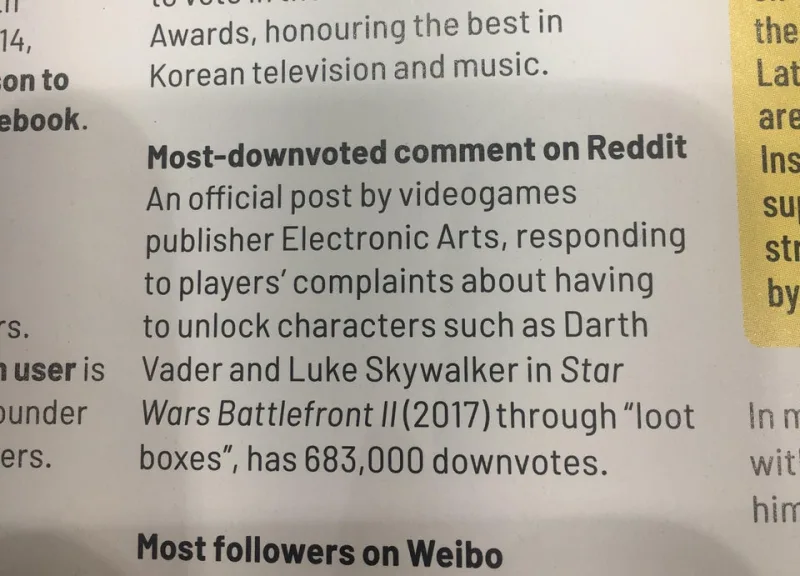 If you have been following the gaming industry, we are sure that you must have heard a lot regarding EA Games. EA or Electronic Arts is arguably the biggest game development company in the industry right now. Also, you might have heard about a popular platform called Reddit where you will find discussions on almost every topic out there. Now, one such topic on Reddit was the game from EA, Star Wars Battlefront II.
One of the controversial and most hated thing regarding this game was the loot boxes present inside. On one fine day in 2017, someone from EA community team Reddit account decided to post a comment. Little did they know that this comment from them will go down in history for all the wrong reasons.
In response to user complaints regarding unlocking characters, an unknown community manager posted a reply. Here is the reply that was given by that community manager who is yet-to-be-known at the time of writing this article.
Since posting the above reply on Reddit in 2017, it has gained about 683,000 downvotes which makes it the most downvoted Reddit comment in history. This has been acknowledged by Guinness World Records as well and they have added it to their 2020 edition. Now, this embarrassment would almost have been avoided by EA if no one found out about this Guinness World Record. However, a Reddit user by the name of -amasha- found out about this record on Guinness World Record's website. The user posted about this discovery and that post has garnered about 80,000 upvotes since then.
Now, this comment is also the most downvoted comment on Reddit by a long margin. For context, the second-most downvoted comment in Reddit history has just 88,906 downvotes. We can, therefore, say that this comment from EA rightly deserves the world record that they created but they might not like it.