Best and worst contracts of NBA free agency 2020: Clippers, Lakers find frontcourt bargains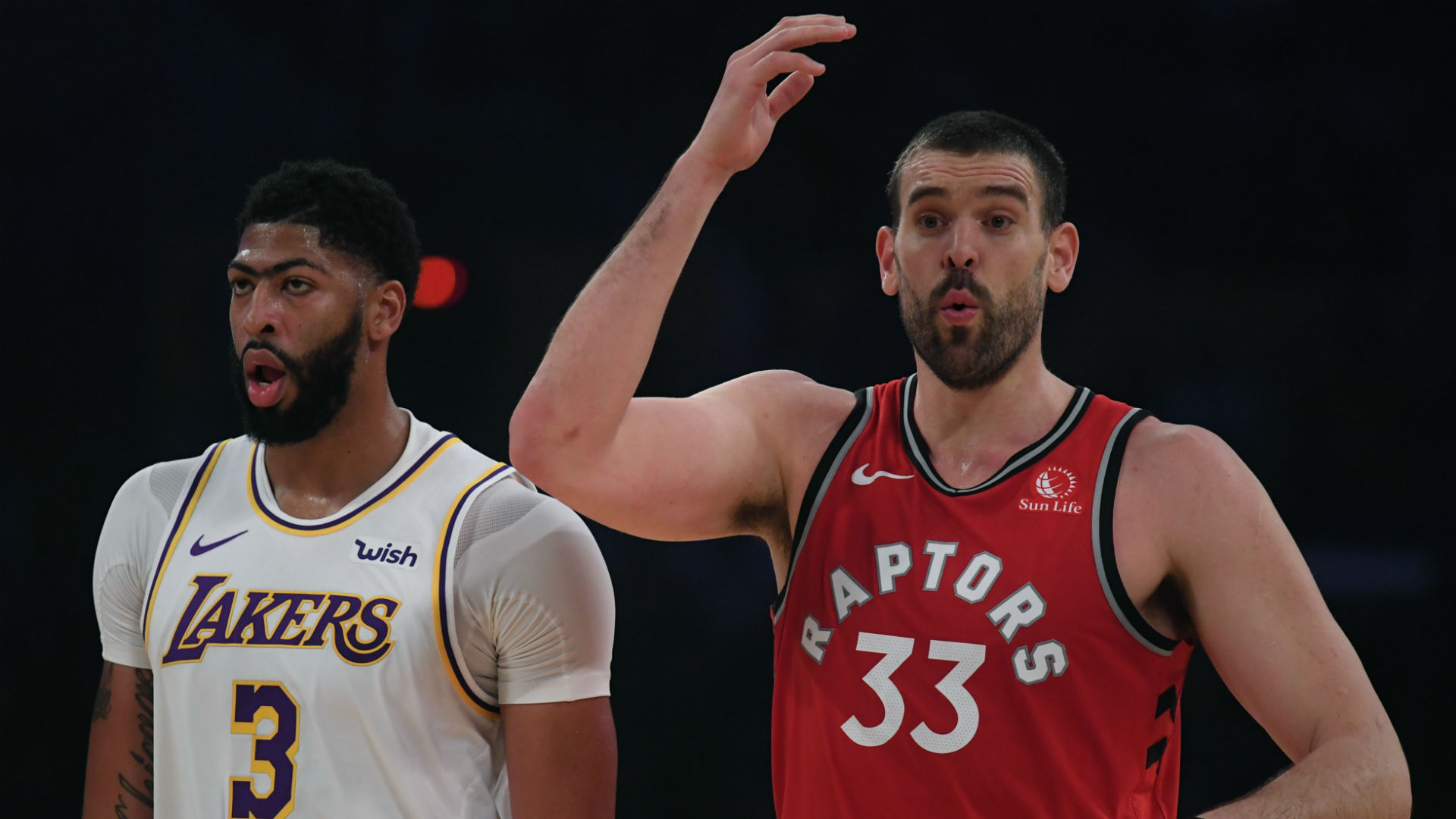 NBA free agency started at 6 p.m. ET on Friday, Nov. 20. By the end of the weekend, nearly 90 percent of roster spots were filled.
Free agents reached agreements with teams quickly this year as part of a condensed offseason. With training camps set to begin Dec. 1 and Opening Night of the 2020-21 season only weeks away, front offices around the league knew they had to act quickly in order to help their squads find some sort of chemistry beyond, "Hey, so I'm your teammate now. What's up?"
Given that the biggest names on the market have found landing spots — Anthony Davis is just figuring out what kind of contract he wants to sign with the Lakers — now seems like a good time to evaluate the best bargains and worst overpays of the offseason.
(Note: No obvious max extension candidates here like Donovan Mitchell or Jayson Tatum. Those deals were always going to happen.)
Best contracts of 2020 NBA free agency
Marc Gasol, Lakers (two years, $5.3 million)
Gasol is not the same force he once was in Memphis. His play in the "bubble" was uninspiring, to put it kindly. He could be getting close to retirement.
And yet, Gasol should be a tremendous fit with LeBron James and Anthony Davis. He can be a post scorer and facilitator on the offensive end, and he is a good enough shooter to space the floor (38.5 percent on 3-pointers last season) on Davis' dives to the rim. Defensively, he ranked in the top 10 of advanced metrics like ESPN's Defensive Real Plus-Minus and FiveThirtyEight's RAPTOR. Frank Vogel will love that.
At the paltry price of a little over $5 million, Gasol is a steal for the defending champs.
Serge Ibaka, Clippers (two years, $19 million)
Speaking of former Raptors big men, the Clippers recovered nicely after losing Montrezl Harrell and JaMychal Green by signing Kawhi Leonard's old teammate. Ibaka should be an upgrade over Harrell, especially in a playoff environment. He is a more versatile offensive weapon and offers more size at the power forward and center spots.
The Lakers should be heavy favorites to repeat, but the Clippers aren't that far behind.
Christian Wood, Rockets (three years, $41 million)
Over the Pistons' final 20 games of the 2019-20 season, Wood averaged 19.5 points and 8.5 rebounds while shooting 54.7 percent from the field and 38.4 percent from beyond the arc. Sure, it's a small sample size on a bad Pistons team, but Wood is just scratching the surface of his ability at age 25.
Will Wood actually get to play alongside James Harden and Russell Westbrook? Or will he be part of a Rockets rebuild? Regardless of how Houston approaches the future, it's worth seeing what Wood can become.
Kris Dunn, Hawks (two years, $10 million)
The Hawks were one of the worst defensive teams in the league last season. It started at the point of attack with Trae Young being nothing more than a turnstile against opposing guards.
Insert Dunn. The former Providence star has emerged as a legitimate perimeter stopper and should be able to take the toughest assignments on a nightly basis. He isn't much of an offensive weapon, but he won't need to be with Young and Rajon Rondo running the show.
Jae Crowder, Suns (three years, $30 million)
Phoenix could use a little bit of everything Crowder does well. He shoots the ball competently enough to give Devin Booker and Chris Paul room to operate, and he can slide down positionally if the Suns want to play small-ball without getting clobbered on the defensive end. Plus, he's a veteran with playoff experience. That will only help a franchise trying to break a 10-year postseason drought.
Following a run to the NBA Finals with the Heat, Crowder could have easily landed in the "He got WHAT?" club. The Suns were smart to find a player of Crowder's caliber on a reasonable deal.
Worst contracts of 2020 NBA free agency
Gordon Hayward, Hornets (four years, $120 million)
Is Hayward a bad player? No, of course not. Could he be a 20-5-5 guy in Charlotte? Definitely possible. It's moreso the terms of the contract that should sound alarms.
The Hornets will be paying Hayward a high price as he ages out of his prime, and the 30-year-old comes with a rough injury history. Additionally, the Hornets could be on the hook for Nic Batum's salary over the next three seasons if they elect to waive and stretch him in order to create the cap room necessary to sign Hayward, meaning Hayward would essentially cost $39 million in each of the first three seasons of his contract.
Sources: Boston and Charlotte have worked on a sign-and-trade for Gordon Hayward that would land Celtics a trade exception, but Hornets have first been trying to find a third team for Nic Batum's $27M contract to see if there's a way to avoid waiving-and-stretching his money.

— Adrian Wojnarowski (@wojespn) November 25, 2020
If the goal is to do whatever it takes to make the playoffs, uh, OK then. But this just feels like skipping steps in a rebuild.
Jerami Grant, Pistons (three years, $60 million)
Mason Plumlee, Pistons (three years, $25 million)
It's incredibly strange that the Pistons appeared to have little interest in retaining Wood, who is far more interesting as an upside play than Grant or Plumlee. It's not as though $14 million per year would have broken the bank.
Even putting the Wood situation aside, why trade for Dewayne Dedmon and Zhaire Smith only to waive-and-stretch them so you can sign Grant and Plumlee? That's a lot of work for guys who top out as role players.
Grant in particular could struggle to live up to his deal. He will have to take major strides as an offensive creator, and Detroit's lack of spacing may hinder his development in that area.
Malik Beasley, Timberwolves (four years, $60 million)
After being traded to the Timberwolves in February, Beasley had a nice 14-game stretch, averaging an efficient 20.7 points. It's not hard to understand why Minnesota wanted to keep the 24-year-old guard. Still, this is a bit of an overpay for someone who will be competing for minutes with D'Angelo Russell, Ricky Rubio, Anthony Edwards, Jarrett Culver and Josh Okogie.
Away from the court, Beasley is facing charges of drug possession and threats of violence after he allegedly pointed a gun at a family outside his Minnesota home back in September. The Timberwolves released a statement last month saying they were "aware of the charges" and "take these allegations seriously and will let the legal process run its course."
As The Athletic's Jon Krawczynski put it, this is a significant "show of faith" from the Timberwolves.
Source: Sporting News
NBA: Boston Celtics vs New York Knicks Injury Report, Predicted Lineups and Starting fives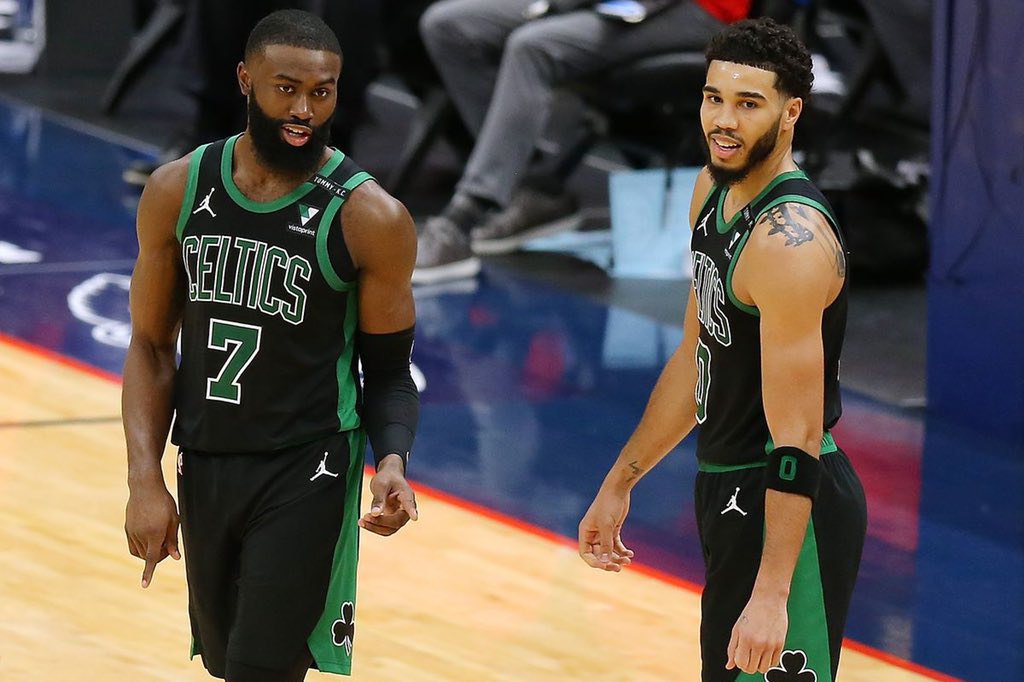 NBA: Boston Celtics vs New York Knicks Injury Report, Predicted Lineups and Starting fives
The Boston Celtics and the New York Knicks will commence the 2021-22 season at Madison Square Garden in New York City, New York, following a first-round exit in the previous year's tournament.
In a battle between two longtime Eastern Conference foes, new coach Ime Udoka will make his debut with a completely retooled roster. Jayson Tatum leads a youthful Boston Celtics core that is trying to get off to a good start in the regular season.
The Knicks had a strong preseason, going unbeaten in their first four games. When the games are officially counted, it will be time to assess if they can maintain the same level of performance.
With two former Boston Celtics players on his roster, Tom Thibodeau suddenly has more scoring options. Kemba Walker and Evan Fournier will provide a much-needed scoring punch to a Knicks squad that struggled offensively last season.
Injury Update for the Boston Celtics
Al Horford, who is still undergoing health and safety procedures, will be missed by the Boston Celtics. The All-Star shooting guard, Jaylen Brown, is questionable to play after being released from the same protocols as the big guy.
Brown and Horford are important members of the Boston Celtics' offense and defense. If Brown is held out, Boston's young bench will be put to the test right away.
psst… we're finally back tomorrow night🤗#BleedGreen pic.twitter.com/UlSWwCPsMi

— Boston Celtics (@celtics) October 19, 2021
Injury Report for the New York Knicks
Luka Samanic, who was recently taken off waivers by the New York Knicks, will not be joining the team. For the time being, he will be playing in the G-League. Nerlens Noel, the backup big man, is listed as questionable due to pain in his left knee. He was held out of the preseason by the Knicks due to the same lingering soreness. If he plays, his presence will be vital in New York's frontcourt, which is currently sparse.
Predicted Lineups for Boston Celtics vs. New York Knicks
Boston Celtics
Marcus Smart will return to coordinate plays for the Boston Celtics after being suspended for the preseason finale against the Miami Heat. Romeo Langford will take over at the two-spot in place of Jaylen Brown. Langford will be a solid starter for the squad if he maintains his preseason form. With Horford ruled out, Robert Williams is a lock to start at center. Because of his impressive shooting and hustle, Jayson Tatum will be moved to the power forward position, with Aaron Nesmith assuming the other forward role.
New York Knicks
The New York Knicks will start two former Boston Celtics in the backcourt after acquiring them in the offseason. Kemba Walker, a New York favorite since his days as a member of the UConn Huskies, will be returning home in some capacity. He'll be the point guard.
Evan Fournier would be ideal as the shooting guard because he would breathe new life into the Knicks' previously dormant offense. RJ Barrett's impressive preseason should continue as he moves into his normal small forward role.
Mitchell Robinson, who has been allowed to play, will guard the paint with Julius Randle, who will take over at power forward.
Boston Celtics vs New York Knicks
Predicted Starting Fives
Boston Celtics
Point Guard – Marcus Smart | Shooting Guard – Romeo Langford | Small Forward – Aaron Nesmith | Power Forward – Jayson Tatum | Center – Robert Williams
New York Knicks
Point Guard – Kemba Walker | Shooting Guard – Evan Fournier | Small Forward – RJ Barrett | Power Forward – Julius Randle | Center – Mitchell Robinson
Lakers vs. Warriors: Stephen Curry leads Golden State to victory over Los Angeles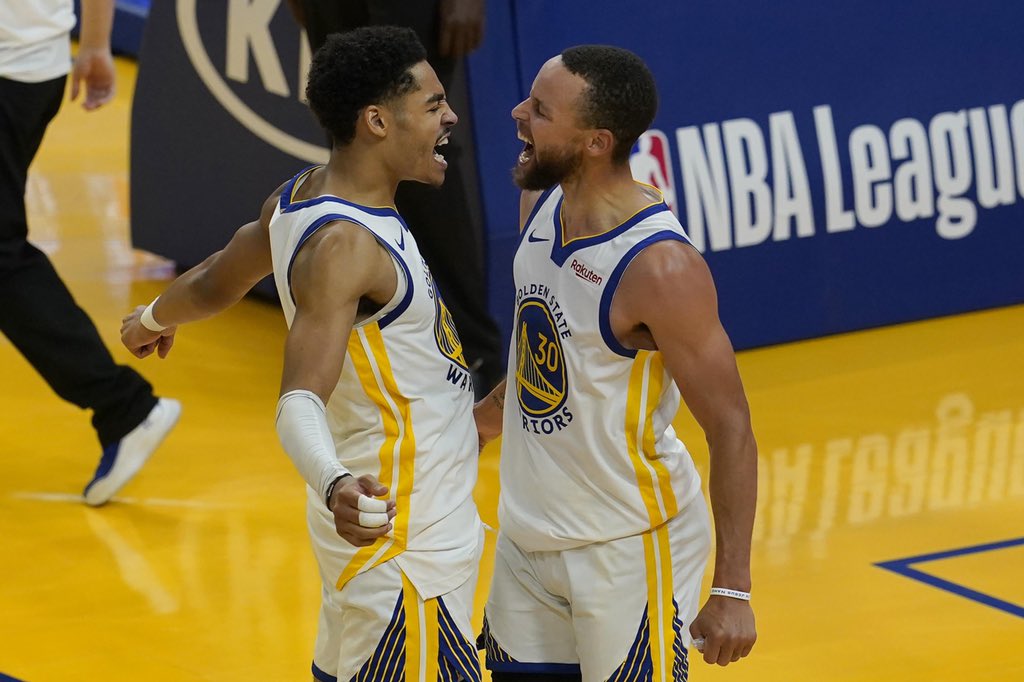 Lakers vs. Warriors: Stephen Curry leads Golden State to victory over Los Angeles
The Golden State Warriors recovered from a 10-point deficit to defeat LeBron James, Anthony Davis, and the new-look Los Angeles Lakers 121-114 in their season opener Tuesday night. Stephen Curry had 21 points, 10 rebounds, and 10 assists.
The setback ruined the Lakers' opening night in Hollywood when superstars LeBron James and Anthony Davis performed beautifully for three quarters before going cold in the fourth.
Davis finished with 30 points and 11 rebounds, while James finished with 34 points and 11 rebounds. There were no other Lakers who scored in the double digits. Russell Westbrook was 4 for 13 in his Lakers debut, scoring eight points.
After a shot by Kent Bazemore late in the third quarter, the Lakers led 84-74, but the Warriors gradually reduced the distance.
Final 📊

Stephen – 21p/10r/10a/3s
Jordan – 20p/2r/3a/1s
Nemanja – 15p/11r/4a/1s
Damion – 15p/1r/2a
Andrew – 12p/7r/1a/1s
Andre – 12p/1r/2a/1b
Kevon – 7p/4r/1a/1b
Draymond – 6p/8r/6a/1s
Juan – 6p/3r/1a
Otto – 5p/1r/2s
Moses – 2p/2r pic.twitter.com/UmvSxiYPhs

— Golden State Warriors (@warriors) October 20, 2021
Curry sank three free throws after being fouled taking a 3-pointer in the final seconds of the third quarter, and Jordan Poole and Damian Lee hit 3-pointers early in the fourth. Poole's layup with 9:17 remaining gave the Warriors a 91-90 lead, and he finished with 20 points. The Warriors increased their lead to 98-90 before the Lakers got within two points on two occasions.
Curry and Nemanja Bjelica, on the other hand, each made a three-pointer to give the Warriors some breathing distance. Bjelica had 15 points and 11 rebounds, and Lee had 15 points as well.
While greeting a plethora of new teammates, including L.A. resident and former league MVP Russell Westbrook, Carmelo Anthony, Rajon Rondo, Dwight Howard, and DeAndre Jordan, Davis and James dominated for much of the game.
After losing in the first round of the previous season's playoffs to the Phoenix Suns, L.A. retooled after winning the NBA title on the bubble in October 2020. Only James, Davis, and Talen Horton-Tucker, who is sidelined with a thumb injury, were retained by the Lakers.
James and Davis connected on 3-pointers and dunks. With 7:51 remaining in the third quarter, James recovered an errant pass and flipped it to Davis, who slammed it home for a 68-61 advantage.
Game 1 of 82 in the books. pic.twitter.com/w0zas5oBH7

— Los Angeles Lakers (@Lakers) October 20, 2021
At halftime, the Lakers, who were 0-6 in the preseason, led 59-53. Golden State saw five players score in double figures in the win. The Lakers, on the other hand, were led by LeBron James and Anthony Davis, who combined for 67 points, but only 47 from the rest of the team. They still have a long way to go before figuring out how to make the most of this group, while Golden State will only get better once Klay Thompson returns.
Nets vs. Bucks: Bucks begin title defense with 127-104 victory over Nets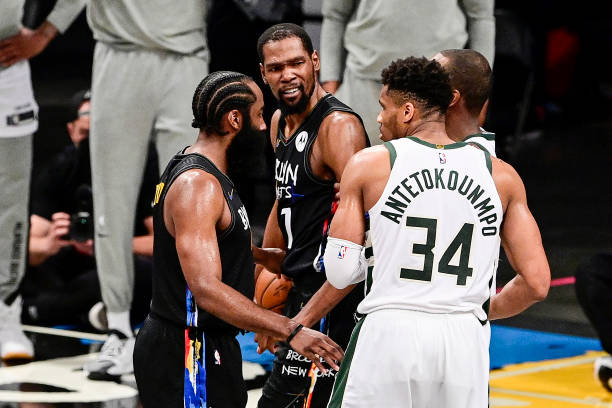 Nets vs. Bucks: Bucks begin title defense with 127-104 victory over Nets
On Tuesday night, Giannis Antetokounmpo scored 32 points to lead the Milwaukee Bucks to their first title defence in half a century, a 127-104 victory over the Brooklyn Nets.
Antetokounmpo had 14 rebounds and seven assists in his first game since scoring 50 points in a title-clinching Game 6 NBA Finals victory over the Phoenix Suns.
Jrue Holiday, who sat out the second half with a bruised right heel after scoring 12 points, was replaced by Khris Middleton and Pat Connaughton, who both scored 20 points to help the Bucks overcome his absence.
Kevin Durant had 32 points and 11 rebounds to lead the Nets. Patty Mills scored 21 points on 7-of-7 3-point shooting. James Harden chipped in with 20 points.
The Nets were without star player Kyrie Irving, who was unable to play due to his refusal to receive a COVID-19 vaccine.
Professional athletes on local teams must be vaccinated in order to practise or play in public venues, according to a New York law. Rather than employing Irving only in road games, the Nets decided that he would not play or practise with them until he was able to fully participate.
Champs still reign supreme. pic.twitter.com/c8hXZNg1dT

— Milwaukee Bucks (@Bucks) October 20, 2021
The Bucks overcame the club who nearly eliminated them in the second round of the playoffs after collecting their rings and hoisting a banner to commemorate their first NBA title since 1971.
After Durant's foot just moved across the 3-point range in the waning seconds of regulation, turning a potential series-winning 3-pointer into a game-tying 2-point score, Milwaukee rallied from a 2-0 deficit to win Game 7 in overtime at Brooklyn.
In the first quarter, the Bucks went on a 21-4 run to stretch a 10-8 lead to 31-12. They extended their lead to 19 points in the second quarter and led 66-59 at halftime. For the rest of the game, the lead never fell below seven points.
The Greek Freak picked up right where he left off.

32 PTS | 14 REB | 7 AST | 2 BLK | 1 STL pic.twitter.com/0xhTxmTN7E

— Milwaukee Bucks (@Bucks) October 20, 2021
Jordan Nwora, a 2020 second-round selection who wasn't in the Bucks' rotation as a rookie but could be poised for a greater role this season, led Milwaukee with 15 points. Grayson Allen scored 10 points in his first game with the Bucks.
The Nets have been battling with Kyrie Irving's lack of availability to this point, as the entire basketball world knows, and it appears to have been one of the main contributors in their loss to the defending champions, as Brooklyn battled to keep pace with Milwaukee for much of the night.