Barcelona midfielder Pedri agrees on new long-term contract with a release clause of €1bn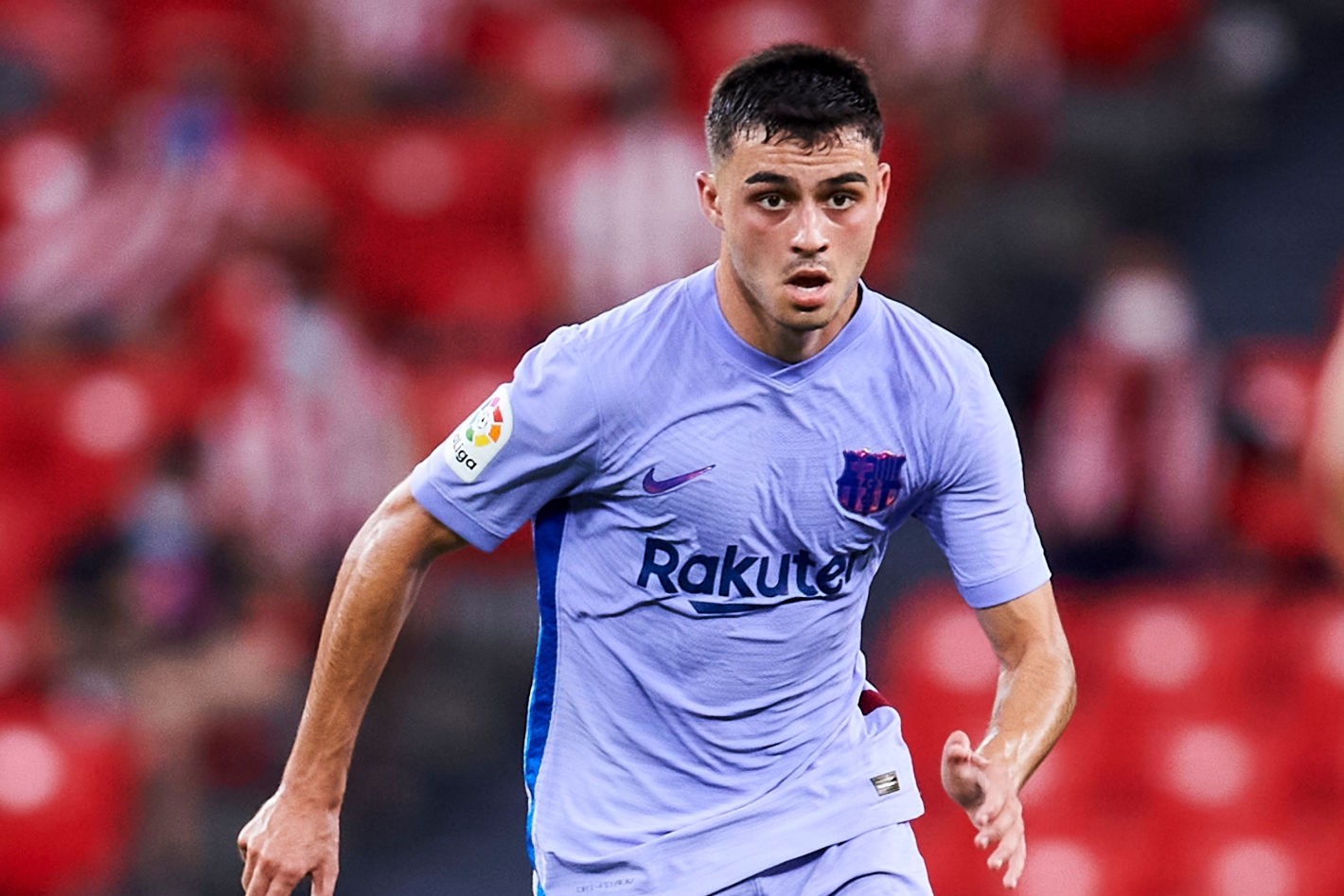 Barcelona midfielder Pedri agrees on new long-term contract with a release clause of €1bn
Pedri, a Barcelona youngster, has agreed to a new long-term contract with the club, which will be announced soon. The new contract will keep the 18-year-old with the Blaugrana until 2026, with a €1 billion release clause.
Pedri rose to popularity last season, thriving in a struggling Barcelona team before going on to star for Spain at Euro 2020 despite his youth. His current contract was set to expire at the end of the 2021/22 season, but Barça made a priority of renewing it, and the small midfielder has signed a new five-year deal with the club.
According to writer Fabrizio Romano, the club and the player have reached an agreement on a contract extension until June 2026, with the different stipulations 'decided and fixed,' and an announcement coming soon.
It will cost €1 billion to entice the youngster away from Barça without first negotiating with the club.
Pedri, who is presently sidelined due to a thigh injury, has been a bright spot for Ronald Koeman's team in an otherwise bleak year. Despite the fact that he will turn 19 in November, the central midfielder has already made 56 appearances for the Blaugrana, scoring four goals and assisting on another six.
It was almost a foregone conclusion that Pedri would suffer a muscular ailment early in the season. The teenager went on to star for his country at both Euro 2020 AND the Olympic Games in Tokyo after making 52 appearances for Barça in all competitions last season.
Barcelona have reached total agreement with Pedri to extend his contract until June 2026, here we go! New deal to be signed in the next hours/days. Final clauses agreed and fixed too. ⭐️🇪🇸 #FCB

EXCL: new release clause for Pedri will be €1B (one billion). 🤝 #Pedri pic.twitter.com/L3EECyDQNg

— Fabrizio Romano (@FabrizioRomano) October 13, 2021
He had made 73 appearances since the start of the 2020/21 season by the end of the Olympics, but he still returned to Barcelona without a pre-season and played in two more La Liga games before being given a two-week break.
Pedri's accomplishments for club and country have piqued interest, and the 18-year-old has been nominated for the coveted Ballon d'Or award. The Spain international is one of 30 players on the shortlist.
Although former Barcelona teammate Lionel Messi and Bayern Munich striker Robert Lewandowski are among the favourites for the Ballon d'Or, Pedri has a chance to win when the honours are presented on November 29, 2021, at the Théâtre du Chatelet in Paris.
Pedri is also one of ten players nominated for the Kopa Trophy in 2021, which is granted to the finest player under the age of 21, and he will fancy his chances of finishing first after such a remarkable debut season.
Pedri is expected to miss several key games.
Pedri may be one of the first names on the Barcelona teamsheet, but due to injury, Ronald Koeman will be missing his midfielder for a few critical games following the international break.
According to Sport, the teenager experienced a return of a thigh problem in Barcelona's 2-0 La Liga loss to Atletico Madrid last time out and will miss Sunday's match against Valencia as well as Barcelona's Champions League meeting against Dynamo Kiev.
Barca's next match comes on October 24 at the Camp Nou against Real Madrid, but there's no guarantee Pedri will be fit in time for the much-anticipated Clasico encounter with Los Blancos.
The Catalan giants do not want to take any chances with the youngster and are willing to wait if he relapses. When it comes to Pedri, the club's "doctors and coaching staff desire the greatest prudence."
The loss of the Spain international is a setback, but Koeman has plenty of options in the first team, with youngsters Gavi, Nico Gonzalez, and Riqui Puig all vying for greater playing time.
Juventus climbed to the top of the Serie A table with a win over Roma, their fourth in a row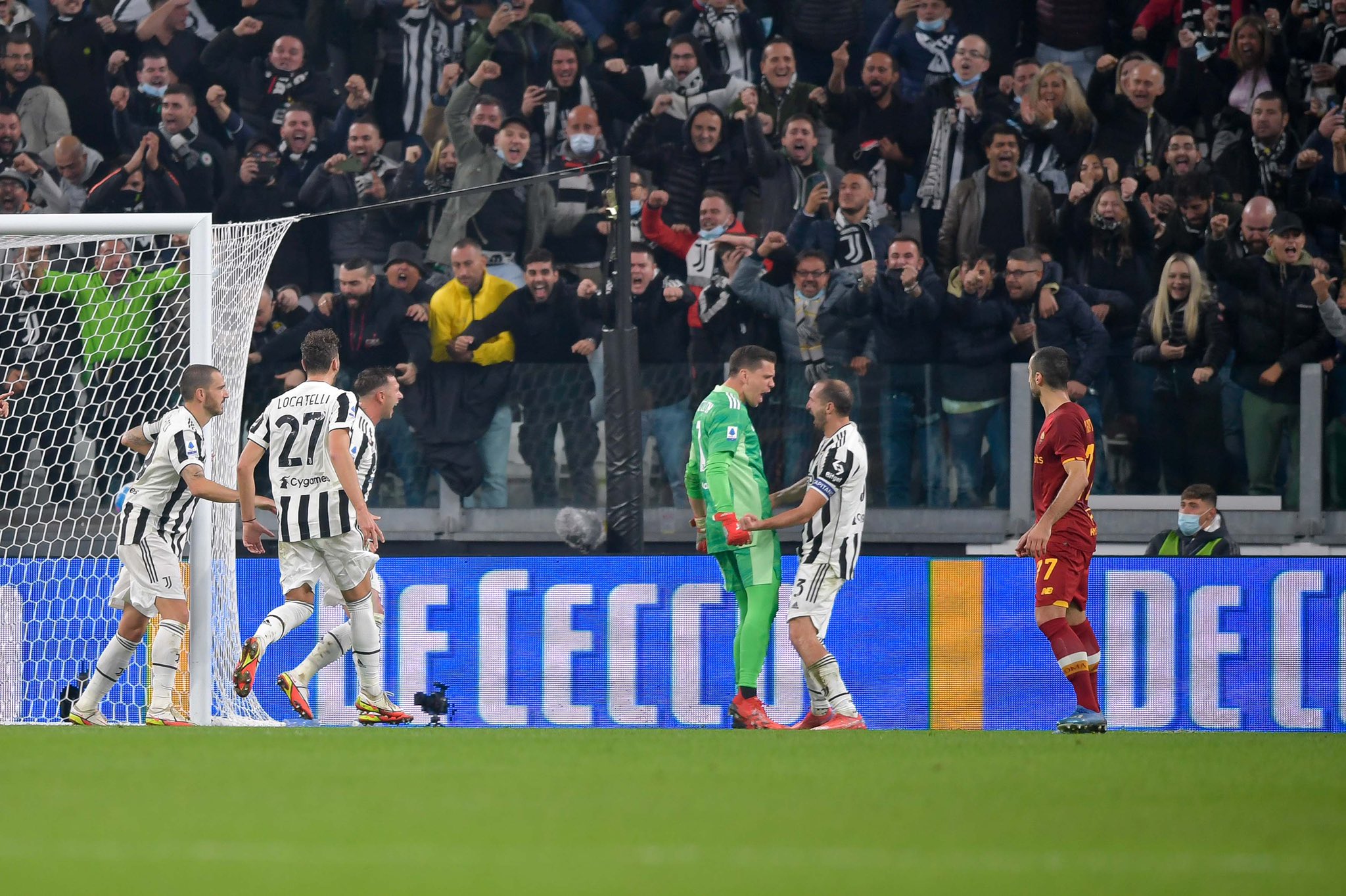 Juventus climbed to the top of the Serie A table with a win over Roma, their fourth in a row
Juventus climbed to the top of the Serie A table with a 1-0 triumph against AS Roma in Turin on Sunday, with Moise Kean's unorthodox early goal sealing the Turin club's fourth consecutive league win. After 16 minutes, Rodrigo Bentancur's header ricocheted off Kean's head and into the back of the net, deciding the game.
But Tammy Abraham put the ball in the net for Jose Mourinho's side, but the goal was not allowed to stand because referee Daniele Orsato had previously whistled for a penalty. Jordan Veretout took the subsequent penalty kick, but Wojciech Szczesny saved it.
Juve is now tied for seventh place with Lazio on 14 points, with Atalanta one point ahead of them and Roma one point behind. Juventus secured its third 1-0 win in as many games in all competitions, holding the fort following Moise Kean's 16th-minute goal and weathering a controversy-filled first half to hold off Roma. It was another classic Allegri game, in which he guides his sides through the ups and downs of a major encounter with a slim lead and emerges victorious. He did it to Chelsea's detriment. He did it against Torino in the Derby Della Mole. Now he's done it against Roma, as Juve has won four straight Serie A games and has a chance to get into the top six in next weekend's Derby d'Italia.
And, just for fun, Allegri's pre-match remarks about how Juventus-Roma is usually exciting but always appears to be marred by controversy… well, those were dead on.
There's little arguing that the penalty kick decision late in the first half was one of the game's most pivotal moments. Do you take advantage of the situation? Do you just dismiss the fact that Henrikh Mkhitaryan handled the ball as he fell to the ground after (kinda-sorta) leaping over Wojciech Szczesny? Do you believe that was all a bunch of nonsense and you just want to be glad that Szczesny saved the penalty and broke Jordan Veretout's spotless record from the spot?
Please choose the last option.
I'll also be relieved to be able to witness Moise Kean dance after a goal once more. (Even if that goal was a very solid indicator that this game was going to be silly, confused, and delightful all at once.)
FT: Juventus 1-0 Roma

Juventus' last six games: WWWWWW pic.twitter.com/SIfNPsRFk2

— B/R Football (@brfootball) October 17, 2021
But, in the end, Allegri and Juventus did essentially the same thing they've done in the previous two games: they got the shutout, they got the win, and they moved up a few spaces in the Serie A table. It's easy to understand why Juve has been so successful in recent weeks, and this is exactly how Allegri is expected to get this squad back on track.
He's also done it with a winger playing forward, a right-winger playing on the left flank, and a slew of other injuries and lack of choices.
This game, Juve's third in a row, just goes to demonstrate that Allegri only needed a little more time to get things right, and the results would come eventually. It's not always pretty, and it's not always going to have us writing 1,500 words about how fantastic Juve just played, but it's turning into a pretty successful recipe for stabilizing a squad that was winless only a month ago.
They're now all one point behind Roma, who had the best start to the 2021-22 season of anyone in the league.
Another 1-0 victory is satisfying. It's nice to have another clean sheet. It's a wonderful feeling to see Juventus play a competent but unspectacular game. Allegri is creating this work, and the results are beginning to emerge. That is how it is carried out.
Barcelona overcame an early deficit to earn a 3-1 comeback win over Valencia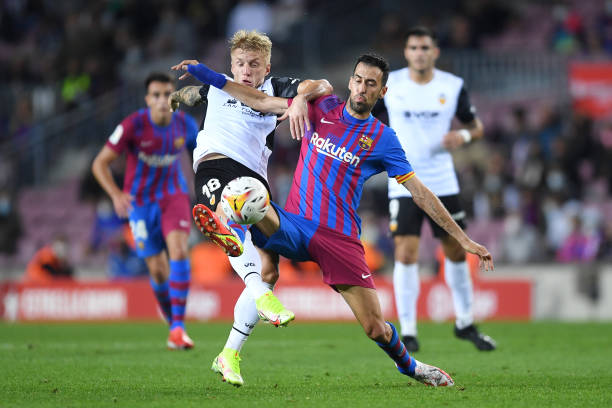 Barcelona overcame an early deficit to earn a 3-1 comeback win over Valencia
Barcelona fought back from a 1-0 hole to beat Valencia 3-1 at the Camp Nou on Sunday, leapfrogging their opponents in the LaLiga rankings. The Blaugrana won for the second time in seven games, thanks to goals from Ansu Fati, Memphis Depay, and Philippe Coutinho, temporarily relieving the burden on out-of-favor manager Ronald Koeman. Valencia, however, has gone winless in five games following a strong start that saw them win three of their first four games. They are now in ninth place in the table.
In the fifth minute, Jose Gaya gave the visitors the lead. A cleared corner fell to the 26-year-left old's foot at the top of the box, and he volleyed a ferocious attempt into the bottom corner, always corkscrewing away from the outstretched Marc-Andre ter Stegen, who had no chance of saving the goal.
However, the lead was short-lived, as Ansu equalized in the 13th minute. Depay was left free to curl a right-footed shot past former Barcelona No. 2 Jasper Cillessen and into the far corner after a nice one-two with the 18-year-old at the top of the box.
Gaya's early heroics were tarnished when he conceded a contentious penalty in the 39th minute. In an attempt to deny the unmarked Barca No. 10 a certain goal, the Spain international made contact with Ansu as he glided into the center of the box.
Cillessen was left petrified in the middle of his goal line as Depay converted the penalty kick with a powerful finish into the top right corner. Carlos Soler's drive from the edge of the box rattled off the inside of the far post, caroming across the goalmouth and into the path of an offside Maxi Gomez rushing in from the right-wing eight minutes into the second half. Ter Stegen was forced into action four minutes later, making a stunning reaction stop on Goncalo Guedes' rasping effort from distance.
FT | Barcelona 3-1 Valencia | #BarçaValencia

✅ A surprising, refreshing Barca performance.
✅ We can count on Coutinho.
✅ Memphis & Ansu connection stronger than ever.
✅ Dest, Barca's official agent of chaos.
✅ Magnificent Gavi.
✅ Aguero's debut. He actually did it. pic.twitter.com/5Yw9WNRBQP

— BugaLuis (@BugaLuisFC) October 17, 2021
Coutinho scored Barca's third goal in the 85th minute, securing the three points for the hosts. Sergino Dest of the United States made a determined run into the box before crossing to an unmarked Coutinho, who turned and calmly tapped in the insurance goal.
Sergio Aguero made his long-awaited competitive debut for Barcelona in front of the Camp Nou crowd. After missing the entire season due to a calf injury, Aguero came on in the 87th minute to replace Dest for the final three minutes of the game.
Barcelona's next match is in the Champions League on Wednesday against Dynamo Kiev, while Valencia will have six days off before hosting Mallorca at the Mestalla on Saturday.
Newcastle 2-3 Tottenham, Newcastle new era started with a defeat in a strange game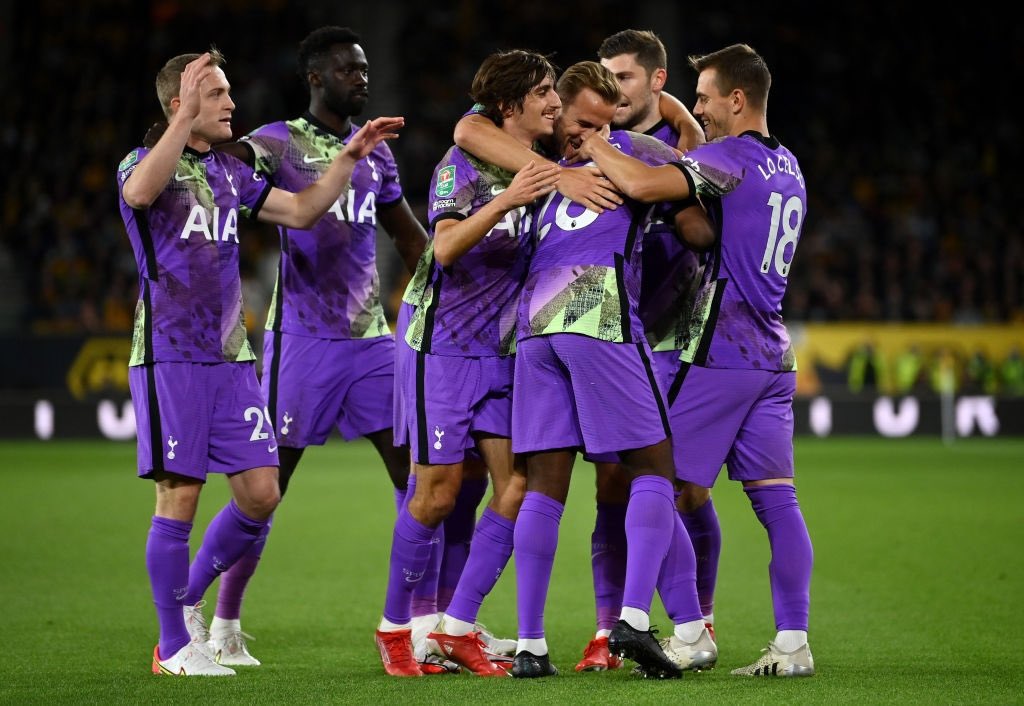 Newcastle 2-3 Tottenham, Newcastle new era started with a defeat in a strange game
The start of Newcastle's contentious new Saudi Arabian-led era, as well as the sight of Tottenham's Harry Kane scoring a really nice goal, faded into insignificance as half-time approached.
Nuno Esprito Santo's side was preparing to take a corner when a spectator collapsed in the East Stand, and images of Sergio Reguilón and Eric Dier abandoning their positions to alert the referee to the emergency unfolding behind them will be the lasting memory of a strange, unsettling afternoon on Gallowgate.
Dier rushed to the technical section, where he demanded a defibrillator, and his quick thinking is commendable. The urgency of the issue became clear as Newcastle's club doctor, Paul Catterson, sprinted across the pitch with the needed equipment, eclipsing the previous, almost euphoric, euphoria as home fans welcomed the club's outrageously wealthy new Saudi owners.
Andre Marriner led the players off the pitch for 20 minutes while the spectator received emergency attention. The game was restarted after it was learned that the fan was stable and on his way to the adjacent Royal Victoria Infirmary, where he was recovering on Sunday night. However, the former delight and hope of the day had evaporated.
The governor of Newcastle's majority owners, Yasir Al-Rumayyan, had flown in from Riyadh for the occasion. He was visibly moved as practically the whole stadium turned to the directors' box and gave him a standing ovation minutes before kick-off. The atmosphere was so electrifying that it may have generated enough energy to maintain the lights on all winter in northeast England.
Callum Wilson stole in front of Cristian Romero in the second minute and headed Newcastle into the lead, capping a gorgeously flowing move that included a clever, short pass from Allan Saint-Maximin to the overlapping Javier Manquillo as Nuno adopted the expression of a man fearing yet another painful post-match inquest.
Newcastle announce that the fan who needed medical treatment during their game against Tottenham is stable and responsive in the hospital pic.twitter.com/kKutSX62eH

— B/R Football (@brfootball) October 17, 2021
Spurs appeared to be a good half yard off the pace at that time, and they appeared to be on the verge of getting carried away by a tidal wave of black and white emotion. Steve Bruce may have fantasized that this might not be his final match in command after all, with the excitement apparent whenever Saint-Maximin touched the ball and his colleagues passing and moving across the breadth of the pitch in a manner rarely seen in recent months.
Then reality stepped in. This Newcastle XI isn't good enough to maintain slickly zipping passes down the field for 45 minutes, let alone 90, and they did lose concentration at one point. It was enough to provide an unmarked Tanguy Ndombele the space and time he needed to collect Reguilón's delivery and fire a beautiful shot beyond Karl Darlow.
Kane then recalled that form is only fleeting, however, class is eternal. When England's center-forward Pierre-Emile Hjbjerg unleashed a through the pass, he checked his stride just enough to stay onside before flicking the ball beyond Darlow. Despite the fact that Kane's goal, which was his first in the Premier League this season, was initially disallowed due to a minor offside, it was rightfully reinstated after a VAR review.
Where Al-Rumayyan and his co-director Amanda Staveley had been bouncing with excitement earlier, they now stared at the ground, deadpan. After Reguilón, Dier, and the others alerted them to the medical situation, they were visibly concerned, and an unnerving pause occurred.
The ground seemed eerily silent once it was over and a wave of applause for the doctors had faded. Nobody seemed to know how to react, or even if they still wanted to watch the game.
Spurs had near-total control as Newcastle struggled to regain their footing, as evidenced by a quick-footed Lucas Moura who caught Isaac Hayden off guard before finding Kane waiting in the penalty area. Kane made a selfless pass across the six-yard box for Son Heung-min to divert the ball beyond Darlow.
Some two-goal cushions are more comfortable than others, and Tottenham was aware of Saint-shoulder-dropping Maximin's ability to change the narrative despite their sudden, initially improbable dominance and monopolization of possession.
Even Saint-Maximin, though, cannot win games on his own, and as the clock crept down, chants of "We want Bruce out" rang throughout the field. By the time second-half substitute Jonjo Shelvey was sent off for a second yellow card offense – a ludicrously ill-disciplined and self-destructive trip on Reguilón 20 yards out – Bruce, who was "celebrating" his 1,000th game in charge, must have wished Newcastle's owners had sacked him last week as planned.
Dier's late own goal, a hilarious header of Jacob Murphy's free-kick past a shocked Hugo Lloris, was no comfort; Newcastle made Spurs look far better than they are and, without a win all season, appear to be in serious trouble. AlRumayyan must make some major judgments.