A 15-year-old girl was killed in a road rage shooting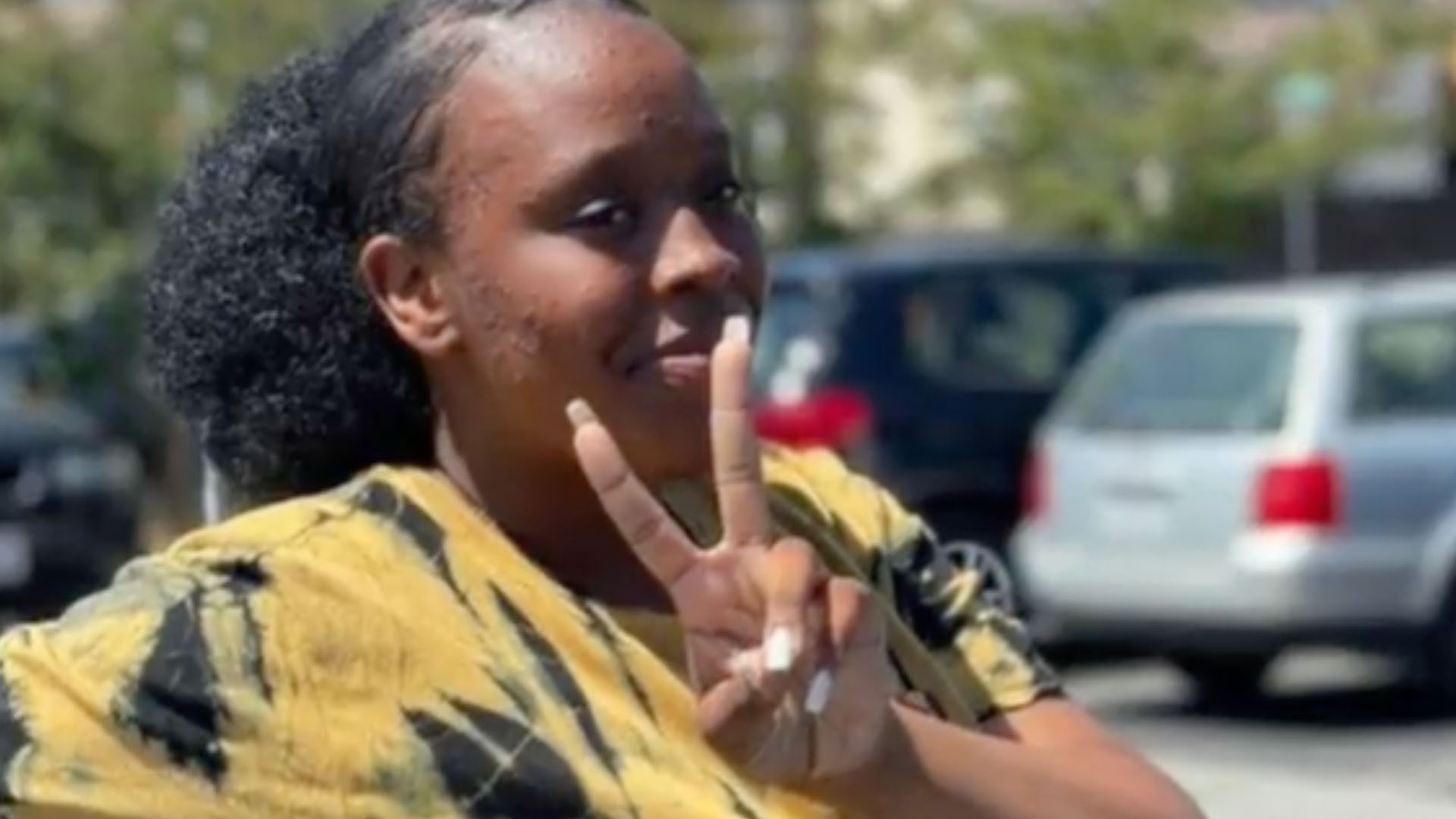 A 15-year-old girl was killed in a road rage shooting in Oakland, California, the latest victim of the city's continuous gun violence.
The youngster was travelling with her uncle in Oakland on Wednesday night when her uncle and someone in another car "began to have dialogue," which led to bickering between the cars, according to Oakland Police Chief LeRonne Armstrong at a news conference.
The "innocent 15-year-old" was shot many times by someone in the other car, according to Armstrong.
According to authorities, no arrests have been made.
Shamara Young, the teen, was identified by authorities.
"She loved her family a lot. She loved her little brothers. And she was very protective of them," Young's mother told reporters.
"She was an awesome daughter," she said. "She'd always give hugs and kisses and smother me with attention."
Oakland has seen 109 killings this year, according to the chief, who spoke at a news conference on Thursday.
"How many times do we have to cry out for help? How many times do we have to say to you that we are in a moment of crisis?" he said. "Our children are in danger."
Overcome with emotion, the chief said, "The police department has not done enough. The community has not done enough. The leaders of this city have not done enough. Today everybody in this city should be hurt."
After a long pause, Armstrong continued: "When you have children, you understand. You understand when your kids leave home you expect them to return safe. … Let this be a calling to all of us that we have to do something."
Plane carrying 21 people crashes in a field near Houston Executive Airport, injuring at least one person, authorities say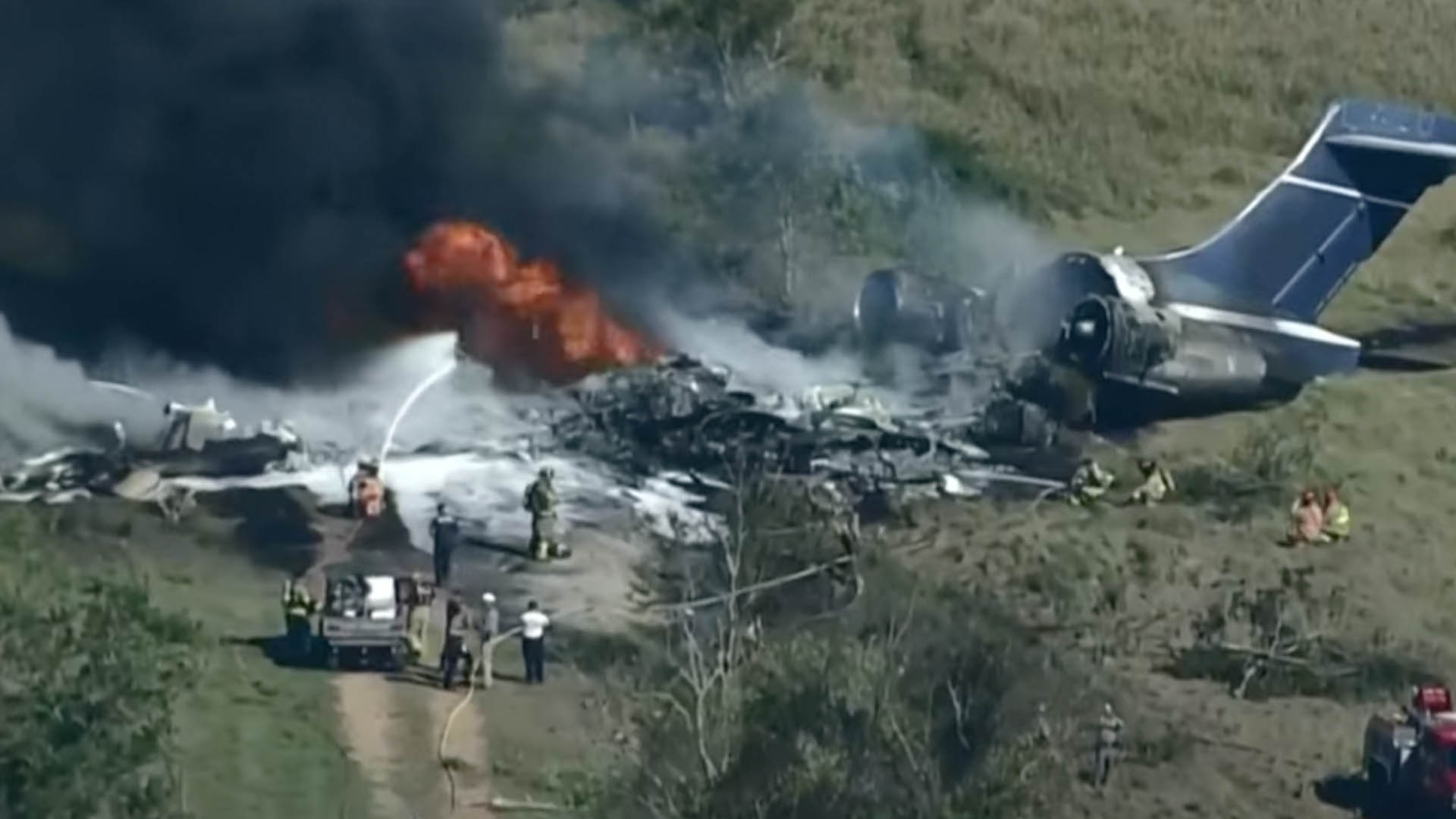 BROOKSHIRE, Texas — Authorities say a plane carrying 21 people crashed in a field near a Brookshire airport on Tuesday, injuring one person.
While attempting to depart from Houston Executive Airport in Brookshire near Katy, the McDonnell Douglas MD-87 slid through a fence and caught fire in a field, according to the Federal Aviation Administration.
All 21 individuals on board, including 18 passengers and three crew members, were successfully evacuated. One individual was injured, according to officials.
The inquiry into the crash will be led by the National Transportation Safety Board. The FAA will cooperate with the probe.
The plane appears to be owned by a company in Spring. The manufacturing certificate for the plane was issued in 2015. The McDonnell Douglas MD-87 plane has a 172-seat capacity and a twin-engine jet.
Judge Trey Duhon of Waller County believes the plane was chartered for Game 4 of the American League Championship Series in Boston. The Houston Astros and the Boston Red Sox will face off at Fenway Park later today.
A total of 1,806 houses in the vicinity lost electricity as a result of the crash. As of noon, CenterPoint Energy utility employees had restored power to all but 17 customers. Repair crews are still on the job.
This is a developing story. Keep an eye out for new information.
The Michigan Senate passes contentious voting bills along party lines, and Whitmer vows to veto them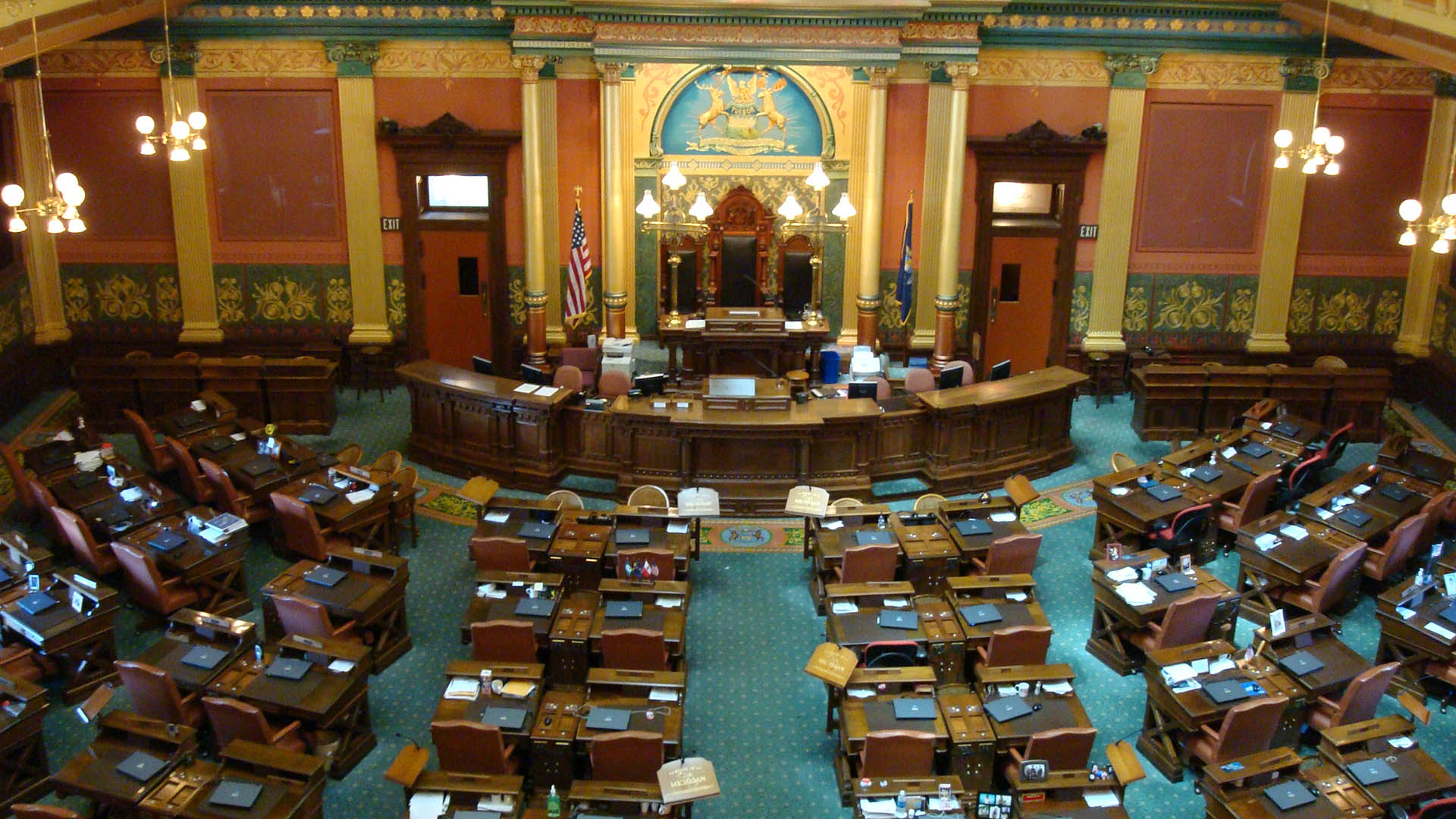 The Michigan Senate passes contentious voting bills along party lines, and Whitmer vows to veto them.
Two contentious voting bills were approved by the Michigan Senate on Thursday, one of which would create free state ID cards in response to Republicans' push to increase voter ID requirements, and the other of which would require more proof of voting.
Following a floor battle on Thursday, SB 304 and HB 5007 passed in the GOP-led Senate, bringing Republicans one step closer to making voting in Michigan more secure.
"I'm excited that the bills did pass. And I understand they became quite partisan and a little bit controversial but I do believe it's important we look at all the polls that have been out there and everything," state Sen. Curt VancerWall, R-Frankenmuth, said. "People do believe that our elections need to be tightened up. And these are good bills and they are gonna be a great opportunity for people to put some trust back in the election process."
One of the bills that passed on Thursday was sponsored by VancerWall.
The bills were passed just one day after another contentious election bill was passed. SB 303, which was also approved along party lines, would prohibit election officials from sending unsolicited absentee ballots and would require in-person voters to show their IDs at polling places.
The bill is part of a larger package of bills introduced by Republicans in the aftermath of the 2020 presidential election, both in Michigan and nationally. Democrats and voting rights advocates argue that the bills will make it more difficult for Michiganders to vote.
More than 250 audits of the 2020 presidential election in Michigan have been conducted by Republican, Democratic, and non-partisan clerks and election officials. All audits concluded that there was no widespread election fraud.
Senators from both parties expressed their displeasure with the other party in floor speeches on Thursday, with some Democratic lawmakers saying they didn't want to waste valuable legislative time on the bills.
"In Michigan, we have some communities people can vote in 10 minutes, and then other communities they have to wait an hour or two or sometimes four or five hours to vote," state Sen. Jeff Irwin, D-Ann Arbor, said. "Those are the kinds of problems we should be trying to solve up here instead of passing bills like we did today which just make it harder for people to vote."
The bills passed by the Senate are unlikely to survive long enough to become law.
"I'm telling you right now: those bills come to my desk, they will get vetoed," Gov. Gretchen Whitmer said Thursday.
Last weekend, the governor vetoed several other Republican voting restriction bills.
"This is not a game and I am not here to play games," Whitmer said. "Our elections work. You don't like the outcome? Well, then you run in the next election and try to win and earn people's votes, not cut out a segment of people that cast their votes as Americans and with a right to do that."
When asked why Republicans were still pushing bills through that they knew would be vetoed by the governor, VanderWall said he believes the public wants lawmakers to fight for them.
VanderWall also expressed hope that Whitmer would reconsider her vetoes.
"If she doesn't, we'll listen to the public and we'll make some decisions from that process on or that point on," he said. "But you know I do believe that, I know my constituents have reached out and said 'We have concerns' and I'm carrying their voice here in Lansing. And we'll continue to work, make sure they have trust in the election process."
Michigan Republicans have launched a ballot drive that, if successful, would change Michigan's voting system to require photo identification. If the ballot drive collects 340,000 signatures in six months, it will be placed on the ballot and will avoid Whitmer's veto pen.
Both bills will be voted on again in the Michigan House.
A suspect has been apprehended after four people were injured in a school shooting in Texas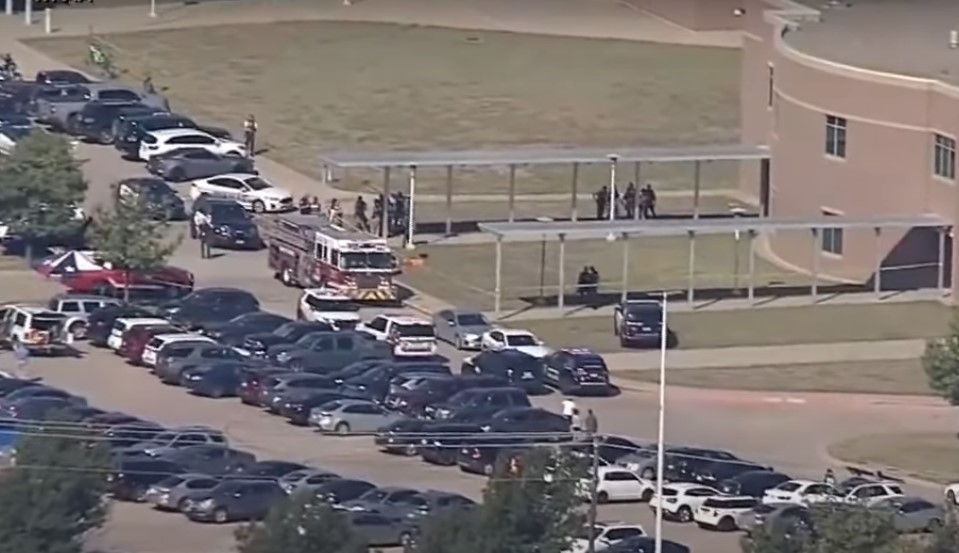 A suspect has been apprehended after four people were injured in a school shooting in Texas.
Authorities said an 18-year-old suspect was apprehended Wednesday after four people were injured in a shooting at a Texas high school. Three of the victims were taken to the hospital, and at least one required surgery.
According to Kevin Kolbye, the city's assistant police chief, police responded to a call about a shooting on the second floor of Timberview High School in Arlington around 9:15 a.m. Kolbye stated that two of the victims were shot but were expected to survive.
According to officials, the suspect, Timothy George Simpkins, initially fled the scene but later turned himself in without incident. Simpkins will face three counts of aggravated assault with a deadly weapon, according to authorities.
Kolbye stated that a handgun was recovered in the streets and that it will be turned over to the Bureau of Alcohol, Tobacco, Firearms, and Explosives. Police have not confirmed whether the handgun was used in the shooting.
According to Kolbye, preliminary information indicated that two students began fighting in class when a gun was pulled. Panicked students and faculty members barricaded doors with their desks and took refuge inside their classrooms.
Dale Topham, a schoolteacher, was nearby. "My mindset was if someone gets through that barricade which they won't but if they do they would have to take me out first," Topham told CBS News.
According to the school district, students at the high school were evacuated to a nearby performing arts centre to meet their parents. One parent said her son called her to tell her about the shooting and said he was in the classroom next to where it happened.
"Thank God for FaceTime because I could see him, and he was calm," she told CBS Dallas Fort-Worth. "But it's just so terrifying."
Her son was unharmed, but she was concerned about how the shooting would affect him in the long run. "My son heard those gunshots, and I'm wondering now, we've gotta process this, we've gotta make sure that we're gonna be OK," she told the station.
According to Education Week, there have been 21 school shootings this year. There were only ten shootings last year, when most kids were doing remote learning due to COVID-19 concerns.